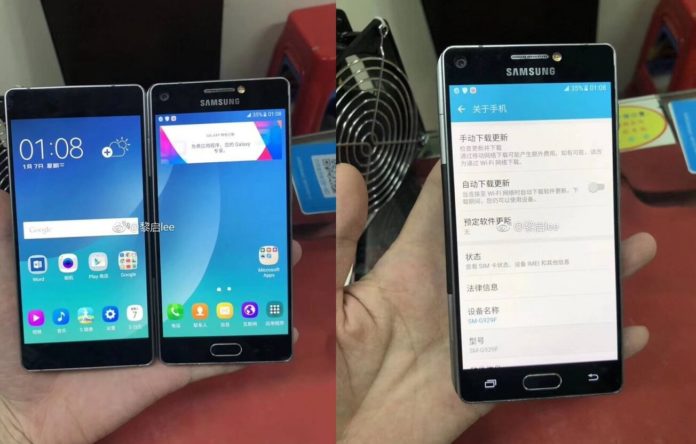 Microsoft, Samsung and other OEMs are reportedly working on foldable mobile devices. The concept of the foldable phone isn't really new, and some of the projects date back to 2014. The South Korean firm Samsung was reportedly working on another foldable phone, which resembles the look of ZTE Axon M, the world's first foldable device.
The Chinese leaker MMDDJ has revealed the Samsung's unreleased smartphone, the Project V SM-G929F and the phone has been cancelled for the good reasons.
Samsung's Project V SM-G929F could have been the first device to feature folding body. The leaked image suggests that the device would feature two screens on both sides of the handset. It appears to be using a hinge to resemble the look of a dual-screen device.
Judging from the design and the software, it appears that Samsung developed the phone in the mid-2015.
As noted above, Samsung has already cancelled the device and the company is said to be working on Galaxy X, which utilizes a better idea for foldability.
Samsung's Galaxy X will feature a truly foldable 7.3-inches display when unfolded, and Samsung might launch it MWC 2019. When folded, the phone would turn into just 4.5-inches and it will cost whopping $2000.
The production of the foldable smartphone from Samsung is expected to begin later this year, and the phone could be announced next year. It's worth mentioning that Samsung plans to produce around 300,000 to 500,000 units.
Microsoft is also working on a foldable phone called Andromeda, and the leaks providing us with a closer look at the device should surface in the coming months.
Microsoft Andromeda is also rumoured to feature a foldable body and it would run on Windows 10 operating system. By the looks of things, the rumoured mobile device will have fast LTE internet connectivity, and it's likely that it will be powered by Qualcomm's Snapdragon processor.
The Samsung's Project V is an old prototype that was never released to the public, and it's likely that the foldable phones from Microsoft and Samsung will look much better.
Foldable phone sounds great but we've got to consider the durability aspect of this venture. It's one of the questions that have yet to be addressed, and there are several things we need to keep in mind if we really want a world of foldable or modular phones.