Last year, Microsoft said that the current generation Surface Hub devices were picking up momentum worldwide. Despite the rumours and speculations, Microsoft remains totally committed to the Surface Hub product line. Earlier this year a report revealed that Microsoft is working on the next generation Surface Hub and it could be announced as soon as this year.
Surface Hub created an entirely new device category and the software giant is taking the experience to the next level with the latest model.
Microsoft today in a blog post announced the new Surface Hub 2 with an improved version of Windows 10 operating system.
Microsoft Surface Hub 2 features a sleeker design and is more affordable to fit any workspace or work style. Microsoft has designed Surface Hub 2 for both productivity and creativity.
"Surface Hub 2 was designed from the ground up to be used by teams – to get people out of their seats, to connect and ideate, regardless of location. The new Surface Hub 2 is sleeker, more agile and more affordable to fit any workspace or work style," the company said in a blog post.
The gorgeous Surface Hub 2 features a 50.5-inch multi-touch display with 4K resolution. It comes with Windows 10, Microsoft Whiteboard, Cloud, Microsoft Teams and Office 365.
Surface Hub 2 – The Windows 10 device for productivity
The Surface Hub 2 features an innovative design with inbuilt 4K cameras that rotate with the device. It can scale and adapt to your workspace and the rotation technology basically allows people to work in the way that suits them without worrying about the orientation for content.
The giant display of the Surface Hub 2 offers more usable space to create and collaborate.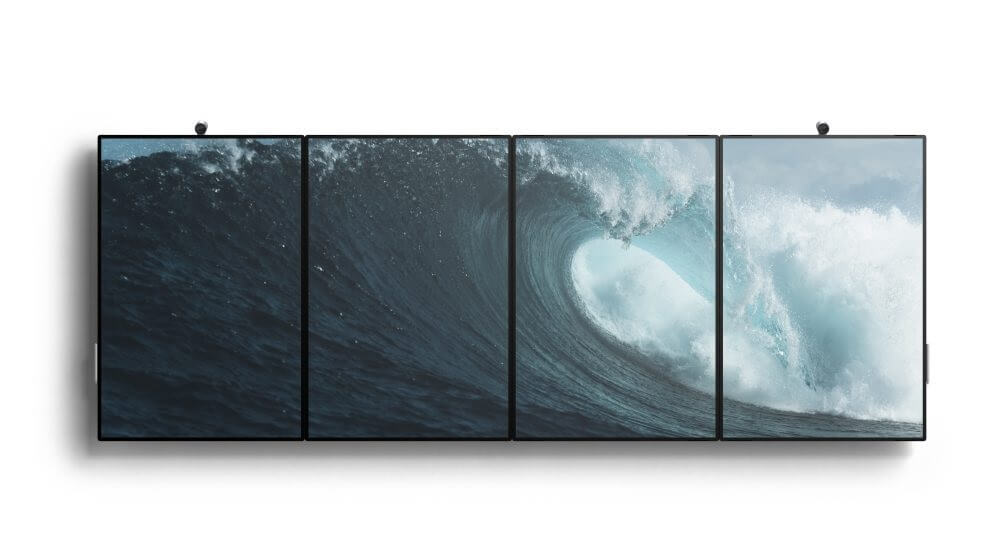 The Surface Hub 2 supports tiling which means the user could line up the devices together to work simultaneously across different software. The Surface Hub 2s that are lined up together allows users to display multiple pieces of content side-by-side on each device. Microsoft explains that the team would be able to work simultaneously across PowerPoint, Microsoft Whiteboard and PowerBI.
Last but not the least, the new Surface Hub 2 comes with multi-user sign-in feature which makes the entire collaboration secure and natural. The teammates can authenticate in the same Surface Hub 2 workspace and access their documents.
"We're passionate about creating experiences that allow the technology to fade into the background, so people and teams can be as productive and creative as possible," says Panos Panay, Chief Product Officer, Microsoft.
Microsoft says that it will be testing the Surface Hub 2 with select commercial customers this year, and the device would become available for purchase for everyone in 2019.