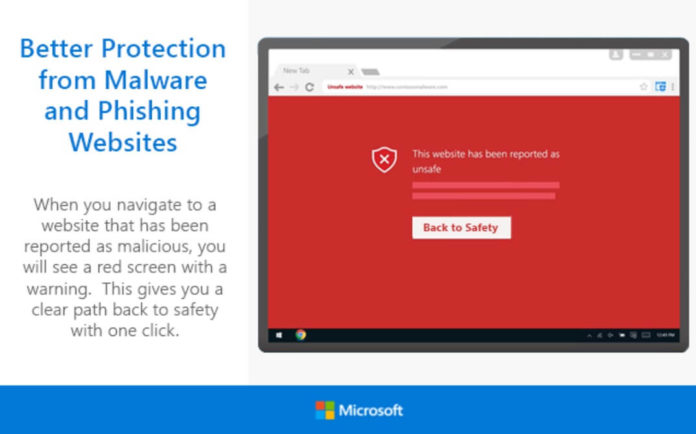 Microsoft recently released a new extension called 'Windows Defender Browser Protection'
for Google Chrome. Microsoft's new extension could be the company's another attempt to go after Chrome users, but this time the company is not promoting the Edge browser or Windows 10 features.
It's no secret that most people switch to Google Chrome, and the market share is the living confirmation in this regard. Windows 10's default browser Microsoft Edge is nowhere close to Google Chrome in the market share war, and the software giant is aware of it.
Microsoft's new extension doesn't promote Edge browser or features of Windows 10, apparently, the extension is really good and it is supposed to make browsing more secure. The extension is using Microsoft's Windows Defender antivirus solutions to protect users from the malicious websites.
The extension basically analyzes the website and if there's any potential risk, the company will block the access in order to protect users against malware and malicious links. The key feature of the extension is real-time protection which reduces the hacking attempts. Needless to say, Microsoft's Windows Defender Browser Protection is a good extension to protect users against online threats like phishing emails.
"If you click a malicious link in an email or navigate to a site designed to trick you into disclosing financial, personal or other sensitive information, or a website that hosts malware, Windows Defender Browser Protection will check it against a constantly updated list of malicious URLs known to Microsoft," the company explained.
If you ever come across such a website, Microsoft's extension will show a red warning screen, and explain the risks involved in browsing the site. It is worth noting that the extension uses Microsoft's database to verify malicious websites before rendering the warning screen. Microsoft is actively updating the list of harmful websites to make sure that the users are protected against the most recent malware.
You can download Windows Defender Browser Protection extension for Google Chrome from here, and share your thoughts with us in the comments below.