According to figures provided by NetMarketShare, Microsoft Edge is nowhere close to Chrome as Google's web browser continues to be the number one desktop browser worldwide. NetMarketShare has published the latest data of month March 2018 and it shows that Microsoft Edge has managed to increase the market share by just 0.02%.
While Microsoft Edge is the Windows 10 default web browser, it still lacks some key features and has a hard time becoming a more powerful potential alternative to the third-party browsers.
Microsoft Edge is always behind its rivals in terms of features and extension support as the updates which brings new improvements for the browser are released with new version of Windows 10. In other words, the users have to wait up to six months for every new release of Microsoft Edge browser.
Google Chrome market share has increased once again and it remained the leader browser with a share of 61.77% last month. It's pretty clear that majority of users replace Microsoft Edge with Google Chrome for some reasons, mainly the performance issues. According to the new stats, Microsoft Edge is the fourth most used web browser with a share of 4.46%, while the Mozilla Firefox is the runner-up with 10.52%.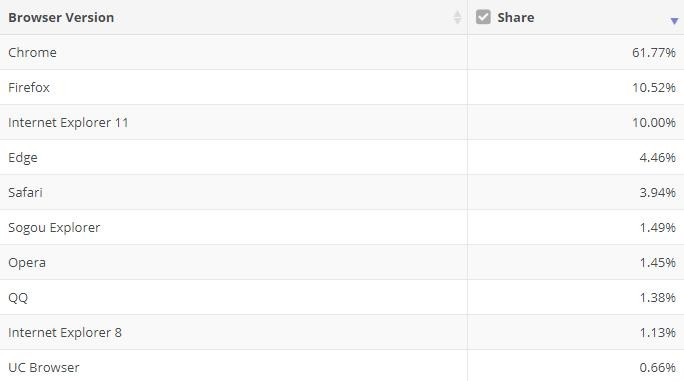 Apple's Safari which is exclusively available only on macOS powered PCs is currently the fifth browser in the charts with a share of 4.14%.
Microsoft has put a lot of effort into improving Edge browser lately, and Windows 10's default web browser supports most of the features. The software giant has been criticized for its aggressive push for Edge browser. For example, Microsoft has used tactics like notifications in the Action Center to promote the features of Edge browser.
One of the latest Windows 10 Redstone 5 preview build includes a new feature in the Outlook Mail app that basically forces Microsoft Edge on users. Microsoft in a blog post recently explained that links in the Mail app will launch Edge browser instead of the browser you are using as default. For example, even if Google Chrome or Mozilla Firefox is installed and set as default browser, the links in the Mail app will launch Microsoft Edge and ignore your settings.
"For Windows Insiders in the Skip Ahead ring, we will begin testing a change where links clicked on within the Windows Mail app will open in Microsoft Edge, which provides the best, most secure and consistent experience on Windows 10 and across your devices," the company said.
Microsoft Edge is expected to receive new features and security improvements with the Windows 10 Spring Creators Update on April 10.