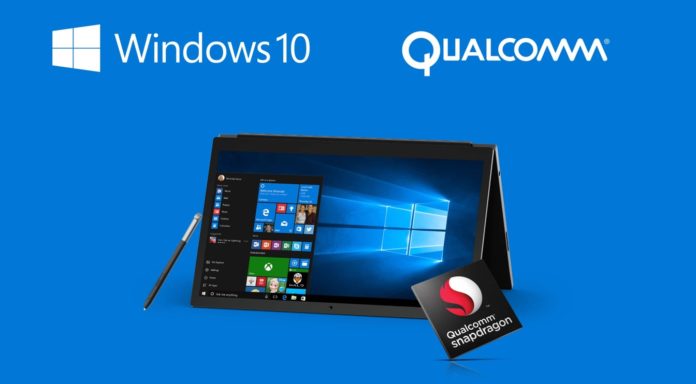 Back in 2016, Microsoft announced Windows 10 ARM (WoA) and Microsoft has come a long way since then. Recently, HP, ASUS, and Lenovo unveiled Snapdragon 845 powered Always Connected PCs. We also reported that several network carriers including Sprint, Verizon, EE, and others will be supporting Always Connected ARM PCs.
Speaking of the platform itself, WoA is a reincarnation of Windows RT (kinda). But unlike Windows RT, WoA will be able to run Win32 desktop application with the help of x86 emulation. Besides cellular connectivity, WoA also offers significant advantages in portability and battery life compared to its x86 (Intel) alternatives.
However, Snapdragon 835 is still a mobile chipset and concern remains on how well the emulation handles the compatibility and performance of the desktop apps.
Recently, TechSpot posted benchmarks results of HP Envy x2 which is powered by Snapdragon 835. The test was done on both native ARM code as well as emulated x86 code.
The very first challenge was to get the benchmark apps itself working in the first place. Most of the popular benchmark apps like the Cinebench R15 couldn't run as they were 64bit only. Several other 32bit apps had to be redownloaded since the 64bit versions never worked. PCMark 8 did run but 'Creative test' crashed and 'Work test' was taking too long to get the results. PCMark 10 launched but unfortunately didn't support 'Standard test'. Other 32bit apps like Blender requires OpenGL 2.1 which is not supported. MATLAB's x86 versions also failed to run.
Tests for the emulated code
Speaking of the tests itself, HP Envy x2 did not impress in emulated x86 benchmarks.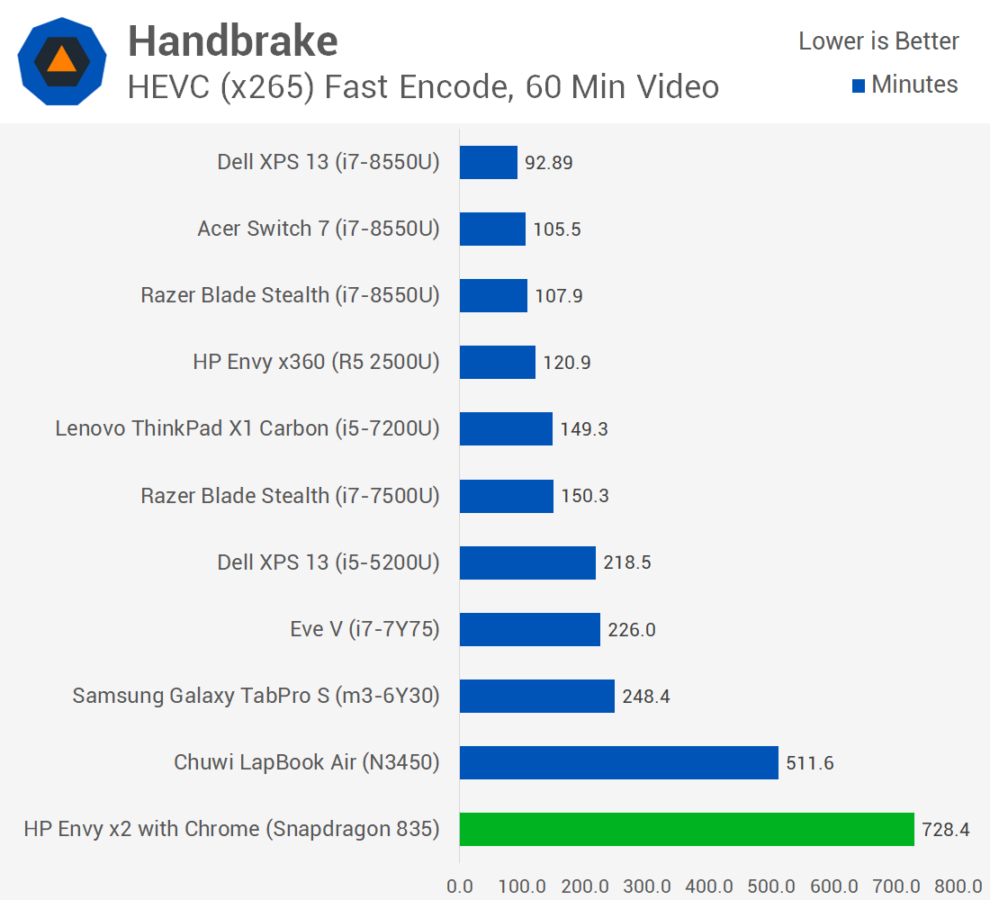 As the results suggest, the performance for the emulated score isn't impressive. According to TechSpot, rendering on Snapdragon 835 is very slow. Celeron N3450 being the slowest Intel chip in the market leaves Snapdragon 835 in the dust.
Similar tests were carried out and the results were no different. With PCMark 8's Home test, WoA performs poorly here as well. The Goldmont based Celeron N3450, being the slowest Intel mobile chipset, performs 51% faster. The three-year-old, Intel Core i5-5200U is 182% faster while the Intel's current low power offering, the i7-7Y75 is 160% faster.
Nevertheless, Snapdragon 835 was fairly competitive against the Atom-based Intel processors. The ARM-based chip also performed well in compression and decompression in WinRAR and 7-Zip.
Tests for the native code
Speaking of the less intensive – native code, the Snapdragon 835 outperforms the Celeron chip (somewhat).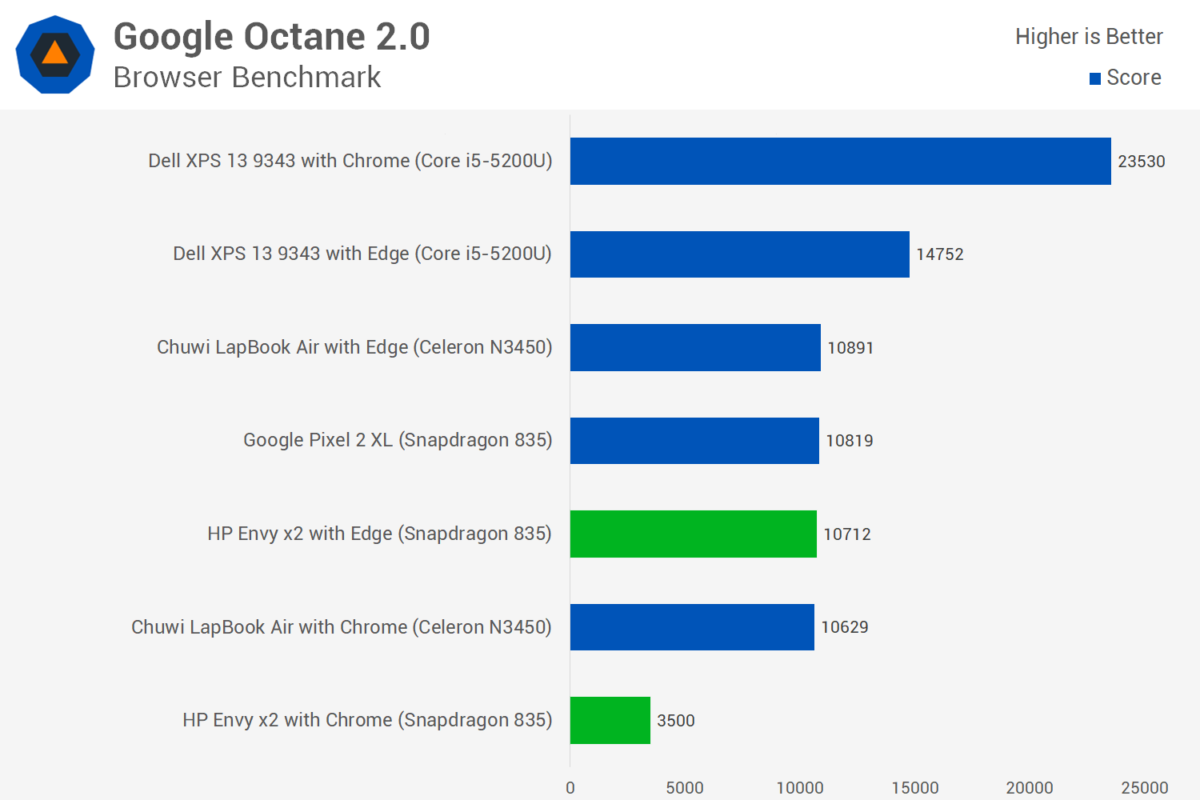 When running Microsoft's own Edge browser, the Snapdragon 835 performs better than the Celeron chip while Google Chrome performance wasn't good at all. That's maybe because Microsoft Edge is a UWP app compared to the Win32 Google Chrome.
The greatest advantages of an ARM PC is the battery life. Microsoft was legit serious about this. HP Envy x2 offered 50% more battery life for browsing when compared to best possible Intel laptop. Sometimes even more.
However, only battery life is just not enough to justify the $1000 price tag for the machine. Being priced at $1000, HP Envy x2 finds it hard to outperform mere $300 Intel Celeron machines.
Conclusion
Windows on ARM is still in its early days. Being able to run x86 applications on ARM architecture itself is among the biggest engineering achievement. Although we can't tell how well would those machines sell today, the future is bright.
It is very obvious that over the coming years, Microsoft will be improving the tech. Since Microsoft was unable to make a mark with Windows Phones, they're definitely trying to get full Windows 10 running on mobile form factors. Microsoft is also rumored to be working on a UWP-only OS called Windows Core OS (WCOS).
Windows 10 still have many legacy components that are holding back the performance on such low-powered mobile chips. With Polaris and WCOS, Microsoft aims to address that. Microsoft is also being rumored to be working on a foldable Andromeda device that would also be powered by an ARM-based Snapdragon chip running WCOS. The future is exciting.