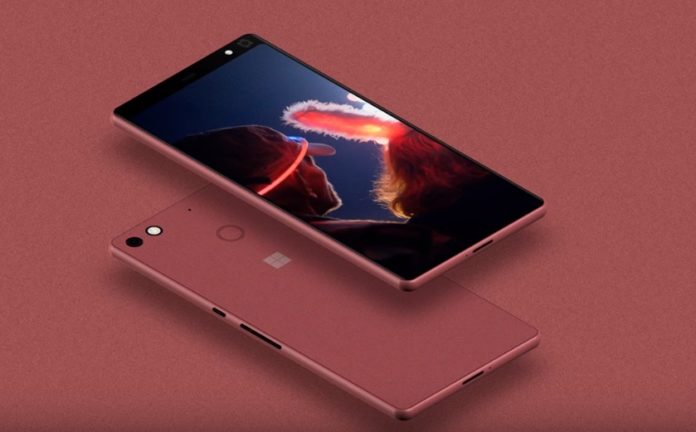 We have been hearing a lot of rumours about the Surface Phone. One of the most prominent rumours were that the mythical Surface Phone will be foldable and that it will launch by the end of 2018 or in the beginning of 2019. But a recent report from an Italian site claims that the foldable device from Microsoft will launch sooner than expected.
An Italian site recently posted an article about project Andromeda or Surface Phone, as the diehard fans would like to call it. The article claims that the device would arrive sooner than what the fans expected. This means that the device may arrive earlier than the end of this year. This is a great news for fans to rejoice as Microsoft has publically announced that they will not provide any new hardware running Windows 10 Mobile.
It is clear from a lot of patents filed by Microsoft that the Andromeda device will be foldable. The device is expected to sport the latest and greatest offering from Qualcomm- The Snapdragon 845. Recent benchmarks of the processor suggest that it has a very powerful and efficient CPU paired with a much-improved graphics processor. Microsoft is likely to focus more on battery life as the device is aimed at portability.
Microsoft will design the Andromeda device inline with the other Surface devices. All Surface devices look extremely premium and beautifully crafted so Andromeda will not be an exception. We are not sure as if the actual display will be bendable or not but we are sure that the device as a whole is foldable. No further hints regarding the rest of the hardware are known as of now.
Like all Surface devices, the Surface phone is also expected to be priced exorbitantly. Since the high-end flagship smartphones like the iPhone X and Galaxy Note 8 are priced as high as 1000$ the high price tag of the Andromeda device will not be an issue. We can expect the device to arrive anywhere in the second half of 2018.
Like all rumours, this should also be taken with a grain of salt but this is not the only report claiming the early arrival of Andromeda. Microsoft can cancel projects at any point if they feel it is not working as expected but since we have been hearing reports that Microsoft is working closely with Qualcomm and other partners it is highly unlikely that they will cancel the device as a whole.
Microsoft still hasn't given a hint on the software side of things. Initially, the Andromeda device is expected to run apps only from the Windows store. We hope that it will support Win32 apps in the future. Given that Microsoft's Build Conference is happening in May, we can expect to see the final version of the software which is to power Andromeda.