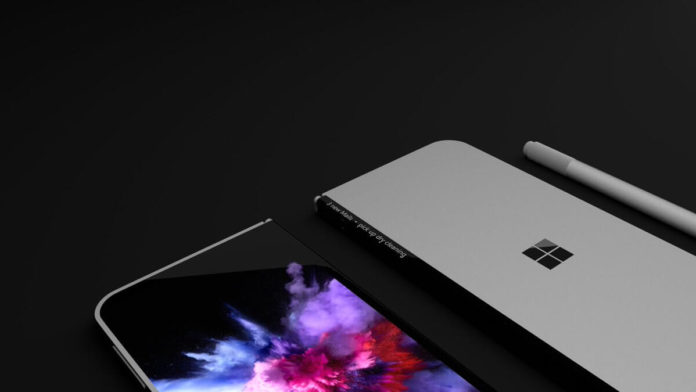 A new evidence pointing towards Microsoft's long rumoured foldable Andromeda, popularly referred to as Surface Phone has been discovered. Until quite recently, the release of mythical Surface Phone was uncertain, but the software giant appears to be speeding up the development of both Andromeda hardware and software. The existence of Andromeda mobile device was recently confirmed by a developer and Windows Internals Expert, Alex Ionescu, in the latest Windows 10 SDK build.
Another leaker has now managed to find a evidence to the Andromeda. In a tweet, Diamond Monday claims that there is a new SKU in Windows 10 .17604.1000.180209-1422.rs_prerelease product.ini, named "Andromeda=XXXXX-XXXXX-XXXXX-XXXXX-XXXXX".
This new SKU points to the existence of the Andromeda project, no other information associated with the foldable mobile phone has been discovered in any latest preview build.
New SKUs in .17604.1000.180209-1422.rs_prerelease
product.ini!

like this:
Andromeda=XXXXX-XXXXX-XXXXX-XXXXX-XXXXX

— Diamond Monday (@DiamondMonday) February 15, 2018
According to new reports, Andromeda will run Win32 Centennial apps, as the Windows Core OS will be able to emulate them on ARM chipset which will power the device. Microsoft's Andromeda is reportedly a Pocket PC that would run Win32 apps and extend to a large monitor with a dock, mouse and keyboard to deliver a true desktop experience.
It is highly likely that Microsoft's foldable phone will have a dual-screen display with a hinge, it is also expected to run on Windows Core OS, and be powered by ARM processors. Microsoft's foldable Surface Andromeda is the company's latest attempt to invent new product categories, like how it did with the 2-in-1 Surface laptops device and the Surface Studio all-in-one PC.
Patents published by Microsoft have shown foldable mobile device boasting all innovative features including a dual display that could enable more than just one form factor, and the device would feature a premium design. It's also worth noting that the Andromeda could be a mobile device with phone capabilities, though it won't be a typical smartphone. This foldable phone could be promoted for its multiple form factor, including the traditional phone mode.
"Technologies are described for a hinge mechanism coupled to at least a dual-display device wherein the displays can rotate with respect to each other through 360 degrees. The hinge mechanism has at least one flexible connection member that follows a generally S-shaped path when the displays are in a tablet position," Microsoft details foldable device in a patent.
Such a device make sense for Microsoft as the company's executives including CEO Satya Nadella, said on several occasions that the company was looking into building the ultimate mobile device.
Microsoft is experimenting with a lot of ideas these days, foldable Andromeda is one of them. It goes without saying that the device is not the result of our imagination but actually a real thing.