Valve owned Steam has released their hardware and software reports for January 2018. The report shows a decline of 12.11% in Windows 7 64-bit share which now sums up the share of the OS to 56.69% and the 32-bit version of the same has risen by 0.15% summing to 1.50%.
On the other side, the share of Windows 10 has increased. With 10.63% increase, the total share of the 64-bit version of the OS is now 35.40% which is right behind Windows 7. The 32-bit version of the OS increased just 0.01% summing up to just 0.29%. Overall, Windows OS share has seen a decline of 0.48% but still leads the shares list with 97.76%.
On the hardware side, NVIDIA GeForce GTX 1060 is the most used graphics card among the users and the 8 GB RAM is leading in the System RAM department.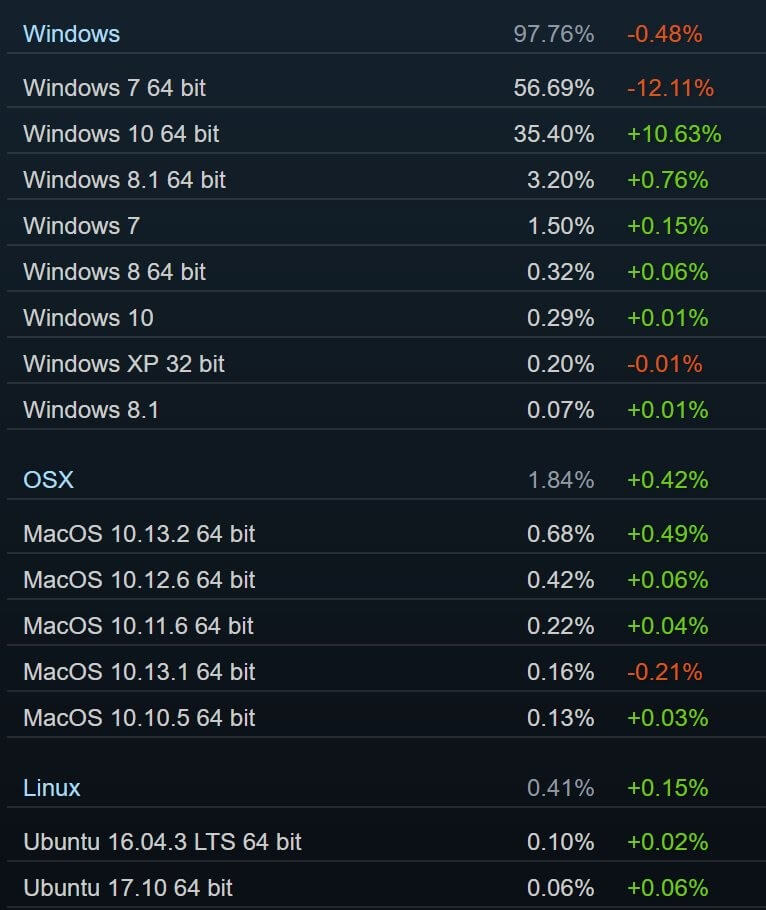 Windows 10 brings many features to enhance the gaming experience like Game Mode, introduced in the Creators Update, which helps to boost the performance to enhance the experience. The OS also has better integration with Xbox. Sooner or later, Windows 10 would overtake Windows 7.
The new Windows 10 Update (codenamed Redstone 4) also known as Windows 10 Spring Creators Update is going to be released soon. Let's hope the update would perform good and help the OS attract more gamers in the future.