Patches for Meltdown and Spectre vulnerabilities are doing more harm than good. The patches first resulted in BSOD errors on AMD PCs and later it was revealed that the PCs powered by some chipsets will experience slowdowns. If you have patched Meltdown and Spectre vulnerabilities on Intel systems and your PC has got substantially slower, you're not alone.
The reports and benchmarks from Microsoft confirmed that the older the hardware (processor) gets, the slower the performance of the patched PC. Last week Intel confirmed that the performance of the older PCs will be affected. PCs with older processors will experience slowdowns but it should not be significant for average computer users.
Intel has been saying from the very beginning that the performance of older PCs will take a hit. Intel has also detailed the slowdowns caused by the cumulative updates released by OS vendors to fix the vulnerabilities and the company recently shared new information it has collected after performing tests on PCs.
Will my Windows PC get slower after Meltdown and Spectre patches?
Yes, your Windows PC will get slower after installing Meltdown and Spectre patches but it won't be significant for average users. In this article, we've detailed the performance impact on PCs powered by Intel processors.
"Software and workloads used in performance tests may have been optimized for performance only on Intel microprocessors. Performance tests, such as SYSmark and MobileMark, are measured using specific computer systems, components, software, operations and functions. Any change to any of those factors may cause the results to vary. You should consult other information and performance tests to assist you in fully evaluating your contemplated purchases, including the performance of that product when combined with other products," Intel said.
Kaby Lake and Coffee Lake – 8th generation processors
Intel Kaby Lake and Coffee Lake powered Windows PCs would experience slowdowns of just 6 percent with SSD (storage) when the software like Office is launched. Again, the average computer users won't notice any performance difference.
However, if you will use an application that runs complex JavaScript operations, the system could slow down by 10 percent.
Kaby Lake-H – 7th generation processors
The performance of Windows PCs with 7th generation Kaby Lake-H will also take a hit. Intel says that the performance of the devices will drop by approximately 7 percent, slightly worse than 8th generation processors.
Skylake-S – 6th generation processors
In comparison to 8th and 7th generation processors, the 6th generation processors will suffer slightly higher performance impact of approximately 8 percent. The impact of these Meltdown and Spectre patches will be even worse on systems with HDDs, while Windows 7 devices performance will drop by 6 percent.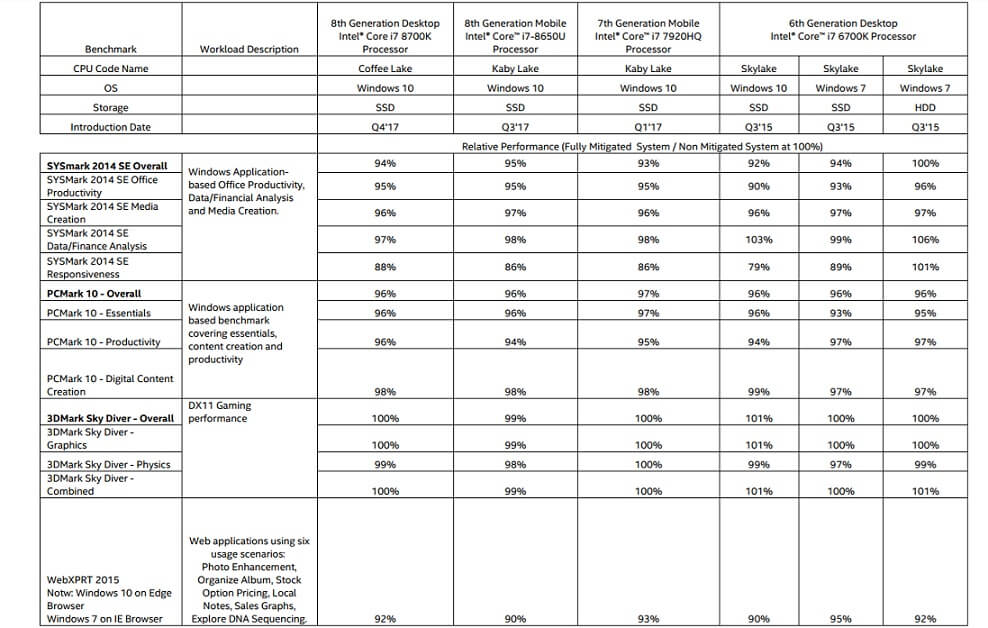 Despite the fact, the performance of your Windows PC would degrade, we recommend you to patch the vulnerabilities as if it has been exploited, the attacker might steal your sensitive data. "For those Intel customers who are worried about performance impacts, you should know that we will work on creative solutions with our industry partners to reduce those performance impacts wherever possible," Intel said.