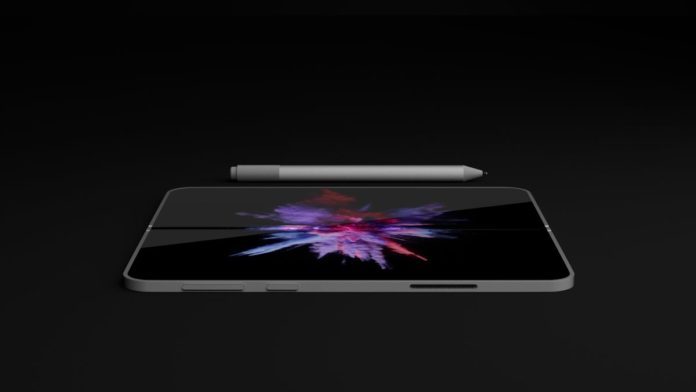 Yesterday we discovered yet another patent of Microsoft's Andromeda (Surface Phone), the company's rumoured ultimate mobile device. In the patent, Microsoft detailed the features of a handheld mobile-type with dual-display. In the patent application, Microsoft has also explained why a foldable device would make sense.
In the last few months, we've seen several patents of foldable Microsoft mobile devices and it appears that the device is still being developed by the software giant. A foldable phone in 2018 would apparently make sense since it will offer a better user experience without compromising the phone's foldable form factor.
Microsoft believes that the smartphone makers should look for solutions to increase the display size of a smartphone. Microsoft basically wants to kill the tablets with foldable phones, the company explains that the customers will prefer foldable phones as they have a bigger screen which will offer a richer user experience.
"Along with these enhanced capabilities has come a demand for larger displays to provide a richer user experience. Mobile phone displays have increased in size to the point where they can now consume almost the entire viewing surface of a phone. To increase the size of displays any further would require an increase in the size of the phones themselves. This is not desirable, as users want their mobile phone to fit comfortably in their hand or in a shirt or pants pocket," Microsoft explains in the patent application.
Foldable phones would also boost the users' productivity and it could offer more form factors including tablet and laptop modes.
"With a dual-display device, the mobile phone or tablet can include an open, expanded position where both displays are flush so that the user feels like there is a single integrated display. In a closed, condensed position, both displays are face-to-face so as to protect the displays. In a fully-open position, the dual displays can sit back-to-back so the user needs to flip the device to view the opposing display," Microsoft added.
There's no confirmation whether or not the Microsoft's mythical Surface Phone exists, it's still too early to definitely say that the fate of Windows on Mobile has already been decided.