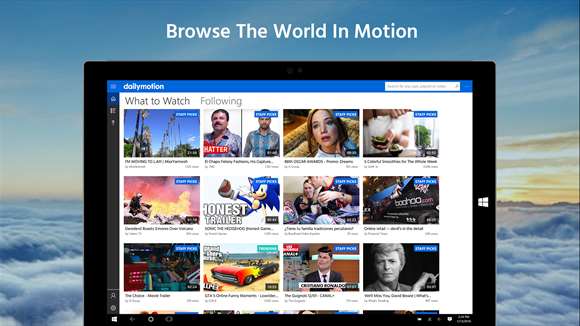 The team behind DailyMotion Windows 10 app has pushed out a new update for its Universal app for Windows 10 Mobile and PC. The app has now been pushed up to version 10.0.67. The app is available for users on all Windows devices including PC, Mobile, Xbox and HoloLens.
The update is a major one and comes with changes to the UI interface along with new tabs for exploring news. There are the usual bug fixes and enhancements also in the latest update.
The latest update brings changes to the Windows 10 app. The app now has a completely redesigned interface and changes to the UI with the latest update. The developer team has also added new sections namely For You, Explore and Library in the app which would help in providing a better user experience. 
The update also comes with the usual set of bug fixes and performance enhancements to the application. Users will be able to drag and drop videos to upload in the app.
You will also be able to get personalized suggestions and also have the option to search with a keyword or browse by category. The most important feature of the DailyMotion app is that users can enjoy stunning 4K HD videos with an option to easily share favorite videos with other users.
The latest update to the DailyMotion app is currently live and can be downloaded by clicking the below Store link.