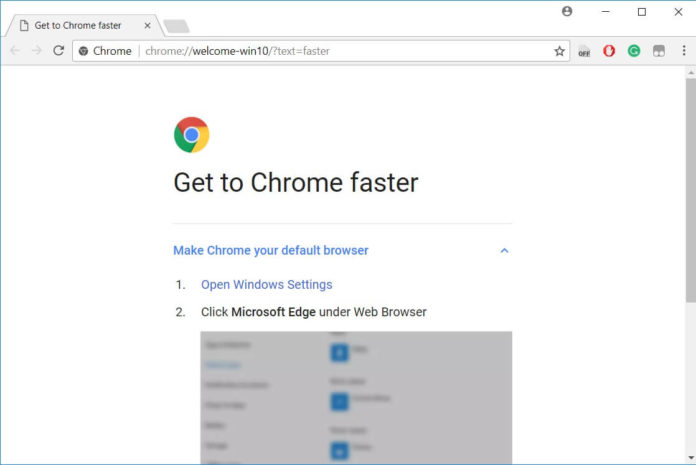 Google's Chrome is already winning the browser battle on Windows operating system but this doesn't stop the company to get more users on board. Google has recently launched a new campaign that provides steps to make Chrome the default browser replacing Microsoft Edge.
The campaign is apparently targeting the users who haven't set Chrome as the default browser on the system. It is, however, unclear whether Google is targeting all installations of the Chrome browser or is testing it with a small group of users.
As it is difficult to change the default browser in Windows 10, Google is now running the 'Get to Chrome Faster' campaign. The campaign launches a new tab listing the steps to change the default web browser.
On the page, you will find the steps to set Chrome as the default browser and as well as the steps to pin Chrome to the Windows taskbar. Google is showing an image of the settings page where Edge is set as the default while it could be Opera or Firefox as well.
Google is however not spamming again and again with the promotional tab. You can dismiss it by clicking on the continue button. As Microsoft Edge is slowly getting popularity, Google's new campaign is the best to way to get more Edge users permanently switch to Chrome.