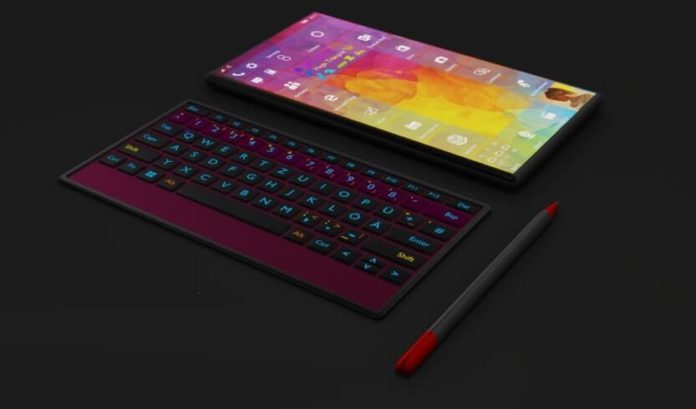 It is known to everyone that Microsoft could be working on the ultimate mobile device under the Surface brand, the smartphone-like mobile device will be called 'Surface Phone'. Several leaks have already confirmed that Surface Phone could come with a unique design and interesting features.
The Redmond based company could announce the Surface Phone by end of 2018 or early 2019. In addition to the major software upgrade, the Surface Phone might feature a unique design. Microsoft is rumoured to be working on a foldable display design for the Surface Phone but the device could also come with a different design.
A new concept imagines the Surface Phone in a modular design (sorta). The new concept shows Surface Phone in a half tablet, half phone like design. It is one of the few concepts where the Surface Phone comes in a colourful design rather than the grey and black outfit. Another interesting part is that it also supports keyboard and stylus, Microsoft is also planning to bundle the keyboard and stylus along with the mythical device.
In the concept, Surface Phone has a selfie screen and even a game controller case, it is sort of a modular design. The phone looks bulky, however, the combination of edge to edge display, modular colourful design makes it look like a stunning device.
It goes without saying this concept of the Surface Phone is very unique and we have never seen something like this before. The original device might never look like the conceptual Surface Phone, though there are signs that Microsoft is indeed working on something huge.