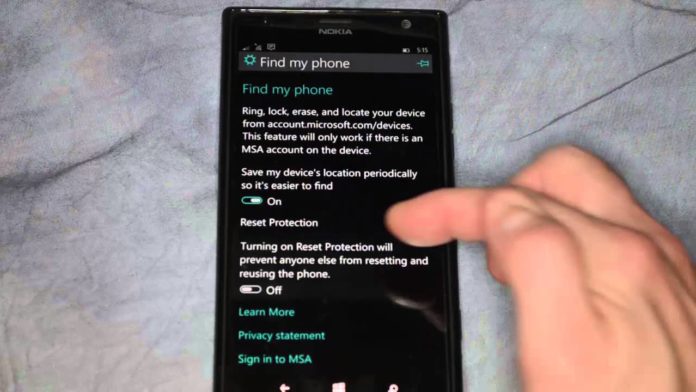 Windows Phone and now Windows 10 Mobile is the most secure mobile operating system. Back in 2015, Kaspersky praised Microsoft's Windows Phone operating system for being very clean. "So far very clean", says Kaspersky. This hasn't changed with Windows 10 Mobile as the OS is still secure.
Microsoft's Windows 10 Mobile has Reset Protection feature that stops someone from resetting and reusing it without your permission. A new hack will enable the reset protection on any popular non-American Windows 10 Mobile device.
*Note: Do it at your own risk, we are not responsible for any damage the could occur while hacking the phone*
How to enable reset protection on Windows 10 Mobile
The hack may or not work on all Lumias. Also, it could brick the phone. Read the warnings before trying out the hack.
Warnings: Do not turn on reset protection and phone encryption at the same time, the phone will brick. The hack has been tested on phones (Lumia 640, Lumia 550, Lumia 650, Lumia 950s and Lumia 735) with Windows Phone 8.1 GDR2 firmware. It could also work on other phones such as Lumia 535 with Creators Update (Non-Insider) but it hasn't been tested, try it at your own risk.
Download and install the program.
Download the necessary CAB file from Microsoft Update Catalog. Type in search, for example, 000-RU, then choose your build and click 'Download'.
Press Ctrl + F, type 'reset'. 2 files will be found. You need file with the 'CBS' signature (not 'CBSU'). Download for Build 15063.297 cab file.
Connect your phone to the PC.
Press Win + X and run Command Prompt (Admin).
Depending on your OS type, paste and run one of these commands.
32-bit: CD C:\Program Files\Windows Kits\10\Tools\Bin\i386
64-bit: CD C:\Program Files (x86)\Windows Kits\10\Tools\Bin\i386
Don't close Command Prompt window.
Copy the address of the folder where downloaded CAB file is located. Important note: file must be in the separate
folder without any other files. The name of this folder mustn't contain non-English characters or spaces.
Go back to the command line and paste the next command (without square brackets):
iutool -v -p [address of the folder with CAB file]
Your phone will restart and begin to install updates. It will take about 10 minutes. Do not disconnect the phone from the PC during this operation.