Big update for Windows 10 is coming. Any time in past we would call it 10.1 or Service Pack 1 or even maybe Windows 11. It's a big update, changing a lot but Microsoft decided that Windows 10 is one final product getting constant flow of updates (Windows as a service). No need to change numbers anymore.  If you are a big fun and you have PC, laptop, tablet and/or Lumia mobile you will get update for all of them. Let's focus on mobile version, so what should you except when your mobile will suddenly notify you that "Updates were installed".
LOCK SCREEN
You will notice camera button on the screen in left bottom corner.  Especially useful for lower Lumias without physical camera button. While listening to your favourite music you will find music controls that are now part of the lock screen and not a drop notification with horrible grey background. It's gone. Now it looks smart and modern. Just music controls on top of your lock screen. There is a new animation when unlocking your screen as well.
ACTION CENTER
Going to Action Center you can also notice many notification improvements. You can control how many notifications for any of your apps appear in Action Center and also change the priority of notifications. By default, Cortana is your top app in notifications (showing you reminders and traffic tips) It's very easy to modify Quick Action buttons, remove those you don't need and move around those you use the most. Simply hold and drag. Many notifications are having little "more" triangle button to see the rest of the message or mail. Many apps now support actionable notifications to answer right from action center without opening relevant app. There are few visual changes too. If you have a few notifications from one app you will notice all of them grouped together under Name of the app. If you long press on notifications and group name of notifications in Action Center you get a menu with direct setting options like: Make this app high-priority, Turn-off notifications from particular app, Go to notifications settings.
START SCREEN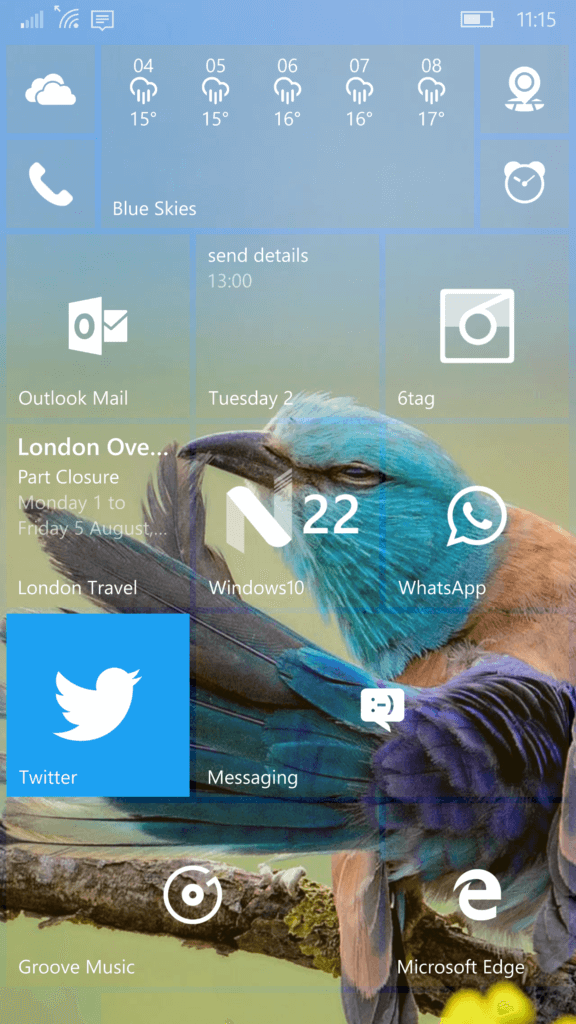 While on PC there is few significant changes to start screen (including new buttons placed directly on screen), on mobile there is no change. Still tiles in 3 sizes, still 3 ways of personalisation (solid colour, picture in tiles, full screen picture with floating tiles). The only change that might be visible comes from refreshed tiles of many MS apps (beautiful Maps tile, calendar tile packed with appointments etc)
CORTANA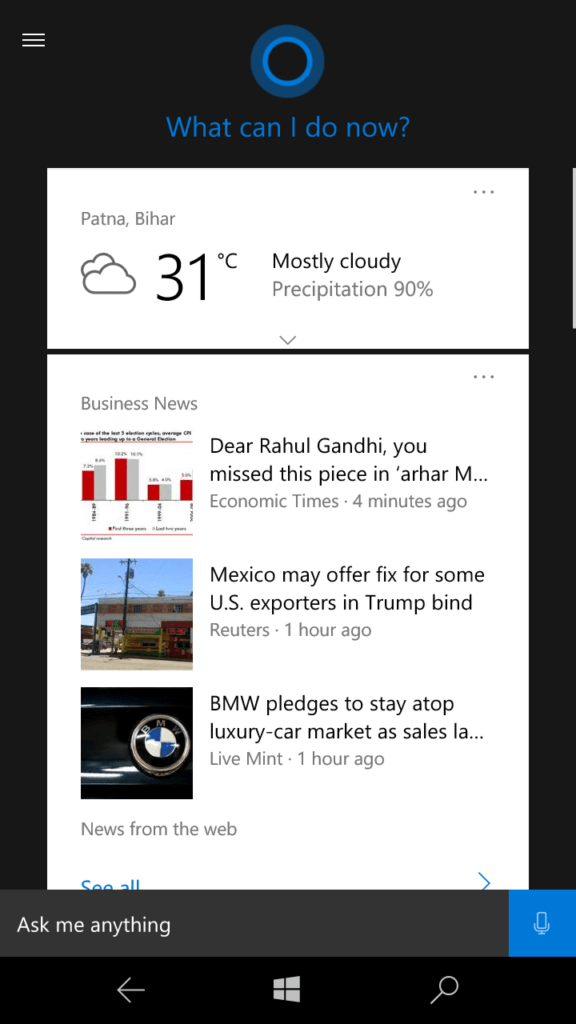 Finally, Cortana can speak the language you want her to without messing with the whole system language settings. That is just brilliant change in a good direction. Many people living in not supported parts of the world (most of the world) were forcing Cortana to work but they had to set up whole phone to one of relevant countries which was affecting Store and many other parts of the system. I've tried this once and even changing UK to US was painful and annoying experience.  Now you can have your Windows being set to region in remote Greenland and set Cortana to speak English. Simple. Having Windows 10 PC and Windows 10 mobile gives few other options. Like send a photo to my PC. You can create a picture reminder. Cortana will now also send your phone notifications and usual alerts like low Battery alerts, messages, twitter, facebook, instagram as well as missed calls from any Windows 10 phone or Android device to your PC, so you can't miss a thing while working hard on your PC. Oh and she is still so ugly. Black and White.
KEYBOARD
Two important changes I've noticed here. Emoticons are now big and juicy. Much more vivid and funny. Word Flow keyboard is much worse in recognising what I want to write then in previous versions of Windows (not mention Windows 8.1 which had the best keyboard in history).
SETTINGS MENU
Main Menu is still the same, but sub-menu entries have their own icons. Except Extras, this one is still left over from Nokia times. In theory when you pin a sub-setting menu it should have its icon on live tile, but it doesn't work just yet, every live tile has the same icon.  Few items have been moved to more logical places, like glance screen is now in personalisation group.  Another new item in there is Navigation bar to easily switch off or on vibrating and double tap on bar to switch off your screen.
MESSAGING
Swipe to delete has been added and messaging everywhere that was in testing for a long time has been removed. It's hard to say is it good or bad. We need some messaging solution for sure. For Windows Fans having Windows PC and Windows Phone it was a great feature. But it would be always a very niche. I think Microsoft decided to go for Skype Everywhere solution as it can pull messages from any devices and Sync them to the PC. Even though we all know there is no way Skype will ever deliver.
MICROSOFT EDGE
Highly upvoted feature to swipe left and right to go back or forward has been added. I found it slightly too sensitive, but hopefully it will be ironed soon. Small but nice move of inPrivate button from hidden menu directly next to New Tab. I would like to see there Close All as well as I use it a lot. Word Flow is now working when you type in web addresses. I find saving pictures much easier.  Edge instead of opening File Manager and asking every time where to save a picture, now puts them directly to Saved.
ACTIVE HOURS
Go to Settings > Update & security > Windows Update. You can set the time in which you are most active on your phone and Windows Update will avoid installing updates during your active hours on your device.
BATTERY SAVER
Battery Settings and Battery Saving menu are now joined for a better experience. This is now a single place for all battery related settings in the Settings app. This also includes the updated the much detailed battery usage page so you can now manage every app background setting without going somewhere else.  You can choose from three options: Always allowed, never allowed and new Managed by Windows.
MAPS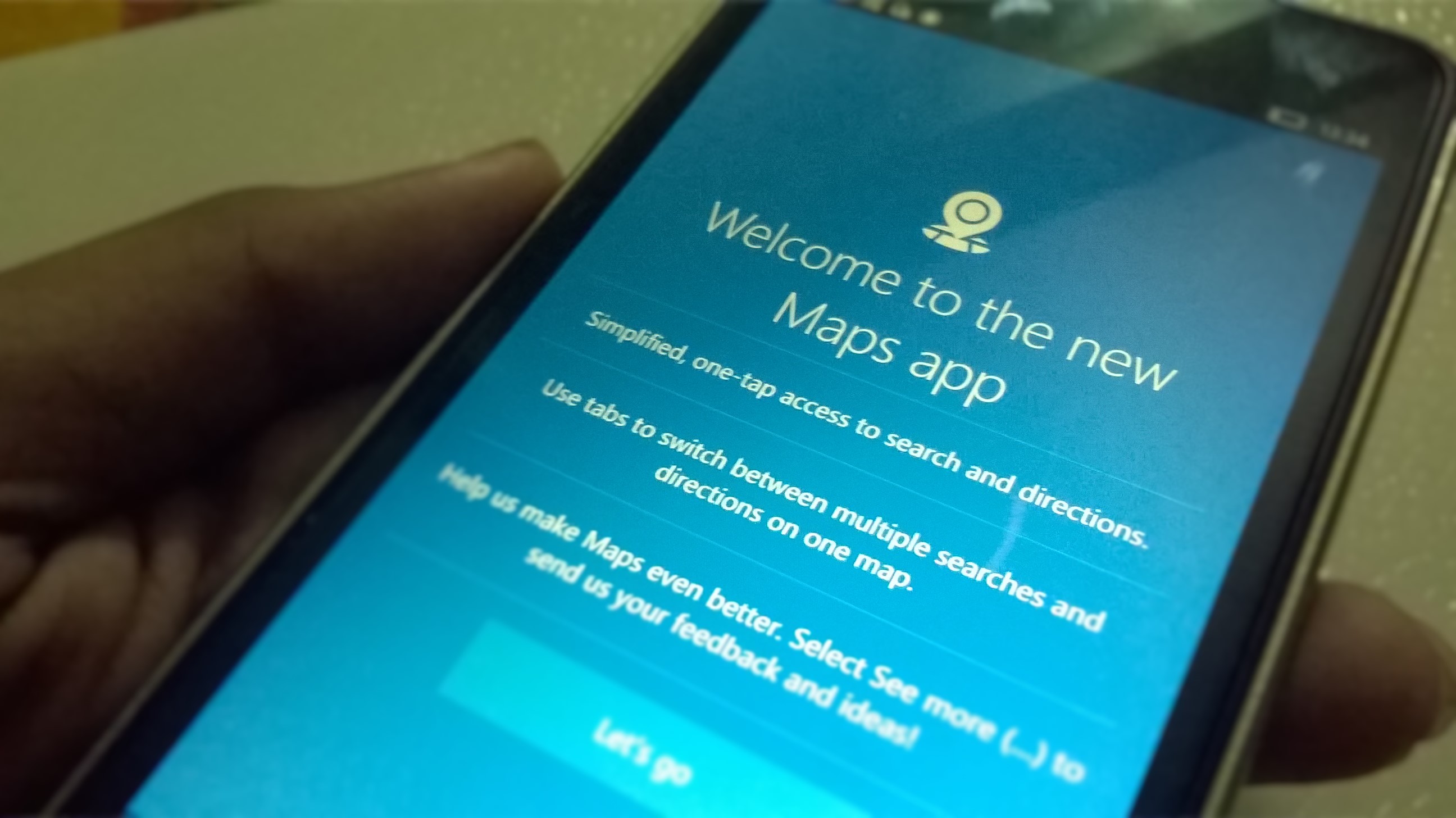 New maps are just beautiful and packed with features and deep integrations from Cortana, Yelp, TripAdvisor.  You can view few searches in the same time as all your searches are kept in Tabs. Cortana now will be your guide if you need turn by turn navigation. Your favorites places have names not only a Star so it is easier to identify which one is which one. Search results are no longer list of numbers, they are all now shown by names.
PEOPLE
Visually not much has changed. Still fonts are too small and there is loads of empty space without use. But history is back. Now going to a specific person you can go through all recent messages, mails and phones calls. Unsurprisingly Skype is not there yet.
EXPERIENCE
I haven't changed my device. I still rock Lumia 950 which came originally with first Windows 10 Mobile. Difference in Anniversary Update vs Threshold in terms of smoothness and animations is big. Even though my start screen looks more lively and packed with information it still seems far more responsive. Multitasking is in many cases as good as apps are well written, but most of the cases multitasking is snappy and I cannot find …Loading anywhere.  Random restarts and crushes are gone. Finally, this is Windows we used to, fast and reliable.