Microsoft releases a new report which claims Microsoft Edge can stay with you longer while watching your favorite movies and TV series. This was followed by their previous report claiming the built-in Windows 10 browser will give you more battery when it comes to web browsing. The Redmond-based company highlights video hardware acceleration, PlayReady Content Protection, and Protected Media are designed to provide highest quality, most secure, and most power-efficient for video playback on any version of Windows. They said that Microsoft Edge is optimized to take advantage of these Windows 10 built-in media capabilities.
Microsoft Edge ranks at #1 with 7:22 hours of video playback, followed by Opera 38 with 6:18, Mozilla Firefox 46 with 5:09, and Google Chrome 4:19.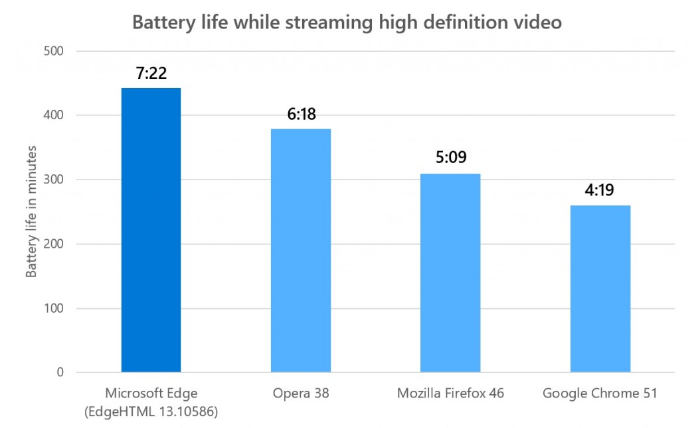 The report also claims that Microsoft Edge is not just the most power efficient, but is also receiving higher resolution and bitrate video compared to other browsers. It means that when you play a 1080p video on Edge and 720p on other browsers, it will just consume the same amount of battery.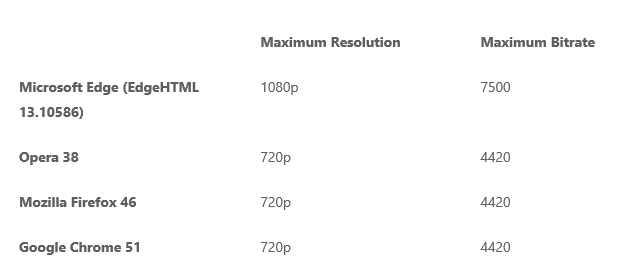 As per report:
Microsoft is working with industry leading graphics chipset companies to expand support for hardware acceleration of new higher quality content.  We are also working with chipset companies to support

Enhanced Content Protection

that moves the Protected Media Path into peripheral hardware for an even higher level of security.  The code running in the peripheral is isolated from the main OS, which provides an increased level of protection, and will likely enable content owners to stream 4k or higher resolution video with confidence.  We call the improved security from hardware based DRM "Security Level 3000".
Chipsets that support hardware based DRM have been shipping in newer PCs.  The full support system awaits completion of software components that are coming in Fall of 2016.  The Windows 10 platform has significant power and security advantages for media playback available to any application.  Paired with the media features built into Windows 10, Microsoft Edge has best-in-class battery life and video playback quality on Windows 10 devices, including PCs, Mobile, Xbox, HoloLens, and other devices.
Microsoft wants us to know that using Edge on video playbacks will gives us the longest battery life without compromising the quality.