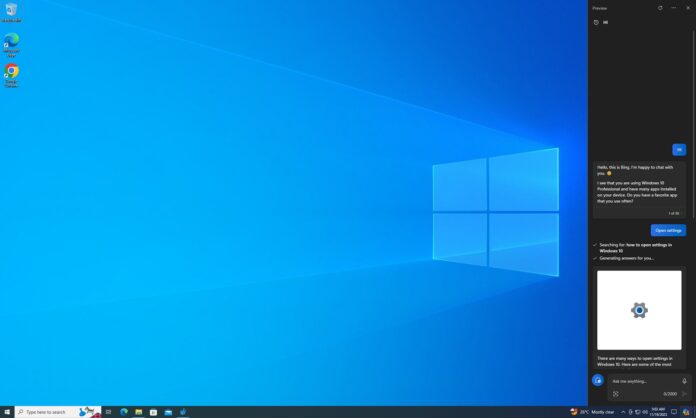 Later this year, Microsoft is bringing Bing Chat and ChatGPT GPT-4-powered Copilot to Windows 10. The tech giant says the feature will begin rolling out in the coming weeks, but today, we're able to show you Windows 10's new "Copilot" sidebar that will bring the first set of AI features to the operating system.
Shortly after bringing Copilot to Windows 11 in September, Microsoft recently confirmed its plans to launch Copilot on Windows 10 in the coming weeks. Copilot on Windows 10 also uses Microsoft Edge's WebView, but it has several limitations. For example, Copilot is not deeply integrated into the operating system, so you won't be able to launch apps.
Our tests showed that Copilot on Windows 10 is essentially Bing Chat running through the Chromium-powered Microsoft Edge. The only difference is that Bing Chat can detect you're running Windows 10, so if you ask the AI questions like 'how to open settings', it will show results for Windows 10, not some other platforms.
A closer look at Copilot in Windows 10
So, how do you use Copilot on Windows 10? It's pretty straightforward and similar to Windows 11. You can click the new Copilot icon on the right side of the taskbar, located between the Action Center and the "Show Desktop" button.

Or you can use the Windows + C shortcut. This preview update replaces the Cortana shortcut with Copilot, but the Cortana app isn't automatically removed.
On Windows 11, the Copilot button is located next to the search button, but Microsoft plans to move it to the right side at some point in the future.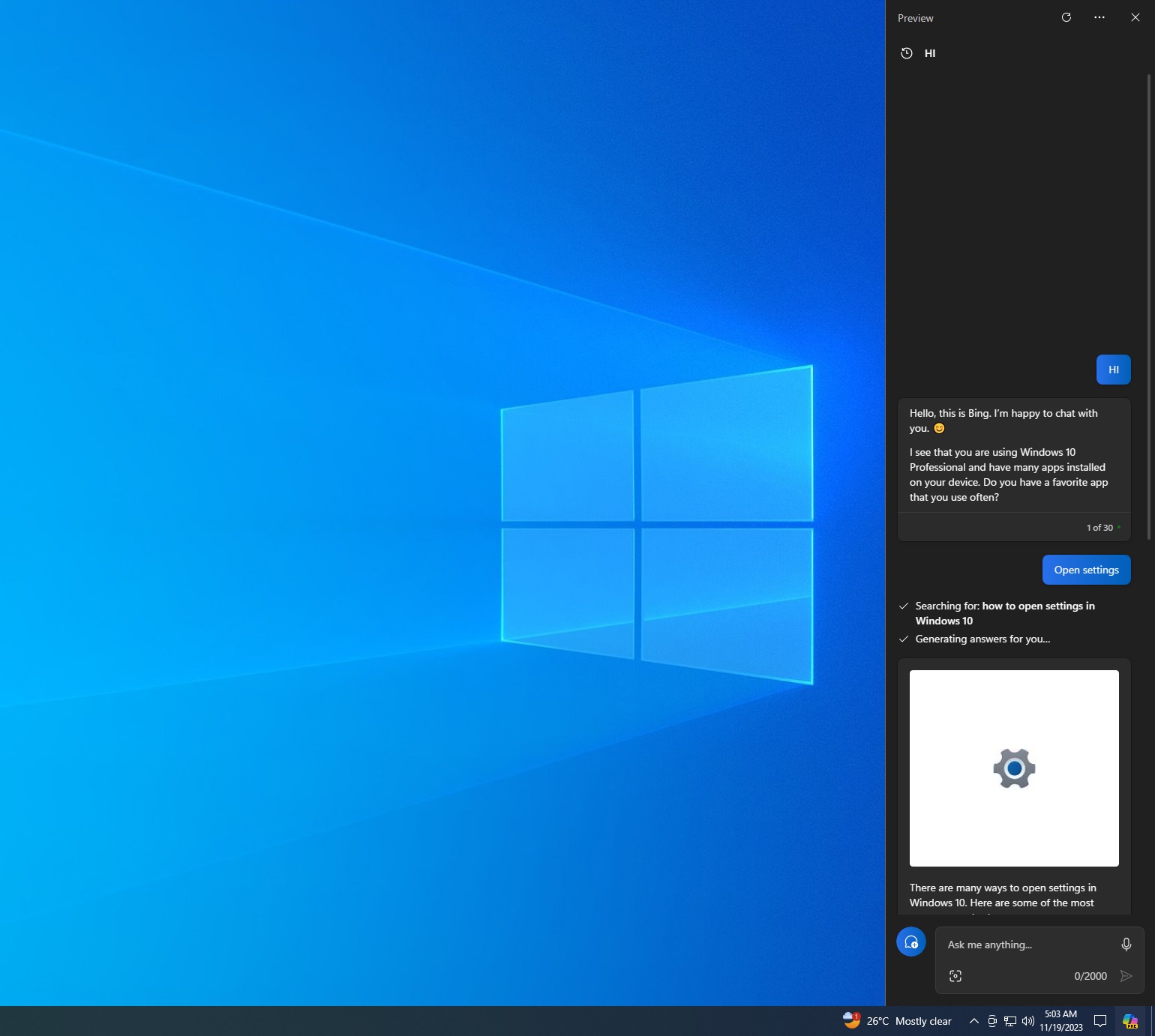 Copilot appears as a sidebar on the right edge of your screen, and it can run alongside other apps like Chrome, File Explorer, Settings, and more. It won't overlap with your desktop content, but it doesn't have the option to unpin or pin the side panel, which is being tested in Windows 11.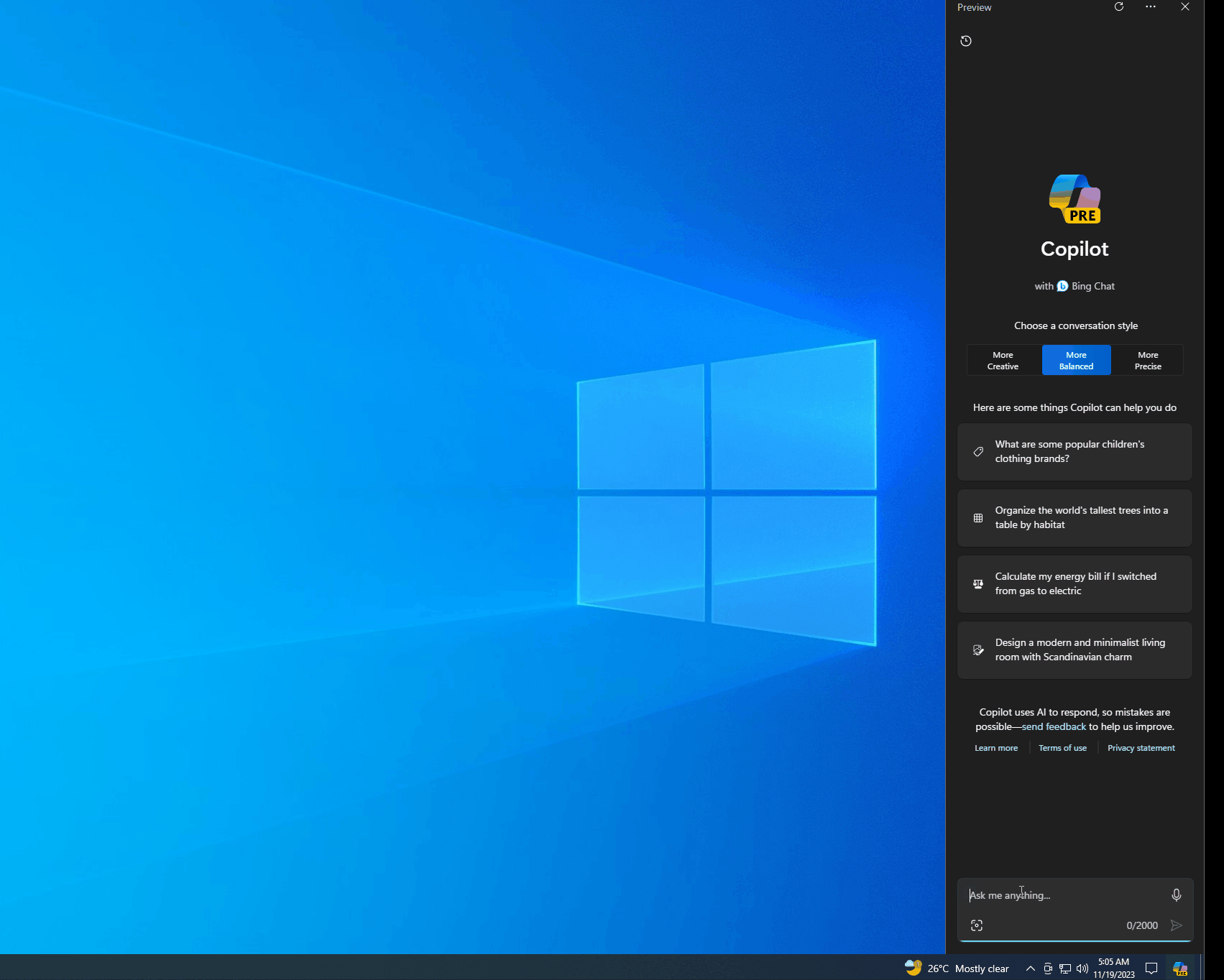 Once you've opened the Copilot sidebar, you can choose More Creative, More Precise, and More Balanced.
As mentioned above, Copilot on Windows 10 is Bing Chat running view Edgeview, so the experience is similar—the same imagination, creativity, information, and features.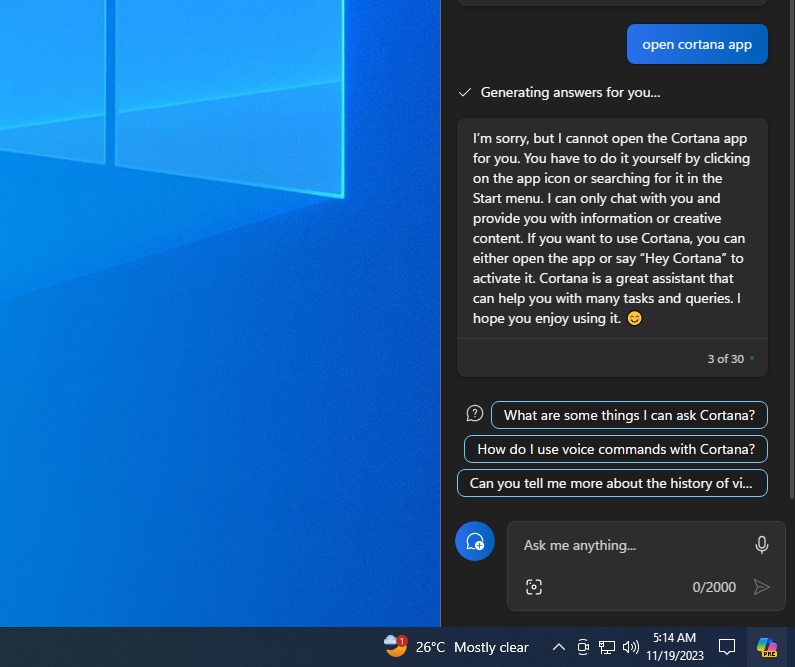 I ran some tests and noticed Copilot isn't capable of launching apps. This is possible on Windows 11 through API integrations, but I won't be surprised if Windows AI skills are also ported to Windows 10 soon.
Also, Copilot on Windows 10 will support all third-party plugins and native plugins like 'search', which lets you turn off Bing search integration and let you use ChatGPT without the web.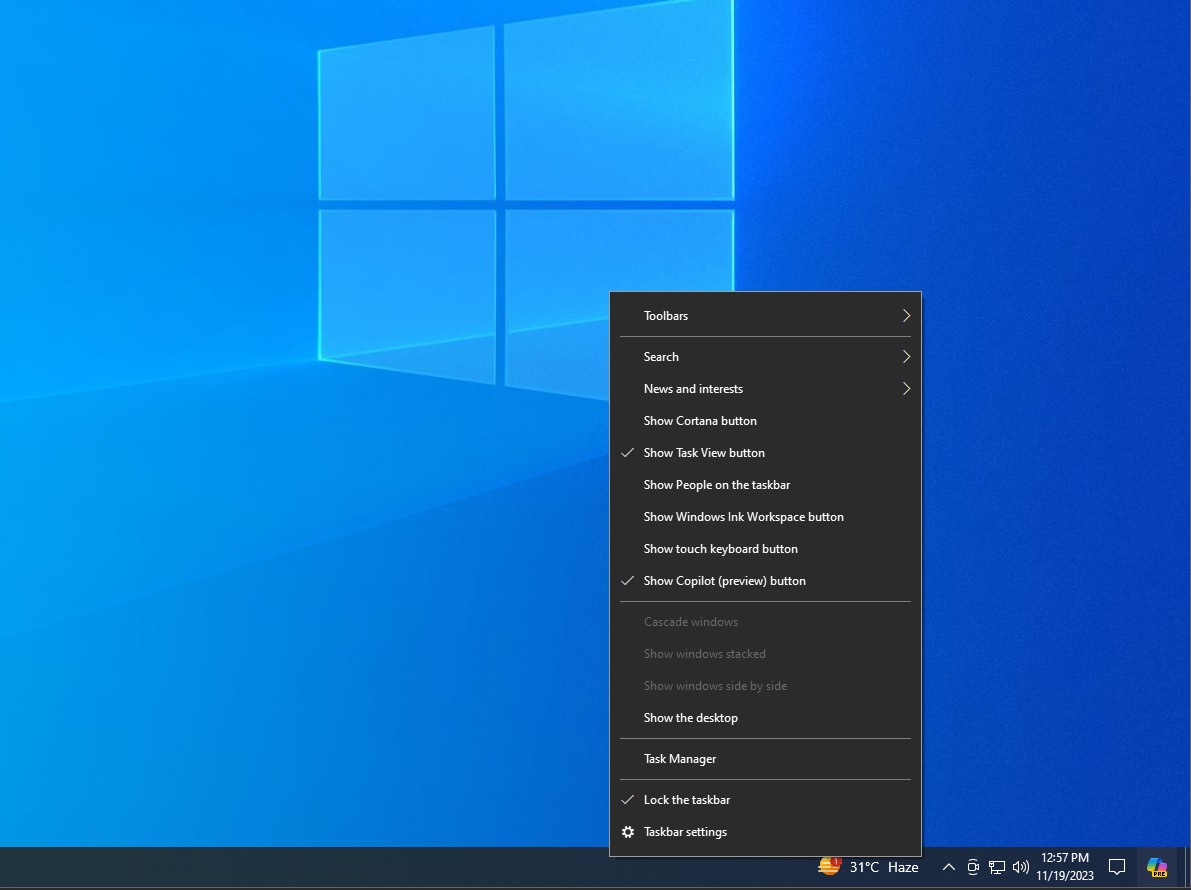 If you don't like Copilot, you can hide it by right-clicking on the taskbar and selecting the hide option.
When is Copilot coming to Windows 10 for everyone?
Microsoft won't tell us exactly when the feature is coming to Windows 10. The official blog post states it will begin "rolling it out in the near future", and only devices meeting the following requirements will be able to use it:
Build 19045.3754 or newer with the "Get the latest updates as soon as they're available" switch turned on.
720p display and at least 4GB of RmilAM.
If you can't wait, you can follow our guide to force enable Copilot on Windows 10, but this is not recommended.
Microsoft says the Bing Chat AI rollout will be a phased launch via controlled feature rollout (CFR), a way of gradually releasing features to a subset of users. This will happen over the coming months, but those on Enterprise and Education editions will be excluded for now.