You're not alone if Windows 11 23H2, or Windows 11 2023 Update, is not downloading via the Media Creation Tool. This is an expected behaviour, at least until the second week of November. Microsoft has confirmed it needs to work on Windows 11 23H2 delivery optimization before pushing the update via the Media Creation Tool.
KEY POINTS
The Media Creation Tool, essential for upgrading or cleanly installing Windows 11, is currently not offering the Windows 11 2023 Update (version 23H2).
This delay is due to Microsoft's efforts to refine the tool's delivery system to provide a more efficient installation process. The update will be available through the Media Creation Tool in the second or third week of November 2023.
The Windows 11 2023 Update is particularly appealing for those on older versions, as it reintroduces taskbar ungrouping and labels—features that were previously removed.
Media Creation Tool is a handy tool that lets you upgrade a PC or do a complete clean install of Windows 11's latest version. The sole purpose of a Media Creation Tool, or MCT, is to prepare an installation drive or create .ISO. While Microsoft offers Windows 11 ISOs via its download page, MCT lets you customize the media.
When a new Windows feature update is released, it becomes available through various channels, including the Media Creation Tool, almost immediately. However, this time, in the case of the Windows 11 2023 Update, there is a short delay between the official release and availability via the Media Creation Tool.
A Microsoft spokesperson said Windows 11 2023 Update won't be offered via Media Creation Tool until the second or third week of November 2023. The exact details are unavailable, but the tech giant is believed to be optimizing the delivery of the feature update through the tool.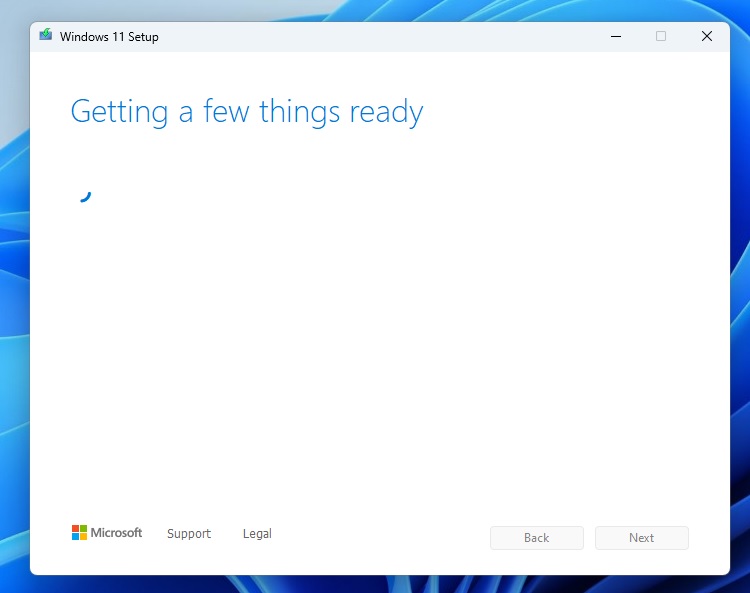 I'm told the 'optimizations' are related to optimizing download sizes or improving the installation experience to reduce installation time. Microsoft wants to ensure no problems with the upgrade experience before making it available to everyone through one of the most popular channels, Media Creation Tool.
Whatever the reasons are, Microsoft is taking several steps to ensure the Windows 11 2023 Update process is as smooth and trouble-free as possible for all users.
Is it worth upgrading to Windows 11 2023 Update?
The short answer is yes; this update is worth your time. Windows 11 2023 Update comes with a lot of nifty features, especially if you're upgrading from an older version like version 21H2 or Windows 10.
For example, this release comes with ungrouping support for the taskbar. For years, users have had access to ungrouping apps and showing labels on the taskbar, but it was removed from the original release of Windows 11.
With Moment 4 or Windows 11 2023 Update, Microsoft is bringing back "ungrouping" for the taskbar, allowing you to see individual instances of apps like File Explorer. Similarly, it is now possible to quickly identify and switch between apps and items on the taskbar via the labels feature, which was also removed in the original release.
There are several other quality improvements in recent Windows updates, which makes Windows 11 Moment 4 or Windows 11 23H2 an important release.
If you want to install Windows 11 23H2 without using the Media Creation Tool, you can use Settings > Windows Update > Check for updates or Microsoft's Installation Assistant.