KEY POINTS
Microsoft Edge has reintroduced the Mica effect, and you can enable it by heading to the flags menu (edge://flags) and turning on "Mica" flags in Canary on Windows 11.
Alongside the Mica effect, Microsoft Edge version 118 introduces various changes, including removing the Bing icon in favour of the AI-powered assistant, Copilot.
The update also brings improved features like an enhanced "Find on Page" function using AI, new SmartScreen policies, and more detailed update controls. Updates can be accessed via Edge settings.
With Internet Explorer retired, Microsoft Edge remains the only browser supported by Microsoft on Windows now. To make it more competitive against Google Chrome and other browsers, Microsoft has been constantly adding new features to Edge.
As spotted by Leopeva64 on X and verified by us, Microsoft has brought back the Mica effect to Edge's title bar and toolbar.
For those unaware, Mica is a Windows 11-exclusive dynamic material that bridges the gap between theme and desktop wallpaper by painting the background of app windows with desktop background. This change can be enabled by a flag on Windows 11 in the latest canary builds of Microsoft Edge.
To enable the effect, users can follow the below steps:
Update to the latest Edge build (120.0.2167.0 or newer) on the latest Windows 11 Canary build.
Open the flags page by navigating to edge://flags

Find the "Show Windows 11 visual effects in title bar and toolbar" page.
Enable the flag and restart Edge.
Go to Settings and open the Appearance tab.
Enable the "Show Windows 11 visual effects in title bar and toolbar (Preview)" option and restart the browser.
The Mica effects will be visible now on the browser.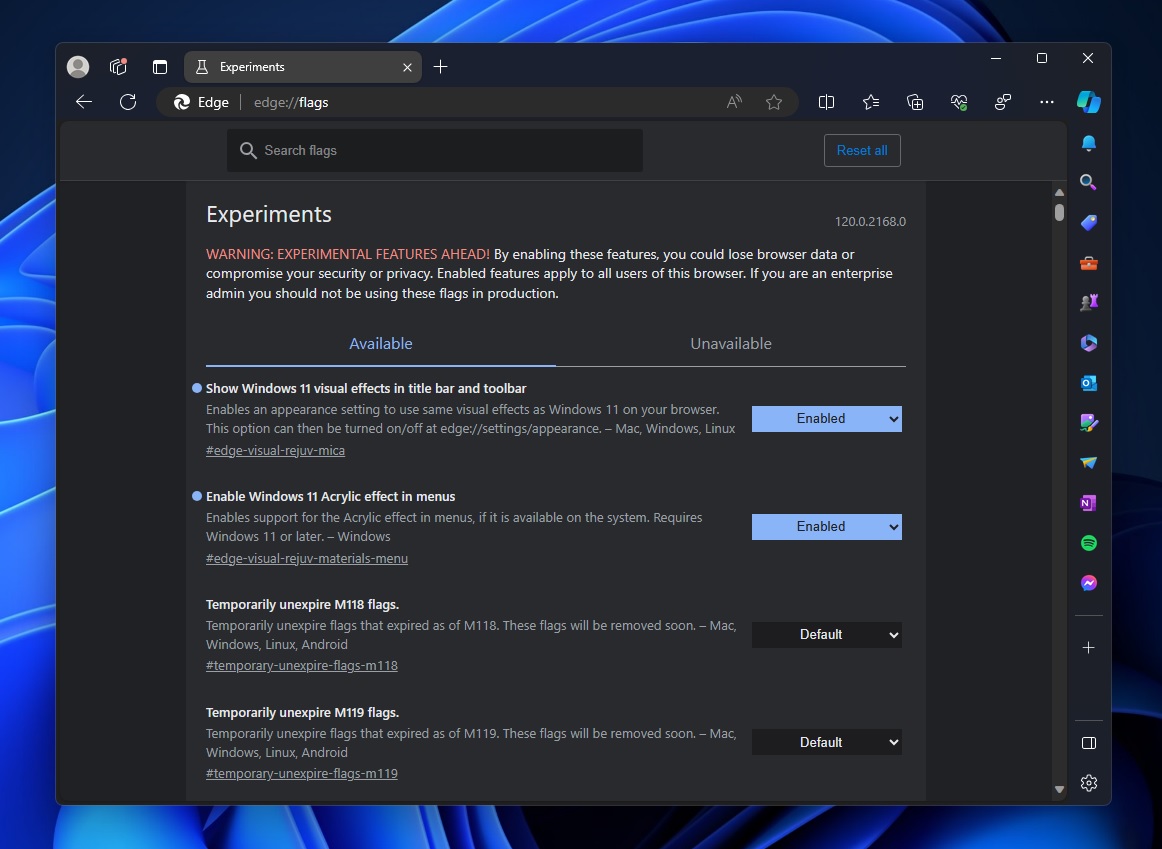 While Microsoft has been late to the show, Google had already shipped Mica effects to Chrome a few months back.
Other changes coming to Microsoft Edge
Along with the Mica effect, Microsoft is also bringing other changes to Edge. With version 118 of the browser, Microsoft has brought several changes to Edge.
For example, the Bing icon on the sidebar has been removed in favour of Copilot, Microsoft's new AI-powered assistant. Microsoft has also refreshed the internal page of Bing Chat AI to specify that Bing is now a Copilot for Edge browser.
This won't change the existing behaviour of AI in Edge, and you can still find Copilot everything in the browser, including PDF pages and a mini context menu.
In addition to Copilot branding changes, Microsoft confirmed the following new changes in Edge:
Microsoft Edge for Business Banner is being deprecated. In the business version of Edge, the built-in banner will no longer be visible.
A new version of the "Find on Page" feature is rolling out, and it allows users to quickly find words or phrases on a webpage, even if it is being misspelt. Microsoft is believed to be using AI magic to improve the "Find on page" feature.
New SmartScreen policies allow admins to control and create a dictionary of file types exempted from SmartScreen.
New Update policies, which allow for more granular controls.
You can always try these changes by updating Edge from Settings > About.