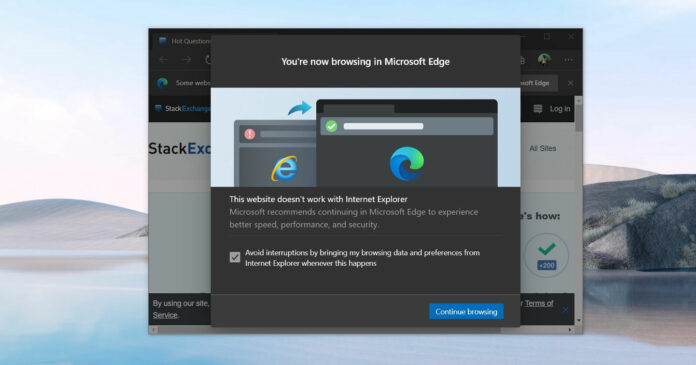 Microsoft recently opened up a little about the transition to Internet Explorer-free Windows 10 experience and revealed that Chromium Edge is the future of Internet Explorer on the operating system. After the announcement, changes have already begun to appear in the preview builds of Windows 10's next feature update "Sun Valley".
The transformation may be complete but Microsoft isn't doing away with Internet Explorer completely. Initially, users of Internet Explorer will be automatically redirected to Microsoft Edge when they attempt to visit websites in the retired browser. This change is now being tested with Insiders.
In the preview builds, Microsoft has started sending Internet Explorer traffic to Microsoft Edge. This change is currently available in Build 21387 or newer and it's expected to go live in the production channel in October or November. If everything goes according to the plan, Windows 10 21H2 update will disable IE11 by default.
Microsoft to retire Internet Explorer in 2022
In older versions, such as version 20H2 or version 2004 of Windows 10, Internet Explorer will be retired in June of 2022. Microsoft has confirmed it will kill off defunct Internet Explorer, and some Microsoft services can no longer be accessed in the IE11 desktop app as part of the phased discontinuation plan.

After the deadline of June 2022 has passed, users of the unsupported browser will be redirected automatically to Microsoft Edge (Chromium). If you bypass the redirect, you'll be able to use the browser with limited features. For example, Microsoft 365 features, Microsoft account services and popular websites will be unavailable.
Microsoft will, however, continue to honour the server version of Internet Explorer and enterprise customers will be able to access the retired browser for more months. However, it's no longer possible to use all Microsoft 365 apps via the browser.
Chromium-based Edge, which has replaced EdgeHTML-based Edge Legacy, will remain the company's new flagship offering. In an announcement for business customers, Microsoft explained that Chromium Edge delivers a host of security and quality features that users might expect from a modern browsing solution.
In addition to IE11 changes, Windows 10 21H2 latest preview build has also fixed numerous bugs.
For example, Microsoft fixed an issue where the post-upgrade welcome screens displayed texts using a broken version of Times New Roman font. Likewise, Microsoft has fixed another bug that resulted in installation issues with Windows Updates, particularly .NET updates.