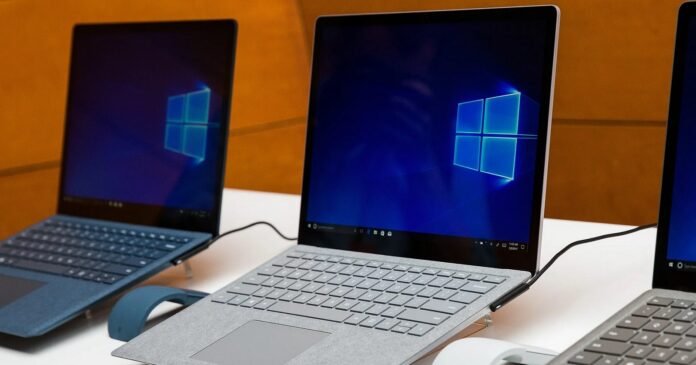 Windows 10 KB5031356 version 22H2 update is now available for everyone via Windows Update and Microsoft Update Catalog. Installing the patch manually using .msu files is possible since Microsoft has posted direct download links for Windows 10 KB5031356 offline installers (.msi files) on Catalog.
KB5031356 for Windows 10 is an October 2023 security update, and it comes with several improvements and bug fixes. For example, this month's cumulative update adds a new search box experience that may temporarily override your settings. If your taskbar is set to show a search icon or button, it will automatically change to a search box.
The new search panel in Windows 10 22H2 update is designed to help you find what's latest on Bing and easily access apps or settings as you already do. If you want to return to the old experience, you can click the "undo" option in the box "Search box has been added to your taskbar. Want to keep this change?"
Windows 10 Build 19045.3570 also changes one of the hyped and forgotten features of the operating system – News and Interests. In the support document, Microsoft noted it's adding new animation to the News and Interests taskbar buttons. You'll notice these animations when you hover or click the icon, and a new announcement appears.
As always, you can install the latest security patch by heading to Settings > Updates & Security > Windows Update and clicking "Check for updates". You'll see the following patch when you hit the button:
2023-10 Cumulative Update for Windows 10 Version 22H2 for x86-based Systems (KB5031356)
For Windows 11 users, Microsoft has published KB5031354 for Windows 11 22H2 with Moment 4 and other features.
Download Links for Windows 10 KB5031356
Windows 10 KB5031356 Direct Download Links: 64-bit and 32-bit (x86).
What is new in Windows 10 KB5031356?
October 2023 Patch Tuesday adds an improved search box experience to Windows 10's taskbar. While Microsoft says the new search experience is better than the previous version, some users may disagree as the new UI pushes more web content.
New animations for the taskbar's News and Interests.
Microsoft has fixed issues with the touch keyboard where the feature would not respond.
In addition to the above key fixes, Windows 10 Build 19045.3570 also makes one significant change – fixing an issue that broke App-V, a virtualization environment. The bug affected copy operations.
Another bug that affected Microsoft Print to PDF functionality has been fixed, mainly when the metadata features the name of the author who printed the document instead of the display name.
Windows updates also fix issues reported with certain USB printers, as every cumulative update does. Due to this problem, Microsoft Defender would incorrectly block these devices from executing their print commands.
Here's a list of all critical bug fixes in Windows 10 KB5031356:
Microsoft is resolving slow startup times because of Windows Defender Application Control.
Microsoft is bringing back IMEPad functionality, especially for users who have experienced crashes.
Microsoft is improving the compatibility associated with Microsoft Defender for Endpoint to prevent unforeseen issues.
Microsoft is fixing the UI of toast notifications. Some of you might have noticed a broken interface when using Remote apps.
Windows update has also fixed a notable issue: external binding failure post the installation of Windows updates from May 2023 onwards.
Windows Hello for Business interface is getting several bug fixes to ensure the process remains responsive. Previously, some users found Windows Hello for Business to be non-responsive after enrolling in biometric authentication,
Similarly, for those using compressed OneDrive files through NTFS, there's a fix ensuring the system doesn't freeze.
The cumulative update also aims to make Windows 10 more reliable, and Microsoft encourages users to download and install the update.
Known issues in the update
Microsoft is currently aware of at least one known bug in KB5031356 where two policy settings – FixedDrivesEncryptionType or SystemDrivesEncryptionType – may crash apps or apps won't launch with an error message "65000 error in the Require Device Encryption" on systems using BitLocker.
The tech giant clarified that the issue only affects "reporting" and not the drive encryption. Microsoft says it's working on a fix, but you can set  "Enforce drive encryption type on operating system drives" to not configured in Group Policy Editor, and you won't run into the problem.