KEY POINTS
Microsoft has integrated Bing Chat AI and DALL-E 3's 'Image Creator' into its SwiftKey keyboard for Android, making it easier for users to generate and share AI-powered images on apps like WhatsApp, Telegram, and Instagram.
To use this feature, users need to download SwiftKey from the Play Store, enable it, and access the "Bing" icon within the emoji section of the keyboard. From there, users can type a description and generate an artwork.
Besides the new image creator, SwiftKey offers other AI features such as Bing Chat integration, including tone adjustments and a 'Compose Box' for generating various types of written content.
Microsoft is rolling out a big Android update that makes Bing Chat AI and DALL-E 3 powered 'Image Creator' easily accessible on phones. You can now open the keyboard on Android and click the "Bing" icon to generate DALL-E 3 powered images and share the artwork using apps like WhatsApp, Telegram, and Instagram.
Bing's DALL-E 3 Image Creator, which started rolling out to select users on the web, is now integrated directly into Microsoft's SwiftKey. Spotted by Windows Latest today, the changelog reveals the company rolled out the feature to users on September 12, but not everyone has access to DALL-E 3.
Microsoft's CEO of Bing and advertising previously confirmed Bing's DALL-E 3 is rolling out to lucky (select) users. This also applies to the image creator within SwiftKey for Android, so if you do not have access to DALL-E 3, you can still use the image creator powered by the less capable DALL-E 2.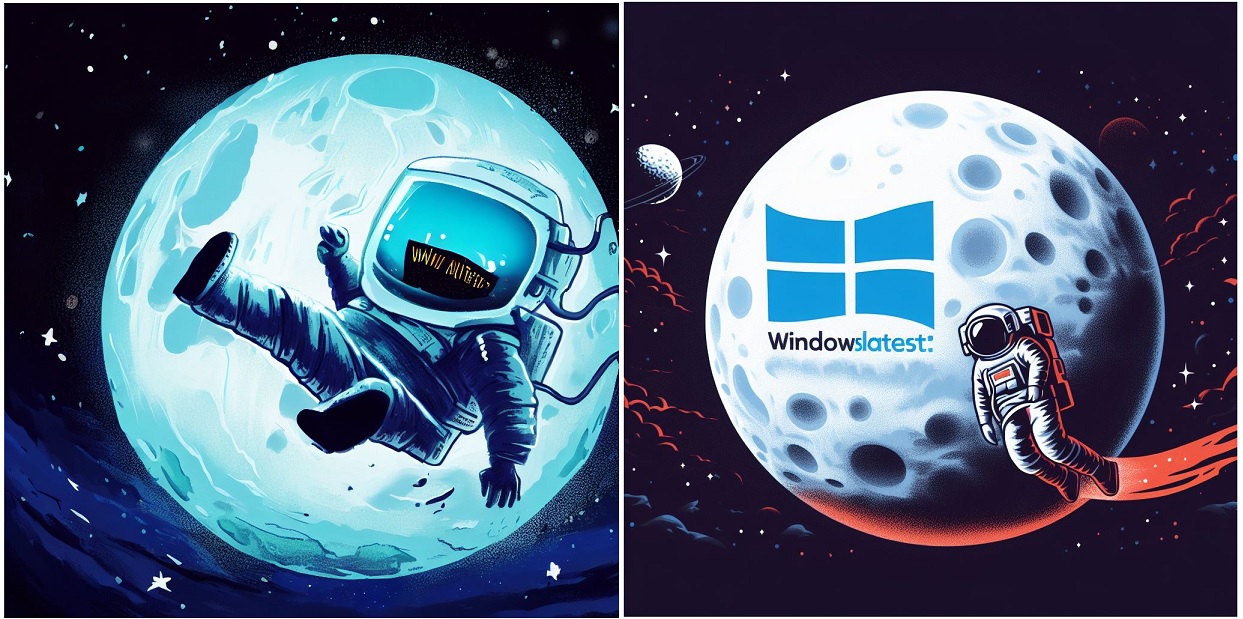 How to use Bing Image Creator with DALL-E on Android
Getting started with Bing Image Creator on Android is a straightforward process.
You'll need to download SwiftKey Keyboard from the Play Store and follow the on-screen instructions, which include enabling SwiftKey and changing the default keyboard settings.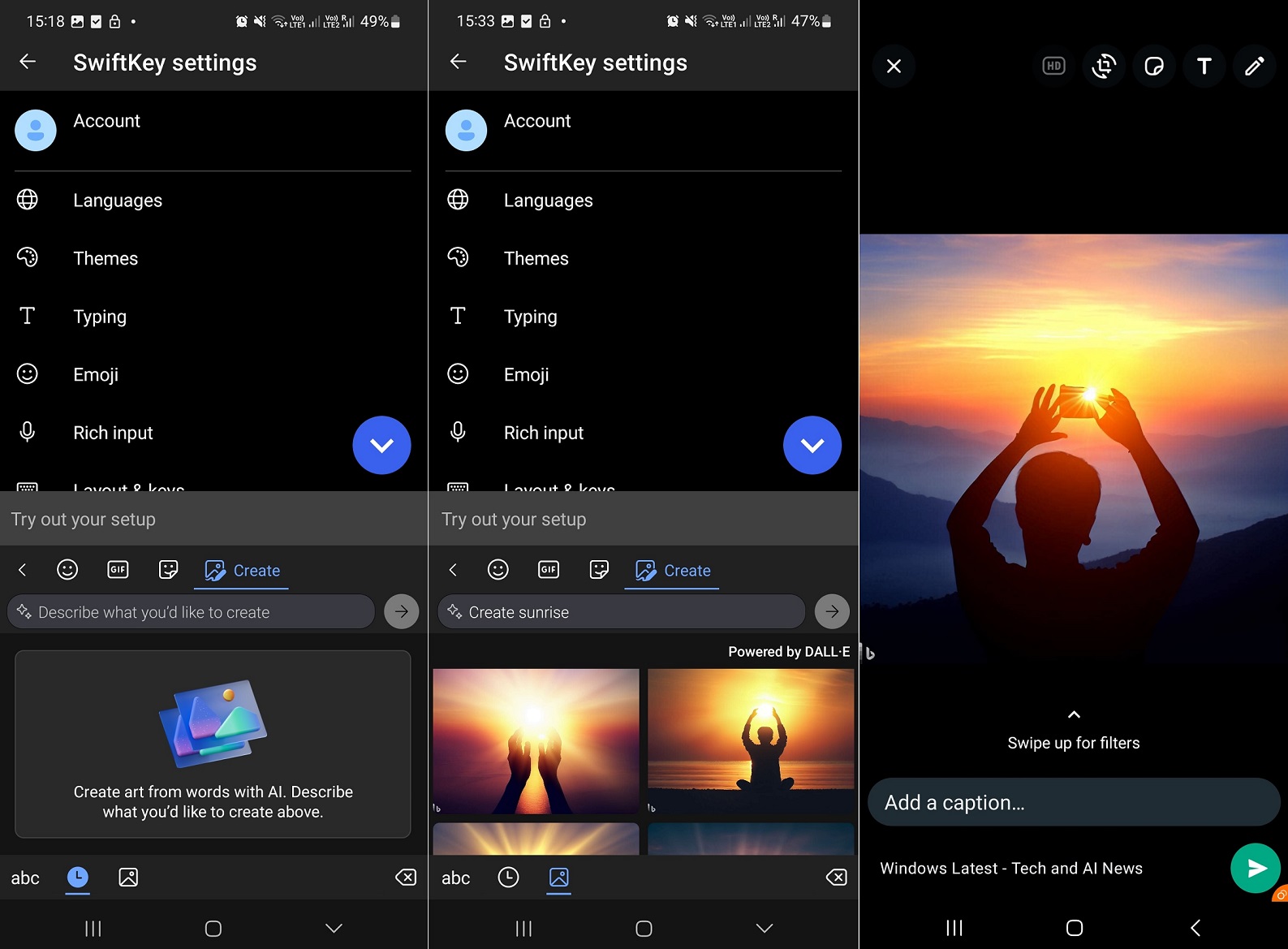 Once done, open the text field in an app like WhatsApp, where it's possible to upload or share images. Click the Emoji icon in SwiftKey, select the artwork icon (Bing Creator), and sign in to the Microsoft account. Finally, type the prompt (description of the artwork you want to generate) and press enter.
As you can see in the above screenshots, SwiftKey will generate DALL-E images within the keyboard. You can select the image and share it with your contact, group or channel on WhatsApp and similar apps. It's as simple as that.
Bing Image Creator is a new addition to the existing AI features SwifftKey. Microsoft's Android keyboard already supports full-fledged Bing Chat integration with features like Bing Search, Tone, and Chat. You can rewrite your texts in four available tones, namely "Professional", "Social post"," "Polite," and "Casual."
It comes with a 'Compose Box', similar to Microsoft Edge's sidebar.
You can open the compose box to generate paragraphs, emails, blog posts, and more. Finally, the 'Chat' section on the keyboard opens the full-fledged Bing Chat, where you can type a question, and Bing will return a detailed response.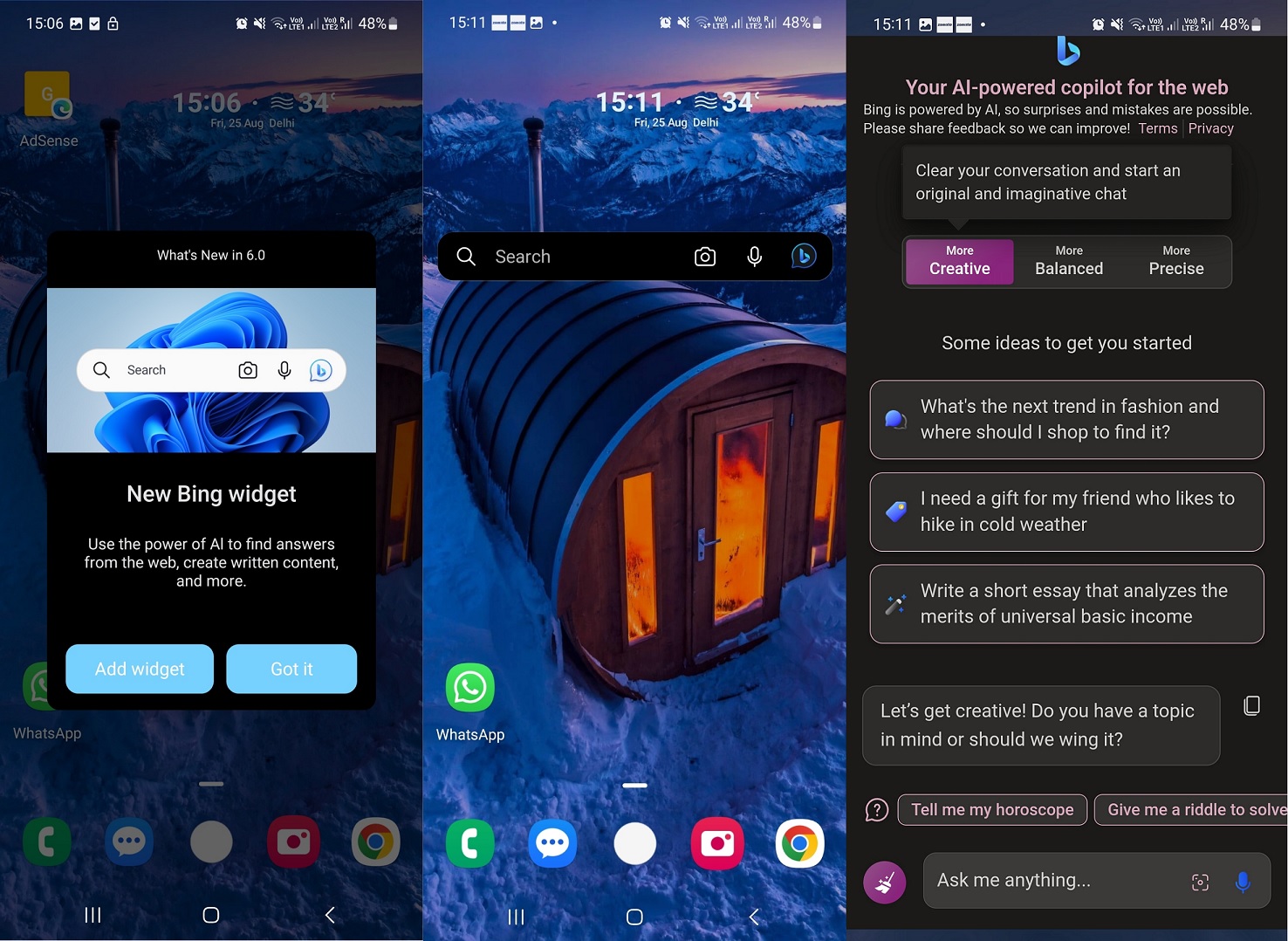 You can also use Microsoft Launcher to access Bing AI features on Android. The search bar within Microsoft Launcher enables access to Bing AI from anywhere.
Unfortunately, these features are unavailable on iOS, but Microsoft has an updated 'Bing' app for iPhone and iPad that gives you free access to GPT-4 and DALL-E 3.