Microsoft is betting big on AI for Windows, Bing and now Xbox. According to new job listings seen by Windows Latest, Microsoft has created an "Xbox Gaming AI team" to build new AI experiences for Xbox, including games and engines.
This is according to a recent job listing for Xbox Emerging Technologies. The listing calls for a Principal Software Engineer with experience in both gaming and AI, aiming to expand the Xbox Gaming AI team. The job listing was published before Microsoft's September event, where the tech giant plans to announce new Windows 11 AI features.
Microsoft says it's looking for a game developer who can help the team create the future of "Game AI" enhanced with deep learning and foundation models, and the tech giant expects the employee to have technical expertise in creating in-game bots. Could this mean Microsoft is also exploring AI for in-game experience? We don't know yet.
The listing reveals that Xbox Emerging Technologies is actively looking into new and emerging technology trends to define the future of gaming. Microsoft's new gaming team aims to move beyond traditional boundaries and put players and creators at the core of their advancements.
"The Xbox Gaming AI team is seeking a Principal Software Engineer with experience in gaming and Artificial Intelligence (AI) to collaborate with and empower Xbox games, engines and platform teams to explore and create innovative new Artificial Intelligence/Machine Learning (AI/ML) based features, tools and services," Microsoft noted in the job posting.
The specific role seeks an individual working on projects to bring new features, tools, and technologies to life. This includes leveraging cutting-edge AI and machine learning to improve video game experiences and platform tools.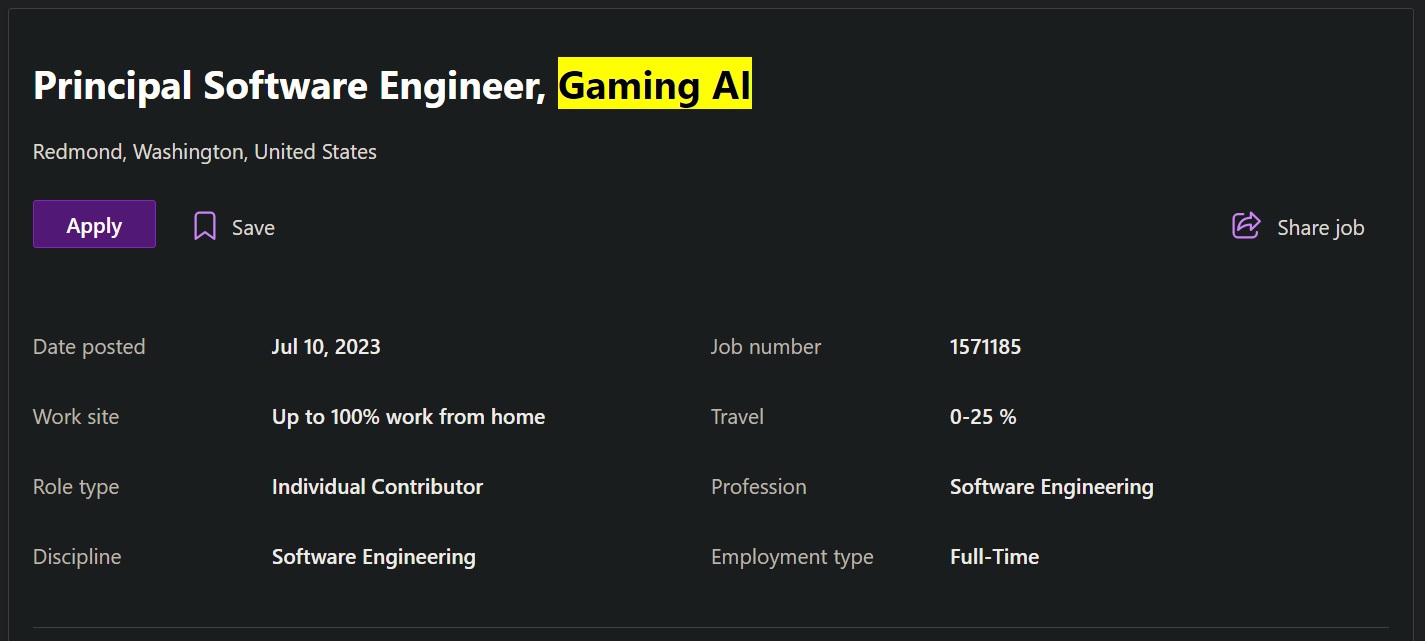 The ideal candidate is not just expected to be technically proficient but also highly collaborative, possessing an in-depth understanding of game development, game engines, and game testing. Alongside this, expertise in machine learning is considered equally crucial.
The role demands a game developer with experience in initial prototyping to production engineering. The candidate is expected to work with various professionals, including other software engineers, data scientists, product managers, and machine learning researchers, Microsoft stated.
Another intriguing aspect of the job listing is the focus on implementing AI/ML techniques such as Large Language Model (LLM) prompt engineering and model runtime implementation in gaming.
This suggests that Microsoft is exploring ways to make games more interactive and intuitive.
With this new team, Microsoft aims to revolutionize the Xbox gaming experience and the broader landscape of AI in gaming.