Microsoft has just dropped a new update in the Release Preview Channel that turns off Cortana on Windows 10. As we first spotted, this move comes after the software maker killed off the digital assistant on Windows 11 as it bets big on Windows Copilot, Microsoft 365 Copilot, Bing Chat, and more.
When Microsoft discontinued Windows 10 Mobile, many assumed the company would instantly kill Cortana. Instead, Microsoft announced it's opening access to Cortana to third-party hardware, and Windows 10 will compete with Amazon Alexa. Later, Microsoft announced a conversational AI update for Cortana, which was seen as a significant boost to its assistant.
After months of major company-wide restructuring, Cortana finally stopped getting features on Windows 10. Cortana received its last update on Windows in 2020, and the Windows Phone-era digital assistant has become redundant in Windows at this point, particularly with Windows 11's release.
Microsoft once championed Cortana as an 'intelligent agent' designed to manage work and personal tasks. But as Microsoft pivoted towards AI and acknowledged the challenges of competing with Amazon Alexa and Siri in intelligent home capabilities, the company no longer sees a future in Cortana.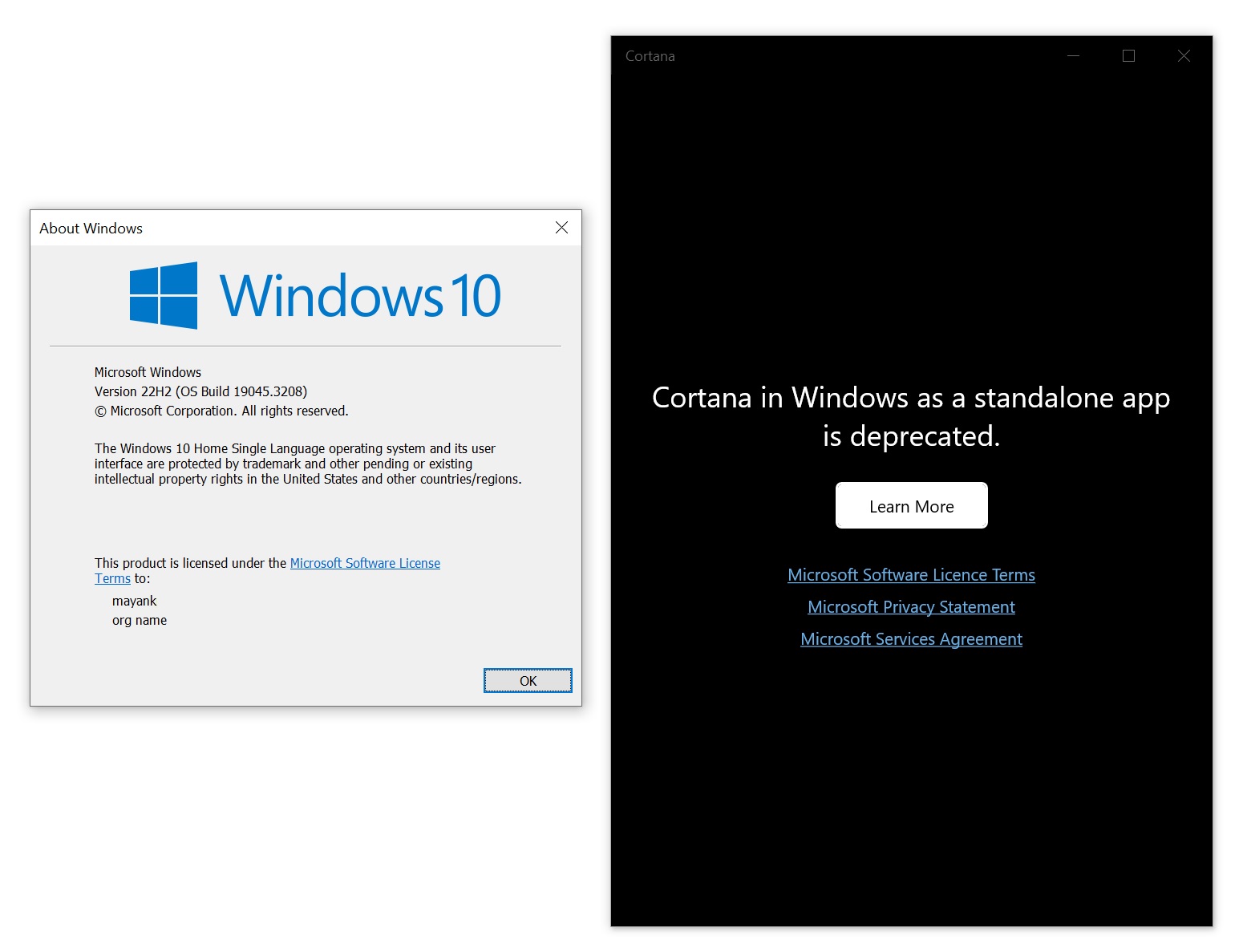 Windows 11's latest update killed the Cortana app, and the new Windows 10 update also turned off the digital assistant.
As first spotted by Windows Latest, Cortana version 4.2308.1005.0 ends support for the app on Windows 10.
When you open the app, you will notice a new message that says Cortana has been depreciated. Microsoft says you can close the app or click the 'Learn more' button to understand the transition to Windows Copilot and AI.
The Learn More button points to a document titled "End of support for Cortana in Windows" on Microsoft.com
On Windows 11, you won't need Cortana anymore as Microsoft has brought AI to desktops, Microsoft 365, Edge, and search engine. However, Microsoft doesn't offer a direct alternative to Cortana on Windows 10. That's because the company has stopped developing new features for Windows 10
In the support document, Microsoft reminds us that the operating system, including Windows 10, already has features to replace the digital assistant.
I don't know how many used Cortana's innovative skills, like setting up reminders, alarms, and creating notes. However, other features, like opening a webpage, are still possible via Bing Copilot in Microsoft Edge. To write an email, you can use Outlook's AI integration powered by Microsoft 365 Copilot to achieve the task.
If you like Cortana or miss her, remember that the retired assistant will remain in other Microsoft services. You can use her in Microsoft Teams, Microsoft Outlook, and related mobile apps.