Windows Copilot is now rolling out to testers in the Windows Insider Program's Dev Channel. As I exclusively reported, Microsoft has been internally testing Windows 11's Copilot integration for the past few weeks, and it's finally ready for public testing with Build 23493 or newer.
Windows Copilot is powered by Microsoft Edge's web rendering capabilities, which means it is essentially Bing.com wrapper with Windows 11 integration. Copilot is in the early stage of development, and it doesn't have 'exciting' features, but you can ask the assistant to turn on and off features like "Do not disturb" or switch between dark and light modes.
Since Microsoft Edge powers the experience, you must have Edge version 115.0.1901.150 or higher. Microsoft also confirmed users need to log in to their Microsoft account to use the feature. If you're already signed into Microsoft account on Windows, Cpoilot will use it automatically.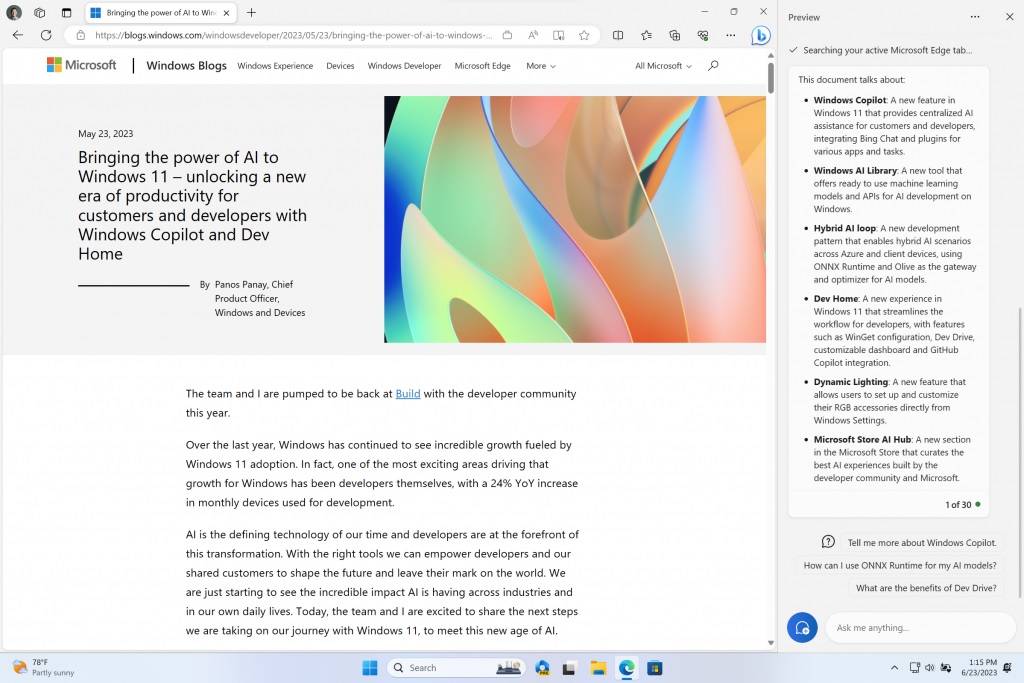 As you can see in the above screenshot, Windows Copilot doesn't appear on top of the apps or games. Instead, it is docked to the right side of the screen so that you can use it with pretty much any app on Windows. This means sense as Windows apps are already compatible with other apps side-by-side.
Copilot doesn't have all the features teased at the Build 2023 conference, but it does support plenty of helpful "Windows 11 actions". For example, you can ask it to change the theme to light or dark. Or turn dark mode, capture screenshots of the current screen and even summarize content when browsed with Microsoft Edge.
As mentioned, Copilot is Bing.com inside Microsoft Edge with deeper Windows 11 integration, so you can ask Bing anything you want. This includes "where to eat dinner tonight" and the best places to visit in Europe, and Windows Copilot will respond similarly to Bing.com.
How to try Windows Copilot in Windows 11
To try Copilot right now, follow these steps:
Signup for the Dev Channel of the Windows Insiders Program.
Reboot.
Go to Windows Update and check for updates.
Download Build 23493 or newer.
Copilot is Bing.com in a web-wrapper app "dock" in a nutshell
Bing can generate contextual responses and help you use Windows more efficiently, such as summarizing texts on the screen or browsing the web with Microsoft Edge. You can use Copilot to change a few settings here and there and more.
To put it simply, Copilot is a lot like Cortana, but it's a lot smarter and more powerful, thanks to OpenAI, Bing AI and Windows 11 integration. However, Cortana's native UWP interface is much more responsive and better than Copilot's web-based experience, at least for now.
Microsoft officials added that Windows Copilot's first preview doesn't have everything shown at the Build developer conference. It cannot be used to try third-party plugins from OpenAI or modify advanced Windows Settings.
These features or "actions" will be added over time as Microsoft continues to work on the update.