Microsoft's Bing AI has sparked a wave of interest and excitement on the internet and in the tech world, and it has also given a massive boost to the search engine's usage in the past few weeks.
While Bing AI is based on Microsoft-funded OpenAI's ChatGPT, none of Microsoft's AI investment seems to radically change how an average user interacts with Windows or even Office products. In the past, Microsoft has always used its new technology to infuse existing products, and we could see the company heading in the same direction with AI.
Aside from Bing AI shortcut on the taskbar and background noise filtering, Microsoft hasn't used AI to make significant changes to Windows 11. Background noise filtering results from Microsoft Teams advancements, while the new Bing AI shortcut on the taskbar barely changes anything.
This could change soon as a new feature called "AI-powered Depth Effects" is heading to Windows 11. "Depth effects", which seems to be powered by Microsoft's in-house AI work, could use AI to add depth to the background images.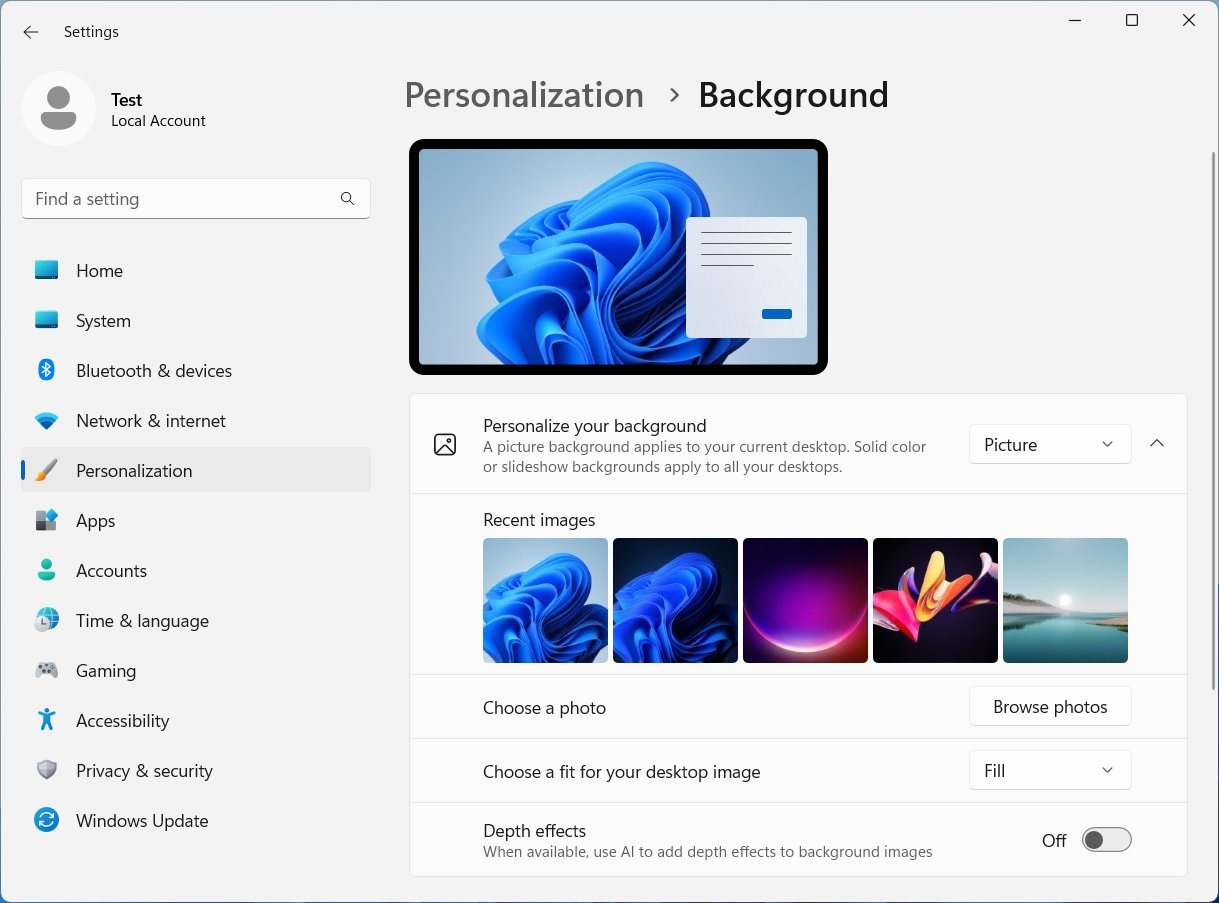 You can enable or disable the feature by heading to Windows Settings > Personalization > Background.
We don't know how Microsoft plans to use AI to improve desktop backgrounds. Still, references in the preview build suggest the company wants to bring a subtle multilayering aesthetic feel to the wallpapers with a soothing sense of depth.
Similar to iOS, Windows 11 could also use the depth information associated with the image to blur the parts of the photo and determine which areas should be in focus.
To better understand how adding depth effects to images could change their appearance for good, you can use apps like Adobe After Effects to build your depth maps and compare the difference.
More AI features coming to Windows 11
Another feature getting a taste of AI would be snap layouts (sometimes also called Snap Assist), which lets you easily manage and rearrange program windows.
As you're probably aware, Windows 11 lets you hover the mouse cursor over the app's window (near the maximize button), which opens a snap diagram that lets you fit your current app.
Snap layouts feature has long been excellent at managing and rearranging Windows apps, and it's getting better with AI integration. AI-powered snap layouts feature will remember groups of snapped apps, so you can easily switch between the commonly used layouts and bring back apps in the layout with a single click.
These features should arrive in Windows 11 soon, and you don't have to wait for AI-powered Windows 12, which is rumoured to launch in 2024.