Windows 11 has been rolling out to customers worldwide and it has received all sorts of interesting updates since it's come out. For example, Windows 11 version 22H2 (the OS' first big update) added tabs to File Explorer, enabled drag-and-drop support for the taskbar, and much more.
After adding tabs to File Explorer, it looks like Microsoft is planning to bring tabs to the Notepad app. This won't be Microsoft's first attempt to add tabs to apps like Notepad. In 2017, Microsoft experimented with a feature called "Sets", which added tabs to different apps and eliminated the need of opening multiple windows of the same app.
Windows 10's tabs idea grouped windows into a single tabbed window, allowing you to have multiple instances of Notepad and other apps in a single window. This feature was officially shelved in 2019 as Microsoft was internally running into technical problems, according to sources.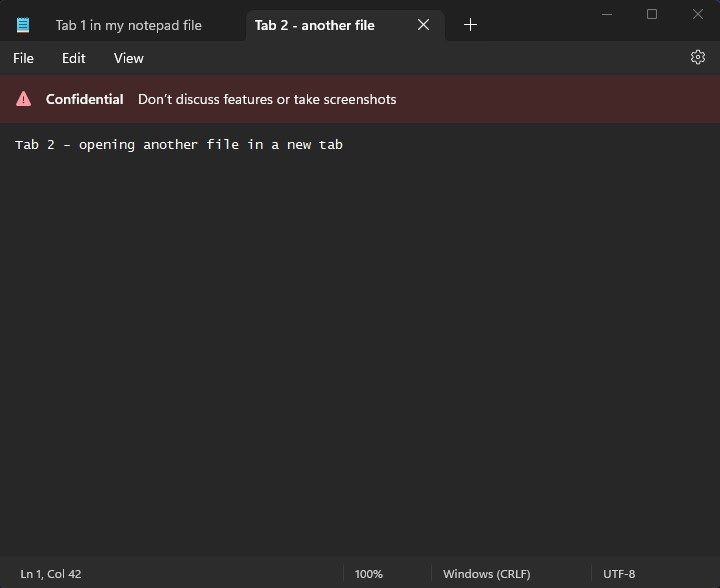 Microsoft now appears to be working on "tabs" support for the Notepad app, according to a screenshot posted by a Microsoft engineer. This feature seems to be in the early stage of development and there's a warning within the app about the confidential agreement to not discuss or share the feature with the public.
It's great to see tabs support expand beyond File Explorer and arrive in a popular app like Notepad. It may not sound like a big deal for many users, but being able to organize multiple instances of Notepad with tabs rather than relying on separate windows is going to be much more productive.
It is also worth noting that tabs support will contribute to better performance. For example, File Explorer's tabs use far less RAM. In our tests, we observed that a new tab only increases memory consumption by just a couple of megabytes.
Of course, this is subjective and is going to be different for all configurations, but tabs integration will definitely reduce memory consumption.