Windows 11 KB5021255 is now rolling out to all production devices as part of December 2022 Patch Tuesday. This update comes with a couple of minor new features and several bug fixes. Windows 11 KB5021255 offline installers are also available on Microsoft's Update Catalog and these installers can be used to manually upgrade the PCs.
KB5021255 is a security update, so it comes with tons of security fixes for the operating system. This Patch Tuesday update also includes a couple of changes for the Settings, but it's likely that you already have access to those new features if you installed November's optional update.
With Windows 11 December 2022 update, Microsoft is finally introducing deeper OneDrive integration for the Settings page. As a result, you can now view OneDrive storage alerts on the Systems page of the Settings app. However, these alerts appear only when you are close to the allocated limit.
It is also possible to view and manage your storage and purchase additional storage directly from the settings. The updated settings even display the storage capacity of all your OneDrive subscriptions, including the total storage on the Accounts page in the Settings app.
(If you're on Windows 10, you'll receive KB5021233 with tons of bug fixes). On Windows 11, if you check for updates, you'll see the following patch:
2022-12 Cumulative Update for Windows 11 for x64-based Systems (KB5021255)
Download Links for Windows 11 KB5021255
Windows 11 KB5021255 Direct Download Links: 64-bit.
Windows 11 KB5021255 (Build 22621.963) important changelog
Today's Windows 11 22H2 update combines Spotlight with Themes on the Personalization page. Microsoft is combing the two features to help you discover new wallpapers more easily and turn on the Spotlight feature while managing the existing customization options in the OS.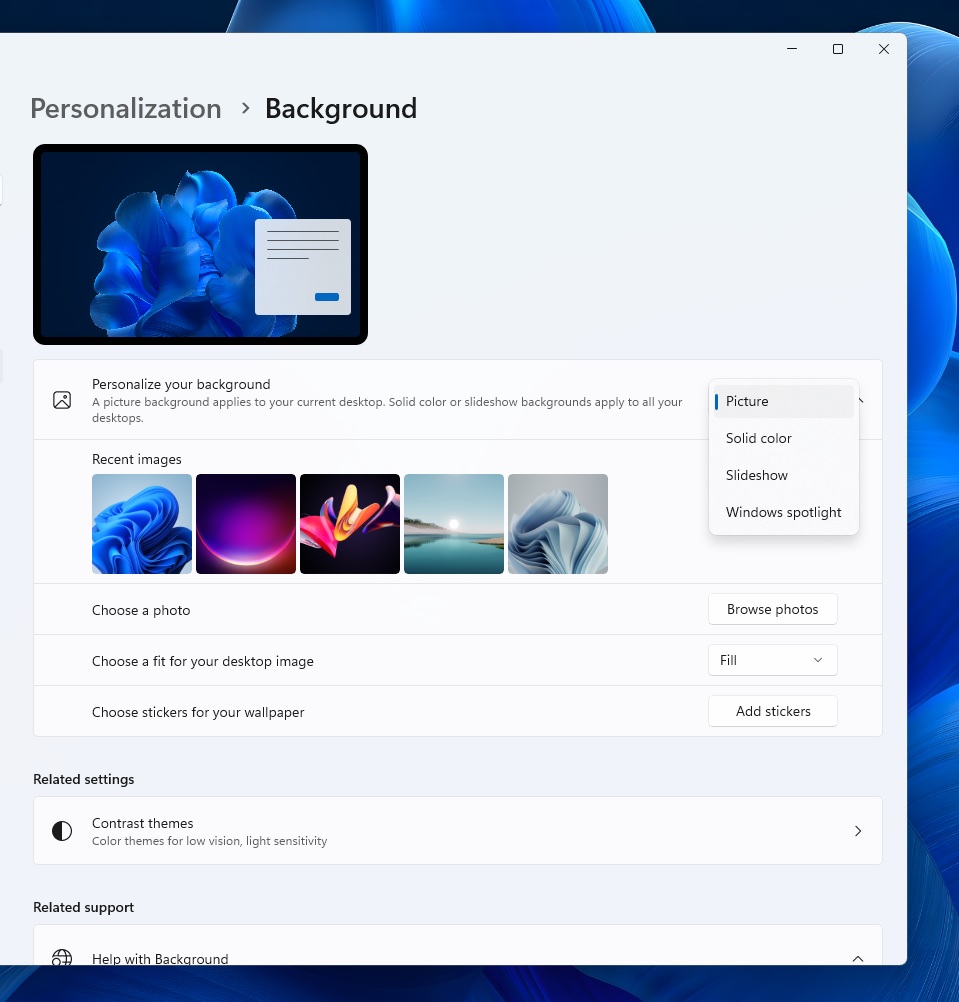 According to the official release notes, Windows 11 Build 22621.963 or Build 22622.963 also addresses an issue that affects some modern apps. A bug has been fixed where the OS prevented users from opening the app. The patch also addresses a known issue that affects the Input Method Editor (IME).
Additionally, Microsoft says it patched an issue where File Explorer could stop responding to user actions. This issue is experienced when you close context menus and menu items.
The patch fixed an issue that might cause certain apps to stop responding, especially when you use the Open File dialog.
Here's a list of all important bug fixes in Windows 11 Build 22622.963:
Fixed an issue that affects transparency in layered windows.
Fixed an issue that affects microphone streams that use the"Listen To feature".
Fixed an issue where printing in landscape mode in Microsoft Edge does not work and output is incorrect.
Fixed an issue that causes high CPU usage and affects File Explorer.
Fixed issues with the Windows Firewall service.
Fixed an issue that affects the performance of some games and apps.
New features coming to Windows 11: seconds on the taskbar
Microsoft is also working on a couple of new features for version 22H2, including 'seconds on the taskbar'.
Windows 11's November 2022 preview build officially enabled an option that lets you add seconds to the taskbar's clock. We already knew that this feature was on its way to the new operating system and it looks like Microsoft is also planning to bring it to Windows 11 22H2 production builds.
As you're probably aware, Windows 11's taskbar witnessed various changes which haven't been popular among users. One of the features removed with Windows 11 is "seconds in taskbar's system tray clock". This is an addition to the stripping back of more advanced features like the ability to move the taskbar.
The problem with Windows 11's taskbar is that it's built from scratch and Microsoft needs to add back all the features again. For example, the system tray no longer has 'clocks' integration at the bottom. In other words, there's no way to make the taskbar clock show time in seconds (not just the hour and minutes).
Initially, users assumed that the missing 'seconds' feature was just a bug in the taskbar, but it turns out that the feature was intentionally excluded from the original Windows 11 release. The company also removed the registry hack that force-enabled this feature.
According to references spotted in the latest builds, it looks like a future Windows 11 22H2 cumulative update will restore clock seconds on the taskbar.