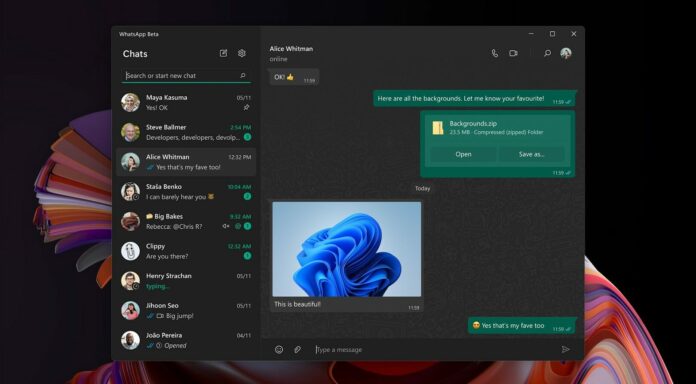 WhatsApp UWP is updated frequently and we saw many new features come to the Facebook-owned messaging service last year. Meta refreshed the interface of WhatsApp for Windows 11 with WinUI and Fluent Design, recently updated with reactions support.
Facebook is testing a new update for the beta version that's been available on the Microsoft Store for Windows 10 and Windows 11. The latest update introduces a dedicated 'calls' tab in the messaging app. As you can see in the below screenshot, the dedicated "calls" tab has been added to the left side of the app.
This new calls tab shortcut lets you quickly access all your voice and video calls. It is worth noting that the calls tab hasn't been rolled out widely and users may not see the updated experience even if they have access to the beta app, but it should be available to all users in the coming weeks.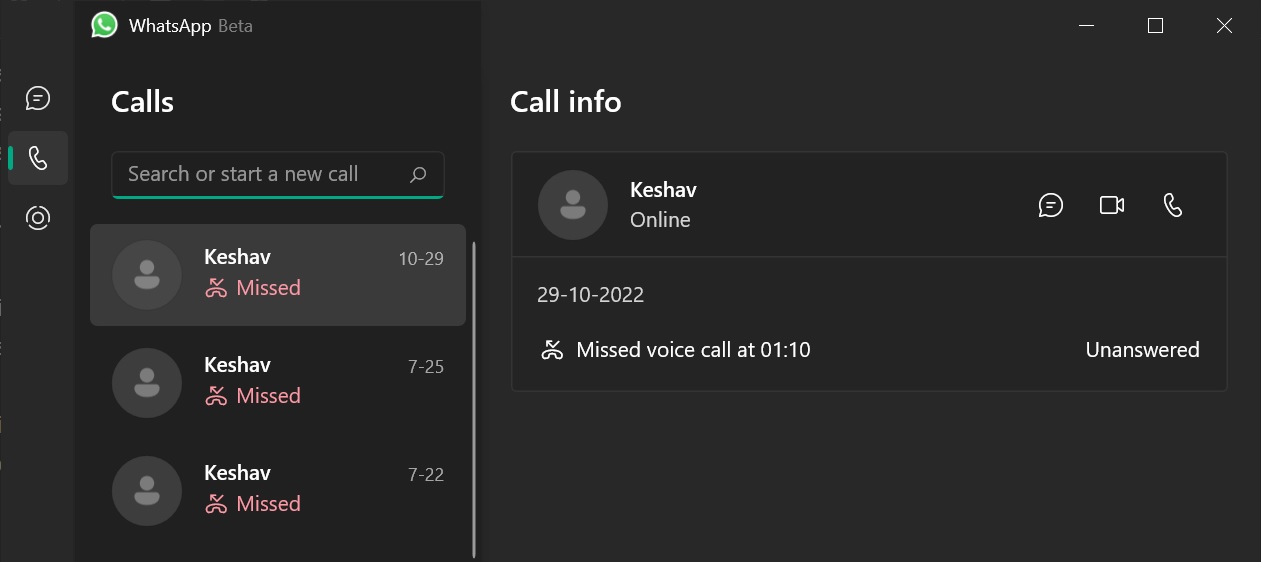 This new tab will appear alongside Chats and Status. You can also search for calls using the search bar above the call history. The calls tab lets you manage the previous calls, so you can click on the call item to learn more about the call, such as the duration and the date of the call.
Previously, users had to open the messages/chat window and click on the call button to call the person. With the new tab, you can easily call anyone. This feature also makes the WhatsApp app compete better with other apps offering calling features, including Facebook's own Messenger.
As mentioned at the outset, WhatsApp's call feature is seeing a slow rollout and it should be available to all users soon.
Snapchat comes to the Microsoft Store
In related news, Meta's competitor Snapchat finally published its app to the Microsoft Store for Windows PCs.
If you're familiar with Windows Phone history, you're probably aware of Snapchat's complicated history with Microsoft's Store-based ecosystem. During the Windows Phone days, Snapchat ignored Microsoft's mobile platform and it was one of the hot topics that supported the 'app gap' theory.
This new Snapchat app is built on the web version of Snapchat, so it's essentially a web wrapper powered by Microsoft's Chromium-based Edge. The app size is less than 2MB in size, and it has all the features you'll find on the web version. However, it is a web app that works like a native app.
You can find the app in the Microsoft Store and try it yourself.