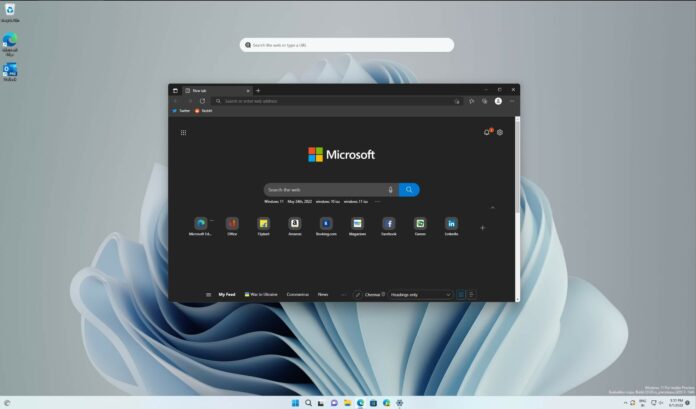 Microsoft Edge's bloatware controversy remains a hot topic and it looks like the company is working on a couple of new features for the browser that may fall under this category for some folks. Windows 11's default browser is now set to receive Microsoft Photos app-like features.
As you're probably aware, Windows 11 already comes with a new Photos app and it's more than enough for simple editing. Microsoft is adding features from the Photos app to the Chromium-based Edge browser and anyone can try the browser's image editing features by right-clicking on the photo.
However, users have expressed their concern that adding such a potentially resource-heavy tool could slow down the browser and put extra strain on older machines, especially those running Windows 11. Since the image editing feature is baked into the browse, it cannot be removed.
A closer look at Microsoft Edge's photo editing features
Microsoft Edge already comes with a web capture tool that lets you take screenshots of web apps. In a future release, you can right-click on any image and edit it before saving it to the desktop.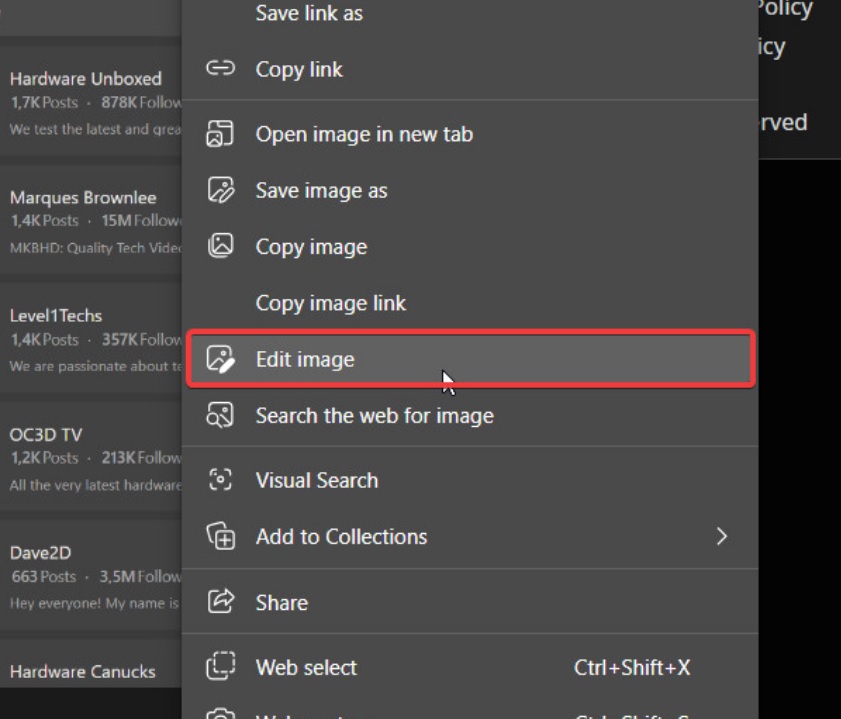 For example, when you right-click on any image and select the 'edit' button in the context menu, Edge will launch its own built-in editor with several features identical to features already available in the Windows Photos app. Of course, only basic features are available within the browser's image editing tool.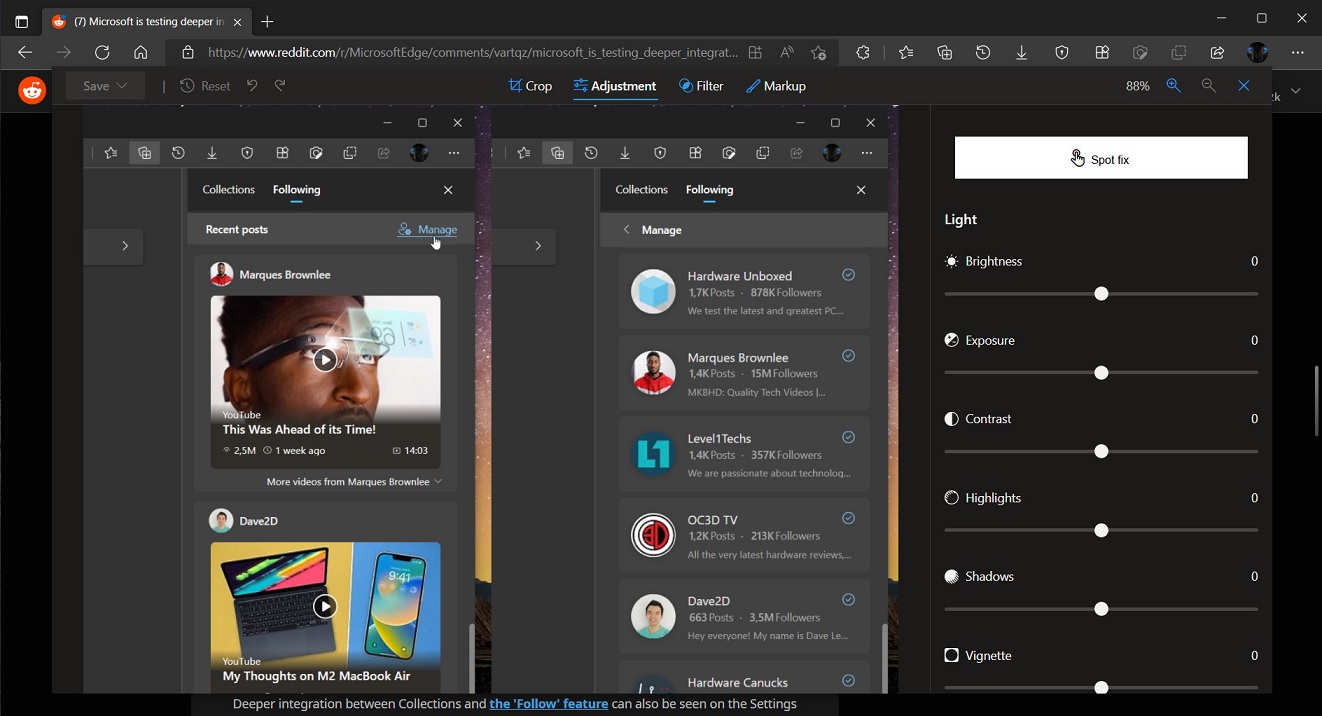 This includes the ability to crop a picture, change brightness, and exposure, and even annotate the pictures with different tools. You can also apply filters, and annotate with different tools.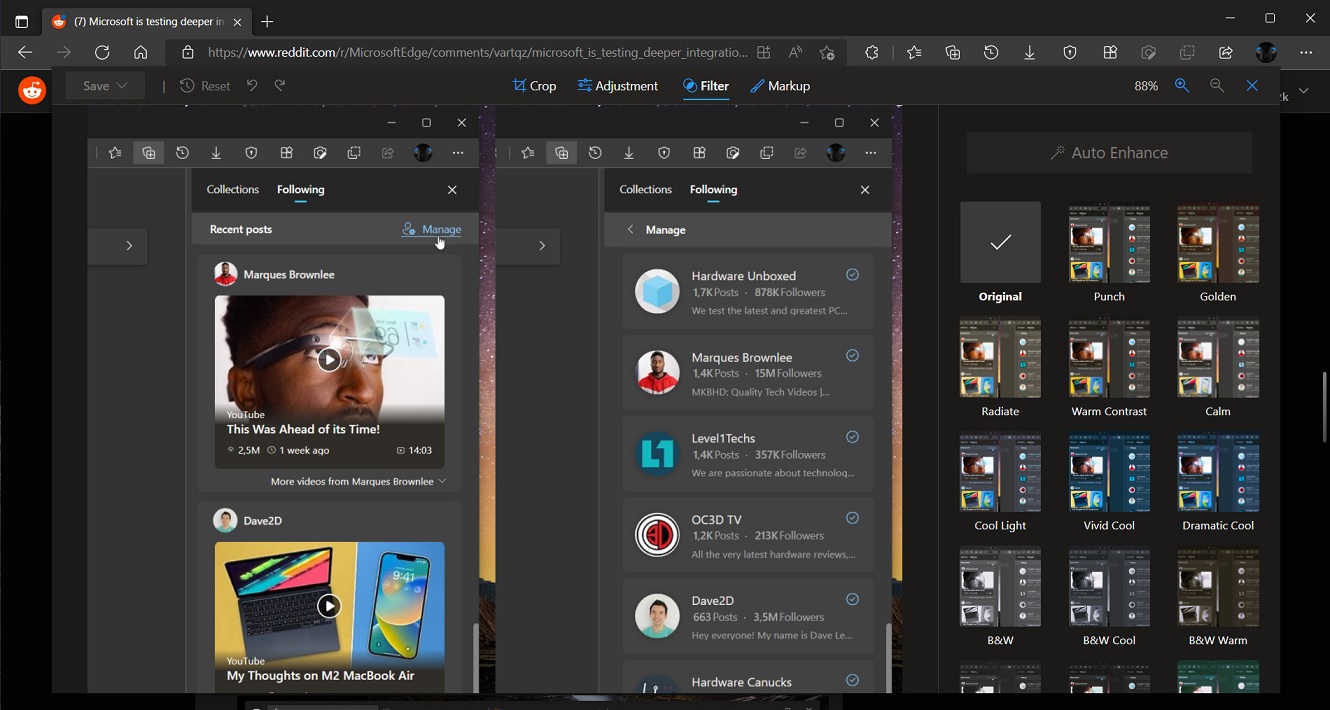 The new image editing capabilities are available in Microsoft Edge's Canary Channel and you can try your luck by downloading the latest Canary release from the company's official website. It is worth noting that Microsoft tests these features in waves, so it's not available for everyone.
Other improvements released for Microsoft Edge
Microsoft Edge is a feature-rich browser and it will be getting various features and tools, including three new built-in utilities: calculator, unit converter, and speed test.
"Easily access commonly used tools while you browse the web, including Calculator, Internet speed test, and Unit converter," the roadmap reads.
You can already access these tools in Microsoft Edge Canary. Edge 105 already offers access to a calculator, translator, dictionary, translator, unit converter, and more.
In addition to these improvements, Microsoft Edge is also getting a new feature that lets you double-click on any tab to close it.