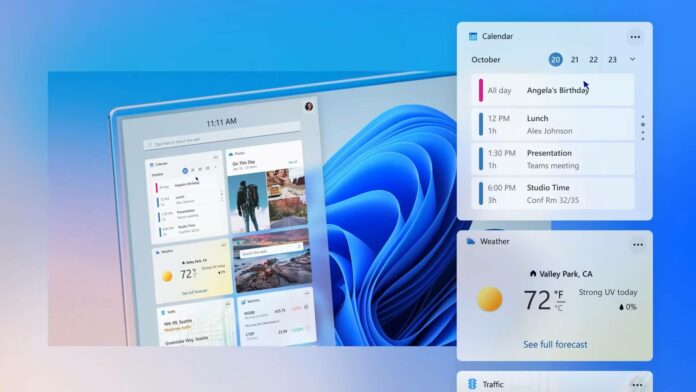 One of the new features in Windows 11 is its Widgets panel or board which is essentially a reboot of News & Interests from Windows 10. While Windows 10's News & Interests only delivers news updates, the Widgets board can show interactive content from apps like Microsoft Store, Calendar, etc.
However, Windows 11 Widgets panel is relatively limited as it only supports native apps developed by Microsoft. It can only show weather, sports, news, and updates from select apps, such as Microsoft To Do, Photos, Calendar, and more. During Build 2022, Microsoft confirmed that a vast library of widgets could become available later this year.
As per Microsoft documentation, Widgets are powered by Adaptive Cards which are written in JSON and allow apps or services to openly exchange data. Using Adaptive Cards, Microsoft is able to transform JSON into native UI that automatically adapts to a specific app's container/window.
It helps design and integrate lightweight UI for all major platforms and frameworks. The company says Adaptive Cards-based Widgets can act as a great companion experience for Win32 and PWA apps on Windows 11.
Adaptive Cards isn't a new technology and Microsoft has been using it in Windows Timeline, Teams, Cortana, Outlook, and more. We don't know how exactly developers will be able to integrate their apps with Widgets, but a document has confirmed that widgets will only have a minimal impact on performance.
Microsoft noted that these Adaptive Cards-based third-party widgets will always use "low memory and CPU", and their adaptive interface will automatically style them to match the host/form factor experience.
Later this year, Microsoft will let developers publish widgets through the Windows Store and the process of publishing widgets into the store would be the same as submitting a normal app.
New features coming to Widgets panel: Full screen mode and more
Earlier this year, Microsoft also announced a few new minor additions for the Widgets panel.
At the moment, Widgets open from the left side of the screen. This could change soon as Microsoft is working on a new optional feature to open the Widgets panel in full-screen mode. When in full screen, widgets will cover the entire desktop and take up the full screen.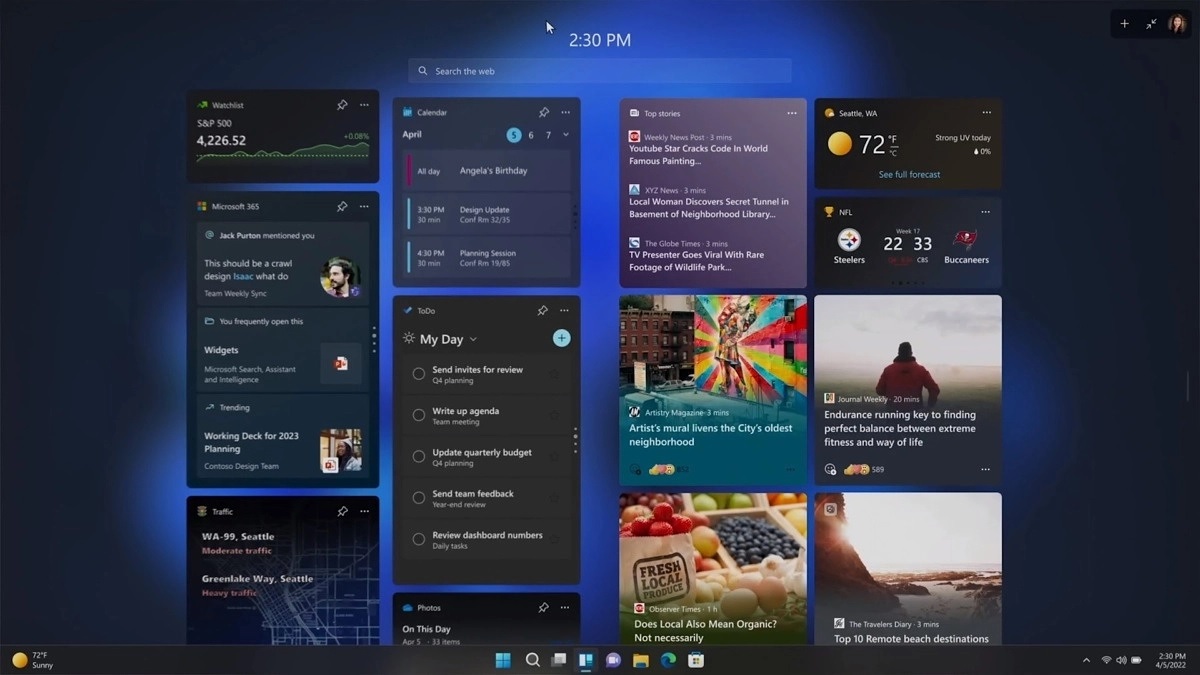 This means users can access more widgets and news items from MSN at once, and it's also more user-friendly for tablets.
Apparently, the Widgets panel is getting another feature that will allow the widgets board to display updates related to both work and personal accounts.
Currently, the Widgets panel shows updates based on the account you're using. In a future update, Windows 11 will display items from both accounts, with business or school-related items appearing on the left and personal on the right.