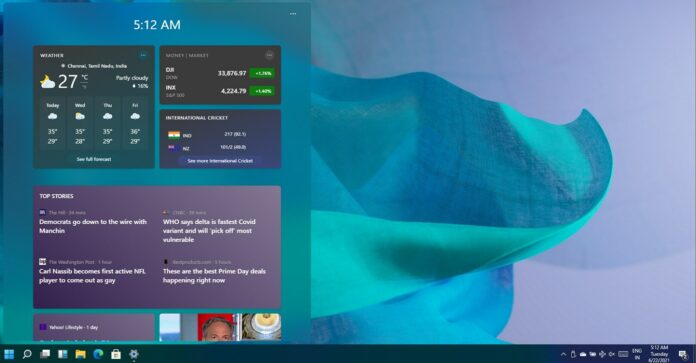 At its Hybrid Work event, Microsoft officially announced new features and improvements for Windows 11. This includes Microsoft Defender Smart Screen-powered enhanced phishing protection feature and tabs in File Explorer. In addition to security improvements, Microsoft also teased a new design for File Explorer's sidebar and full-screen support for widgets.
In Windows 11, there's a new feature called 'widgets' and it has a dedicated button on the taskbar that opens the board on the left side of the display. With Windows widgets, can access Microsoft News, weather, traffic, sports scores, and more.
The concept of widgets isn't entirely new. In Vista and Windows 7, we had "Gadgets" which allowed users to customize their desktops with clocks and other features. Although gadgets were useful, they were never particularly popular and eventually got the axe. Unlike gadgets, Widgets cannot be pinned to the desktop and they appear on a special board.
As you can see in the above screenshot, Windows 11's widgets menu current pops up on the left side and it covers half the screen only. The limited space is used for a variety of native widgets, such as Weather, News, Stocks, Sports, Photos, Microsoft Store, Movies & TV, Maps, and more.
Microsoft has also confirmed third-party support for widgets and it's likely that the board will have more widgets in the coming months. Ahead of the third-party integration, Microsoft quietly teased a new full-screen widgets mode.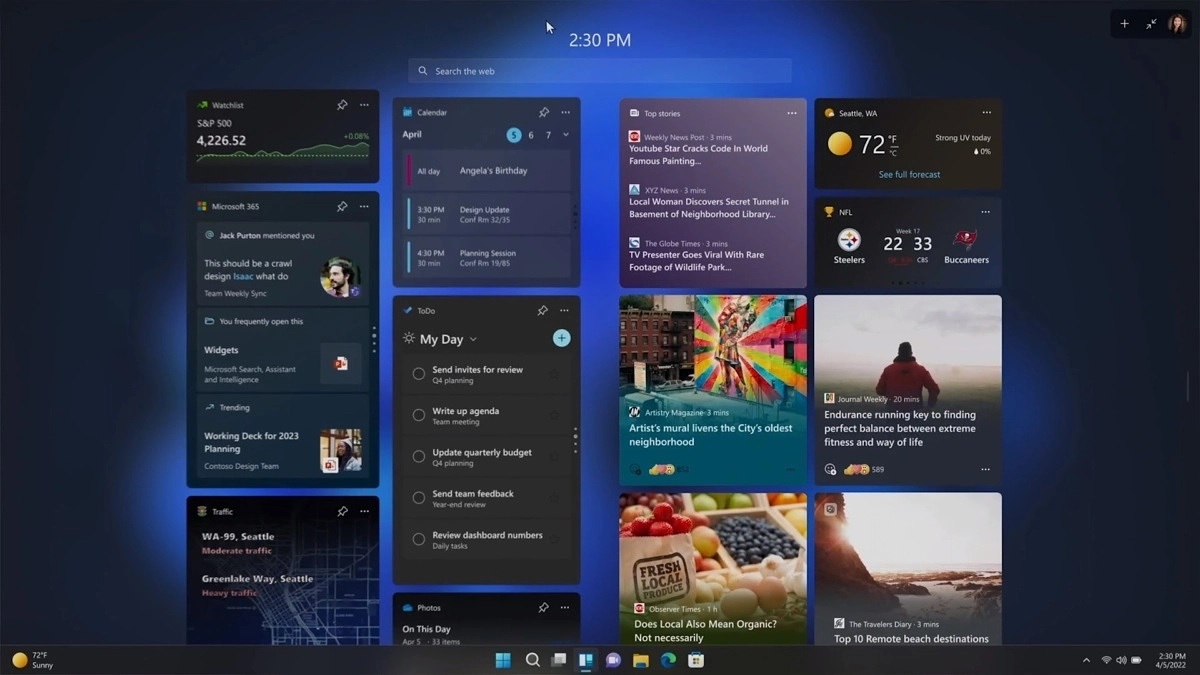 The widgets panel will soon take up the full screen, covering the desktop or open apps/games. In theory, this will increase the number of widgets and news items displayed at once. It also means better accessibility for touch users and access to more news updates.
Apparently, the full-screen mode was first teased during the original June 2021 event of Windows 11.
Additionally, you'll be able to switch between work and personal accounts. If you use a personal account for widgets board, you'll see updates from OneDrive, Xbox, etc. On the other hand, if you connect your work or school account to the widgets panel, you will also get updates related to your organization.
A new sidebar for File Explorer
As we reported last week, File Explorer is getting a bunch of enhancements as part of Sun Valley 2 and one of the major changes is native tabs support.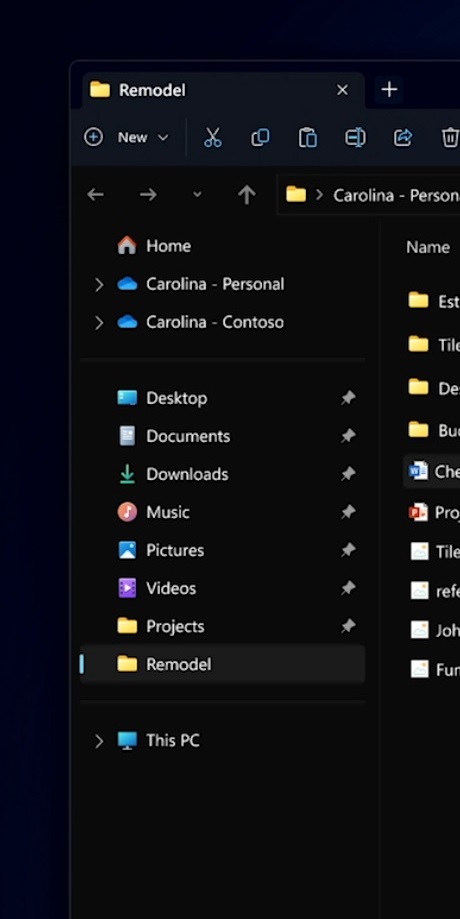 During the hybrid work event, Microsoft confirmed that it's working on a new sidebar for File Explorer and it will be based on the design principles of WinUI.
It also appears that there'll be dark mode improvements to better match the overall look of Windows 11.