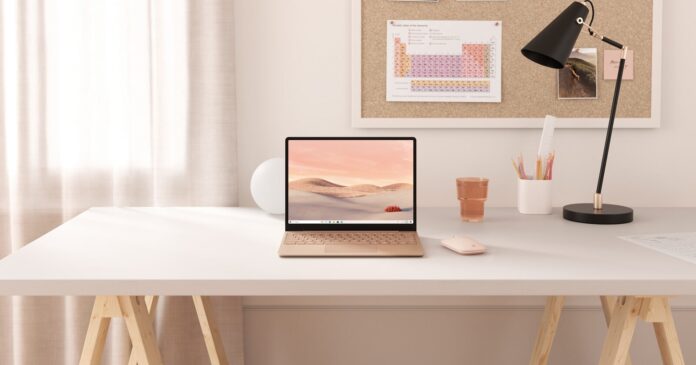 In June 2022, we might see the Surface Laptop Go 2, the sequel to Microsoft's first affordable Surface Laptop Go lineup. The next-generation Microsoft Surface Laptop Go 2 launch is imminent, if a recently-published document from a Korean retailer, is anything to go by.
The retailer's listing was published last week and it doesn't reveal the new features of the next-gen hardware, but it has confirmed that Microsoft wants to use Intel's 11th-generation processor in the Surface Laptop Go 2. The 11th-gen processor would be i5-1135G7 which promises better performance as compared to the 10th-gen CPU in Laptop Go.
Notably, this is a refresh of the original Surface Laptop Go 2 and we're not expecting significant changes to its design. However, the retailer has confirmed that the webcam will deliver better HD performance than its predecessor.
As per the listing, it would be yet another incredibly thin and light laptop from Microsoft, measuring 0.62 inches thick and 2.45 lb, respectively. It is also going to be affordable, so the pricing will be similar to the original 2020 model.
Although the bottom of the laptop is plastic, Microsoft's Surface Laptop Go 2 uses a premium aluminium finish around the keyboard deck and display.
The display of the device remains unchanged, according to the Korean listing. It still comes with a 12.4-inch display and you can expect the same kind of build quality, which means Microsoft won't be using plastic laptop chassis here. You can use the laptop without worrying about it breaking.
It also comes with USB-C, USB-A, and a 3.5mm headphone jack. There's a fingerprint sensor that can be accessed via the power button.
The release date of the device is not available, but the retailer claims pre-orders will begin on June 2nd.
Surface Laptop Go 2 expectations
As mentioned, the Surface Laptop Go 2 will remain in the same price bracket and it should start from $549 for the most basic variant. Of course, the price would increase if you choose the upper-end model. The entry-level model will be shipping with the same RAM and storage configuration i.e 4GB RAM and 64GB of eMMC.
The higher-end models will have fingerprint sensors and up to 8GB of RAM with 128GB or 256GB storage (SSDs).
Microsoft also seems to be considering new sleeves for the new Surface, which could be bundled for free if you buy it from the retailer.