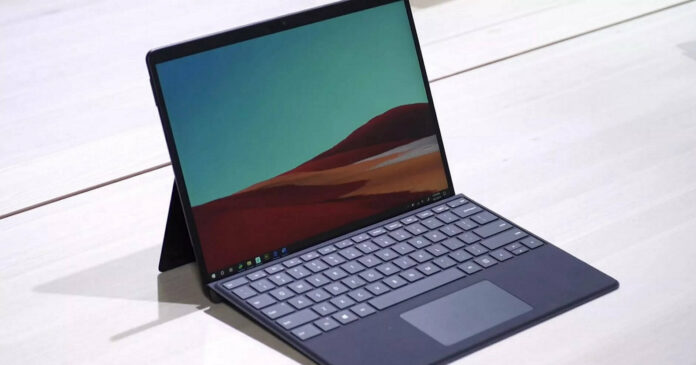 Microsoft is apparently planning to launch a new version of its ARM-based Surface Pro X with Windows 11, to compete against MacBook's chip. An engineering sample of the upcoming Surface model on GeekBench shows some impressive progress in multi-core performance, but results are still not close to Apple M1.
Qualcomm has always focused on battery life over performance and the chipmaker is now slowly switching to a new design which will be more optimized for performance with "Gold+" and "Gold high-end cores. Qualcomm's plan is to bridge the gap between Intel, Snapdragon and Apple's Silicon products.
The benchmark listing was made public earlier this year, showing an "OEMVL OEMVL" prototype. This naming scheme has previously been used by Microsoft for the Surface Pro lineup, Surface Laptop, Surface Book and even Surface Go. It is safe to assume the leaked prototype is either Surface Pro X 2 (2022?) or a new product.
As per the listing, Microsoft is testing the hardware with Windows 11 preview builds and it appears to be in the early stage of development given its single-core test results and naming scheme.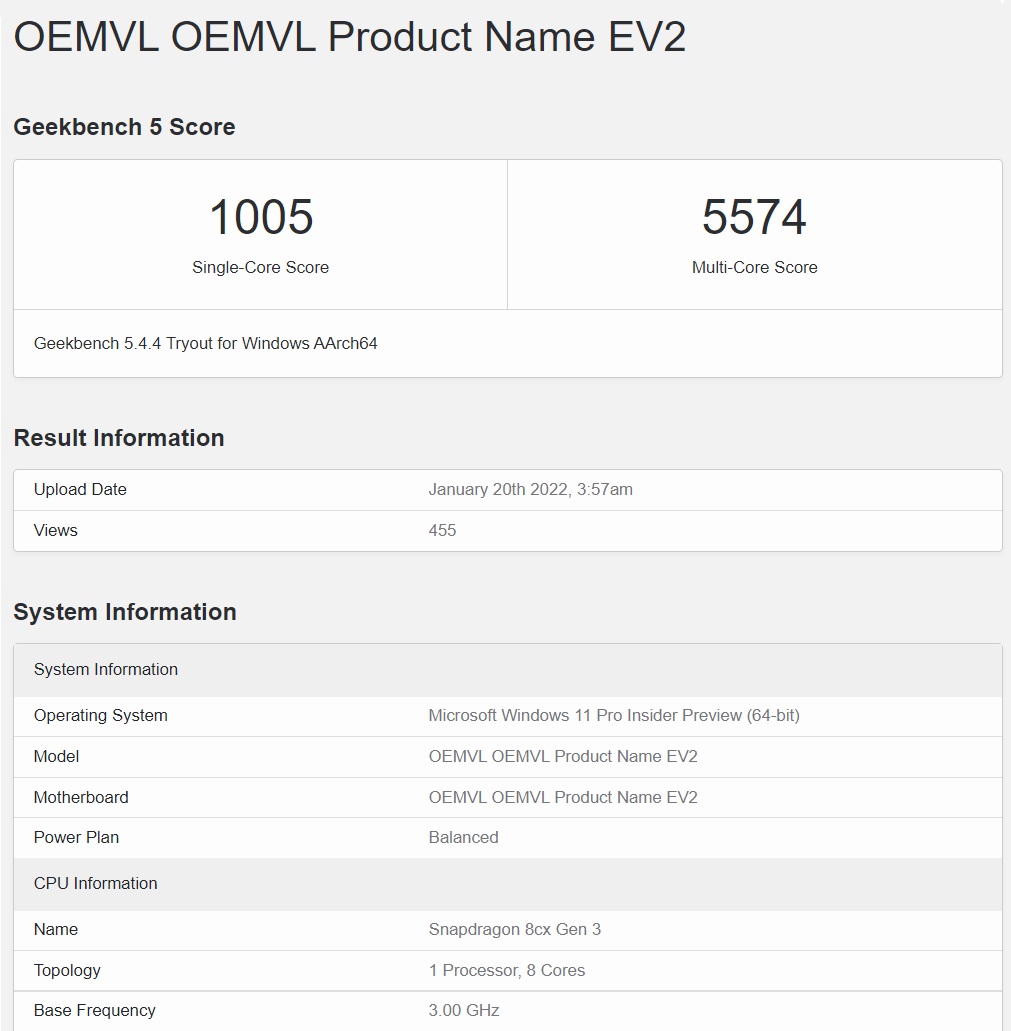 Considering that the prototype was benchmarked in its early stage of development, it's entirely possible that this hardware may not ship at all, but Surface Pro X with SQ3 is still on track to launch later this year.
The report shows that the prototype was able to fetch a score of 1005 on single-core and 5574 on multi-core. The result is significantly higher when you compare it with Surface Pro X with SQ2 which managed to achieve a score of 806 in the single-core test and 3247 for multi-core.
It's also worth pointing out that the device was benchmarked in the 'Balanced' power plan, so it's likely that the results will be higher if the device is benchmarked again in the high-performance plan.
We compared the benchmark results with Intel Core i7 1165G7 and the latest offering from Microsoft apparently outperforms the Intel chip in multi-score tests. This is not surprising as the Intel Tiger Lake-U lineup has been particularly lackluster when compared to rivals likes AMD and even Apple.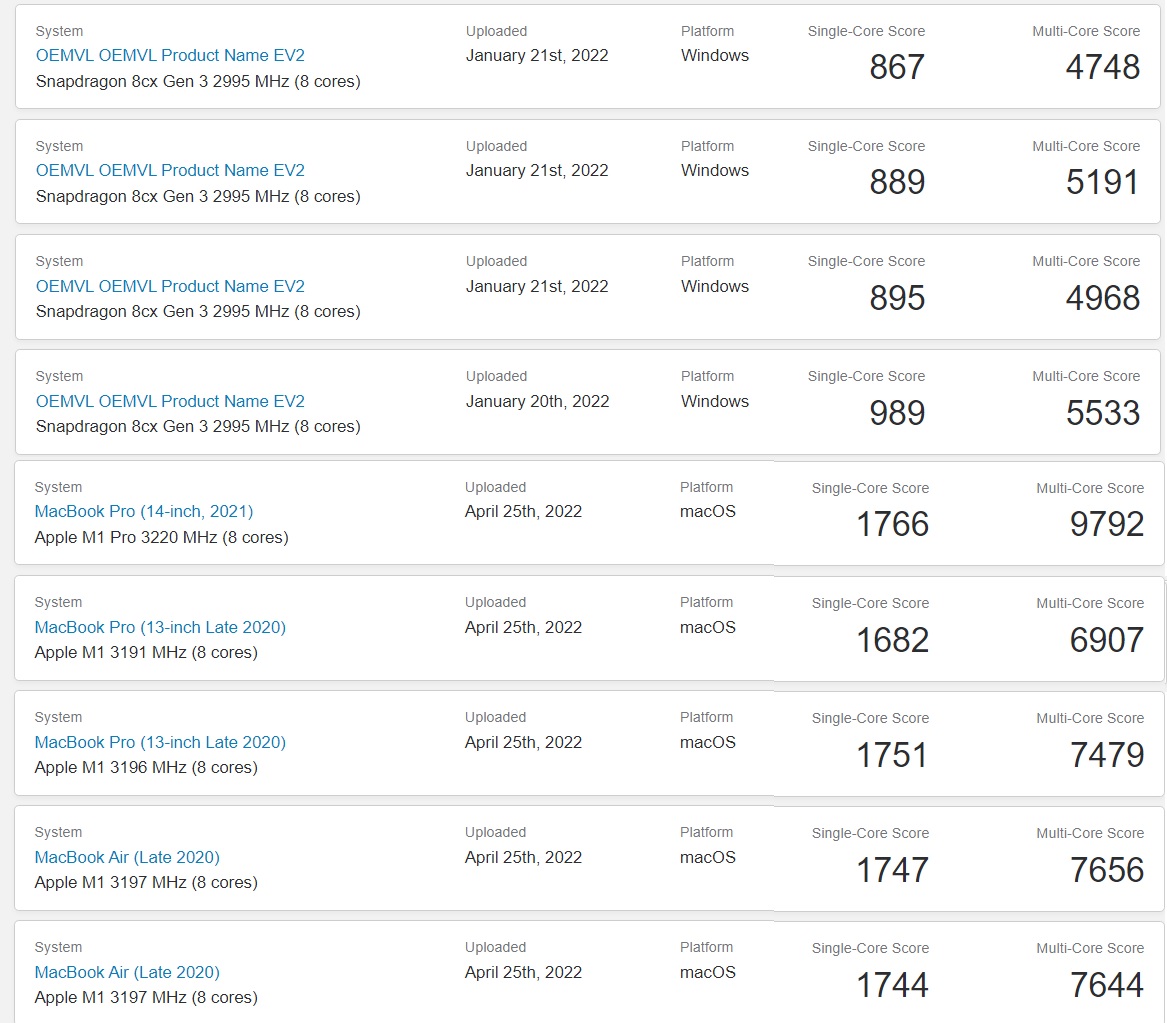 At the same time, Microsoft and Qualcomm's processor is still no match for the Apple M1, but we can clearly see noticeable improvements. The Apple M1 fetches up to 8,000 scores in multi-core tests.
The benchmarked hardware is a prototype and no other details have been revealed about Microsoft's next-gen rival to the M1 chip.