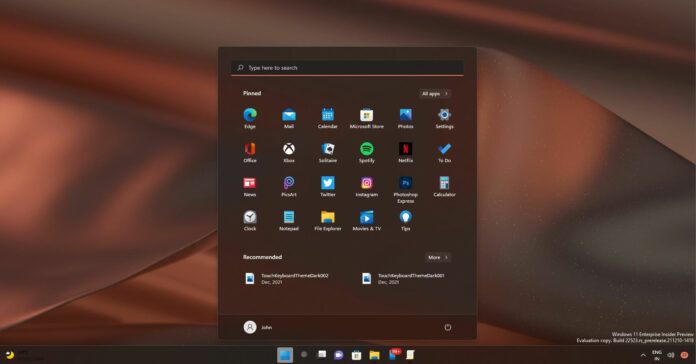 Windows 11 Build 22000.651 is now heading to users in the Release Preview Channel as the tech giant prepares the next optional update for the OS. This is an optional update offered to testers only and it will begin rolling out to non-Insiders based on the initial feedback from users.
Build 22000.651 doesn't add new features for consumers, but Microsoft says it added some improvements for enterprises, including a new change that would service the Secure Boot component of Windows. Likewise, Microsoft is fixing an issue that causes the AppX Deployment Service to stop working when we use certain MSIX apps.
This update mostly contains fixes for enterprises, but there's one interesting fix related to the performance of any device. As per the release notes, Microsoft fixed a rare bug where the OS would remain stuck in the boot screen as Windows 11's startup will get delayed by approximately 40 minutes.
We don't know what went wrong with Windows 11's startup process and there are fixes aimed at performance. For example, the company fixed a race condition where the operating system will fail to start with the 'Blue Screen of Death error' during the startup of Windows.
Here's a list of all fixes included in the preview update:
Fixed issues with Trusted Platform Module (TPM) capabilities.
Fixed an issue affecting Windows systems that are in use 24 hours each day.
Fixed an issue that affects the Dynamic Host Configuration Protocol (DHCP).
Microsoft is adding the Title attribute in Microsoft Ege IE mode.
Microsoft has fixed an issue where the OS might incorrectly align video subtitles.
Fixed an issue that causes Kerberos authentication to fail
Fixed an issue that causes Windows to go into BitLocker recovery after a servicing update.
Remember that this is an optional preview update for Windows insiders only and general consumers will be getting the same patch in a week or two.
Preparations underway for Sun Valley 2
Microsoft is preparing Windows 11's Sun Valley 2 (version 22H2) for the Release Preview channel and we're expecting a formal announcement/confirmation in a month or two.
Sun Valley 2 will be similar to the Anniversary update for Windows 10, so you can expect improvements to existing features rather than major design changes.