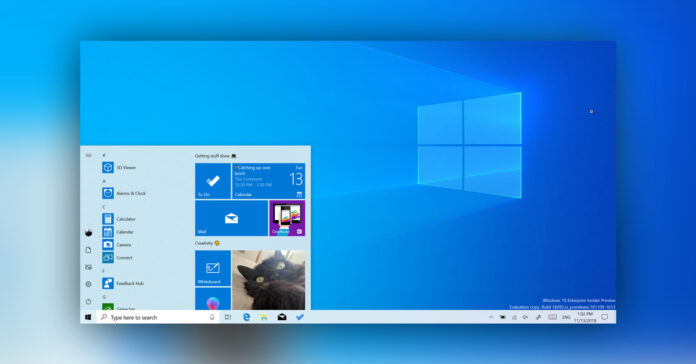 Windows 11 KB5011487 is a new cumulative update rolling out to devices running version 21H2 or older. This update is also available for older versions provided they use Enterprise or Education edition. In addition to Windows Update, direct download links for Windows 10 KB5011487 offline installers are also available.
KB5011487 is part of March 2022's Patch Tuesday cycle and it includes non-security improvements as well. As per the official documentation, Patch Tuesday updates include fixes from all previous updates. This includes optional updates and pending security updates.
This month's Patch Tuesday update doesn't come with any new features. However, there are numerous bug fixes and improvements that can be considered as a new feature. For example, you can now easily share cookies between Microsoft Edge's Internet Explorer mode and Edge.
You can install the patch on any supported version of Windows 10 released after April 2020. As you're probably aware, the build number differs from Windows 10 version to version, so your build revision number would be different if you're on 21H2 or 20H2. For example, users running November 2021 Update will get Build 19044.1586.
For those still on Windows 10 20H2, they will get Build 19042.1586 with identical quality fixes.
Windows 10 version 2004 support ended last year, so Microsoft won't be offering the March 2022 update to version 2004 unless the OS edition is enterprise or education. If you're on Windows 11, you'll be getting the KB5011493 update.
2022-03 Cumulative Update for Windows 10 Version 21H2 for x64-based Systems (KB5011487)
Or
2022-02 Cumulative Update for Windows 10 Version 21H1 for x64-based Systems (KB5011487)
Download Links for Windows 10 KB5011487
Windows 10 KB5011487 Direct Download Links: 64-bit and 32-bit (x86).
Windows 10 KB5011487 (Build 19044.1586) Full Changelog
As per the official changelog, it is now possible to easily share cookies between Edge Internet Explorer mode and Microsoft Edge. Microsoft has added support for a new feature that lets you add and remove non-volatile memory (NVMe) namespaces.
In terms of bug fixes, there are numerous changes. For example, Microsoft has fixed an issue where the Windows search service doesn't respond when using the proximity operator.
A memory leak bug in the wmipicmp.dll has been addressed. Another bug has been patched where OpenGL and GPU don't work properly on some configurations.
As per the changelog, Microsoft has addressed an issue that causes the improper cleanup of DDE objects. Likewise, Microsoft also patched an issue that prevents the printing features from working for some low integrity process apps.
Other improvements include:
Fixed an issue where certificate enrollment fails.
Fixed an issue that affects apps that are written to only integrate with Azure Active Directory.
Fixed an issue that might cause BitLocker to affect the virtual machine environment.
Fixed an issue where Get-TPM PowerShell command doesn't work and fails to correctly report Trusted Platform Module (TPM) information.
Fixed an issue where users cannot unload and reload drivers when the drivers are using HVCI.
Fixed a reliability issue that affects the use of the Remote Desktop app.
Fixed an issue where screen readers are unable to recognize the back button.
Fixed a memory leak bug in the Redirected Drive Buffering Subsystem (RDBSS) .