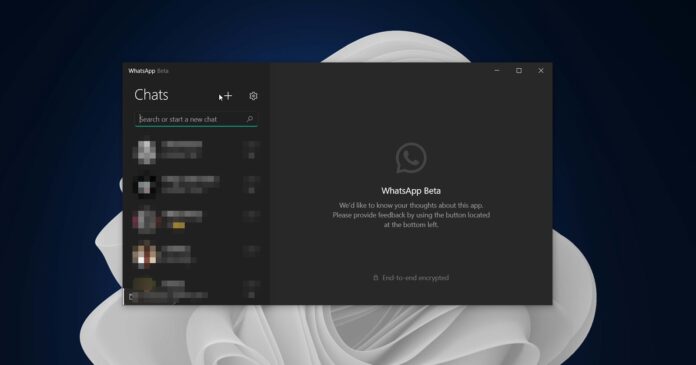 Facebook isn't planning to exit from the UWP market just yet and it is actively working on a new version of WhatsApp for Windows 11 and Windows 10. WhatsApp UWP app surfaced online last year and it sports some new features, such as Action Center integration, WinUI controls, voice and video calling support, and more.
WhatsApp UWP beta is separate from the WhatsApp Desktop app and it has several improvements over the original desktop app. Unlike the desktop app, which is based on the web version, WhatsApp UWP has been completely re-coded with support for multiple devices and it can make calls independently of your phone's connection.
The interface of the UWP app is based on WinUI, but it is also inspired by the discontinued Windows Phone version. The cleaner interface is in line with the web version of WhatsApp and it matches the look of Windows 11, thanks to the integration of Mica material on the app's title bar.
Facebook is rolling out a new update for WhatsApp UWP beta with three improvements – clean dark mode, support for new emoji selection tool in the chatbox, and the ability to preview media content when they're uploaded as a document.
The dark mode includes a slim header, compact settings menu, acrylic, Mica material and support for features like toast notifications when the social media app is closed.

Another cool feature of the latest UWP update is support for the in-line emoji selection tool. Users can now type "wave" to select appropriate emoji from the selection tool. In addition to emojis, you can also use Windows 11's inking feature to draw a picture using an inking pad, and then upload it as an image.
After the update, you can also send a photo or video as a document and automatically generate a preview. Previously, it wasn't possible to see a preview of media uploaded as a document and it has been addressed with today's beta.
It's nice to see that Facebook is listening to feedback and it is likely that additional improvements will be released in future updates ahead of the stable build release.
You can try out this app now via the Microsoft Store. Facebook has confirmed that are no special requirements to run WhatsApp UWP on Windows 11 or Windows 10, but the Mica effect will be visible on Windows 11 only.