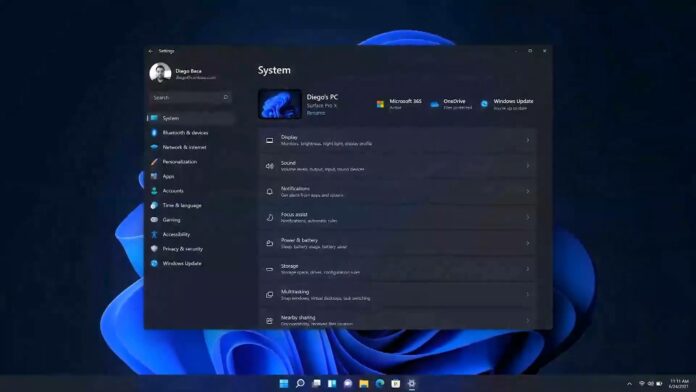 Windows 11 testers could soon begin receiving near-final bits from the next major feature update codenamed "Sun Valley 2". At the moment, Windows 11 is receiving early builds from the active development channel (rs_prerelease) which ultimately is expected to be designated as the "Sun Valley 2" or "Windows 11 22H2" release.
Right now, testers are receiving builds from the Dev Channel, but Microsoft execs have confirmed that current releases are not tied to a specific feature update. That technically means current and upcoming preview features or improvements may or may not ship with the final version of Windows 11 22H2.
Windows 11 Dev Channel currently comes with some changes to the desktop, Settings app and more. Microsoft could take some, all, or none of the features in the existing rs_prerelease builds and move them into any Windows 11 release – October 2022, October 2023 or later.
Major changes to the taskbar and other areas of the OS should start appearing in future preview builds, according to sources familiar with the development.

Additionally, a new document has appeared online suggesting that the main base of Windows 11's current development branch will be declared "Feature Complete" internally by March 4. Note that this doesn't mean Microsoft will stop adding features to preview builds in Dev Channel.
On April 4, Windows 11 Nickel release will be declared "Config complete" i.e no major changes will be introduced.
It's worth noting that the document reveals two deadlines that are always subject to change.
Transition for a smooth Windows 11 22H2 release
Some of the improvements in the current or upcoming builds will be added to the release branch of this year's big update (known as Windows 11 22H2 or Sun Valley 2 – remember that the tech giant is only doing one big update per year).
According to previous reports, work on Windows 11 22H2 feature update is expected to complete before summer, but future preview builds will continue to have a bunch of glitches. In other words, if you've joined the Windows Insiders program and don't want to test the fancy features, you should move to the Beta Channel.
That's because Beta Channel will be getting new features a bit later and more details will be shared in the near future.
On the other hand, Windows 10 should receive another minor feature update similar to November 2021 Update. Microsoft has confirmed that it is focusing on bug fixes and under the hood improvements for Windows 10 rather than any new features, which will be reserved for Windows 11.
Still, there will be a few noteworthy changes that will be added to Windows 10 via monthly cumulative updates and Microsoft Store updates.