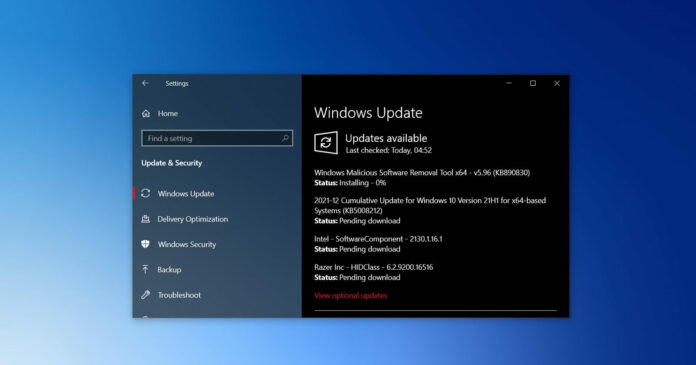 This year's last Windows Update is now available for Windows 10 2004, v20H2, v21H1, and version 21H2. The patch is available via Windows Update or WSUS, but Microsoft has also published direct download links for Windows 10 KB5008212 offline installers.
KB5008212 is a security-only update if you have already applied last month's optional cumulative update. However, if you only have November 2021 Patch Tuesday update installed, this cumulative update will also fix non-security issues with your Windows installation.
That's because a "cumulative" update includes fixes from previous months in a single package. If you skipped the last few updates or November 2021's optional patch, installing today's update will also apply fixes from those updates. Windows as a service approach ensure that a single monthly update is enough for all missing updates.
If you've already updated to Windows 10 version 21H2 (November 2021 Update), you will get Build 19044.1415 as part of today's patch. If you're on 21H1 aka May 2021 Update you'll receive Build 19043.1415 with the same set of bug fixes and improvements.
For those on version 20H2, the build number is 19042.1415 and it makes no difference to changelog.
Microsoft has also published the update for Windows 10 version 2004, but remember that this would be the last patch for the old OS. As you're probably aware, Windows 10 consumer editions are supported for 18 months and enterprise or education editions can get updates for 30 months. Windows 10 v2004 consumer edition has reached EOL today.
If you check for updates today, you'll see the following update:
2021-12 Cumulative Update for Windows 10 Version 21H2 for x64-based Systems (KB5008212)
Or
2021-12 Cumulative Update for Windows 10 Version 21H1 for x64-based Systems (KB5008212)
Download Links for Windows 10 KB5008212
Windows 10 KB5008212 Direct Download Links: 64-bit and 32-bit (x86).
Windows 10 KB5008212 (Build 19044.1415) Full Changelog
Key highlights:
Fixes issues with File Explorer's folder view.
Fixes a bug crashing apps after the update.
Fixes font rendering issues on Windows 10.
Fixes issues with Start Menu, including a bug where apps won't appear on the menu.
Fixes issues with the Windows Search process.
What's new and fixed in Windows 10 Build 19044.1415
According to official release notes, Windows 10's December update fixes security issues in the OS and it also contains "miscellaneous security improvements" to the OS functionality.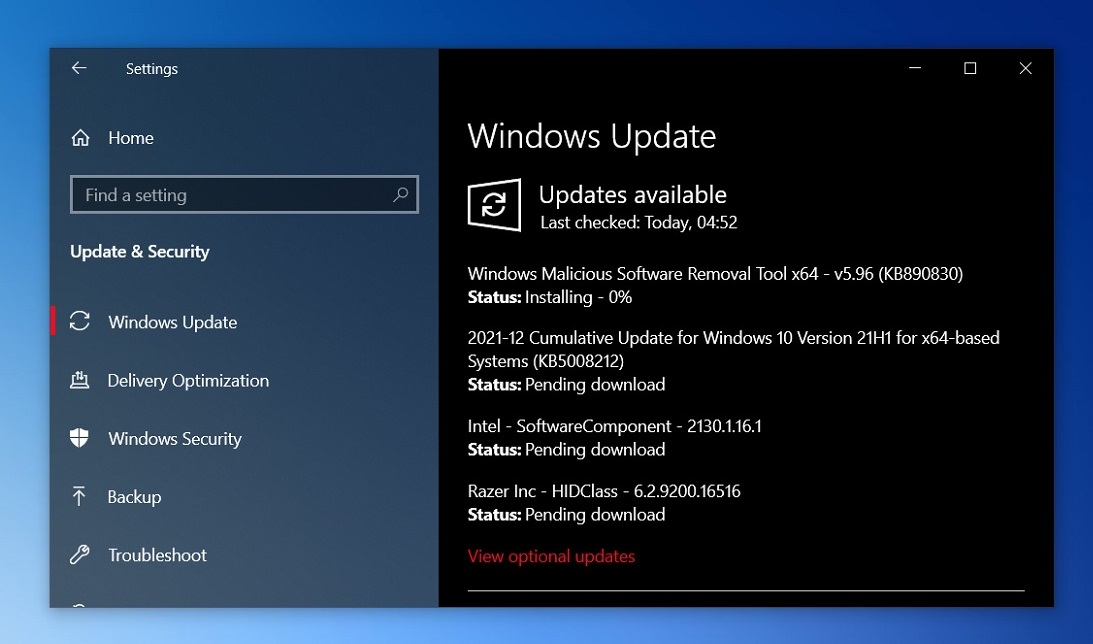 In terms of non-security fixes, Microsoft has fixed an issue where some fonts may not appear correctly on Windows machines.
Another bug has been fixed where the 32-bit version of Microsoft Excel could stop working on devices when you export to PDF. Likewise, another bug affecting the letters or characters of certain fonts has been fixed in this update.
Windows 10 Build 19044.1415 also addresses an issue that crashes Internet Explorer when users try to use Input Method Editor (IME) to insert elements. A bug has been fixed that causes the Settings page to close after you uninstall a font
If you had issues with File Explorer's folder view, this patch finally includes a fix.
As per the release notes, Microsoft has made changes to File Explorer to address an issue that affects your ability to rename a file using folder view. Additionally, Microsoft has also fixed issues with Windows Game Bar that turns off screen capture and recording functionalities after the service has stopped responding.
Microsoft has patched a bug that could prevent apps from appearing on the Start Menu, especially if you use those apps frequently.
Other fixes and improvements in Windows 10 Build 19044.1415:
Microsoft has fixed an issue that affects the SearchFilterHost.exe process.
Microsoft has fixed an issue where searchindexer.exe stops working, and Windows creates profiles with duplicate names.
Microsoft has also added –cd argument to wsl.exe. This will allow you to specify starting directory for WSL for a Windows or Linux path.
Microsoft has fixed issues with Group Policy objects.
Microsoft has fixed issues with some variable fonts.
Microsoft has fixed an issue that could crash Microsoft Excel (32-bit) version on devices with certain processors.
It's worth noting that Windows 10 update has finally fixed an issue that could crash certain apps from companies like Kaspersky. This can happen when the OS attempts to repair or update the apps using the Microsoft Installer (MSI).
Version 2004 reaches the end of support
Microsoft has confirmed the end of support for Windows 10 version 2004, a version of the OS that was announced in early 2020. Microsoft has already started upgrading users to the most recent version of the OS, and the company will ignore your Windows Settings if you're on Home or Pro edition.
For those unaware, Microsoft changed its approach towards Windows 10's support and update process in 2019. Microsoft confirmed newer feature updates will be forced onto users PC when the company is about to cease support for a particular Windows version.
In other words, if you're still on Windows 10 version 2004 for whatever reason, you're going to be automatically upgraded to version 21H1.
Microsoft is also planning to push Windows 10 version 21H2 and Windows 11 to more users in the coming weeks.