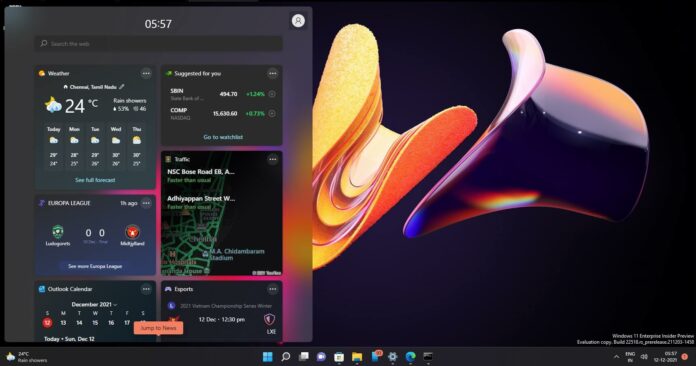 Windows 11's taskbar drag and drop support is still several months away, but we'll have plenty of smaller taskbar features to test out in the interim. One such new feature is support for weather widgets, which is now rolling out to testers in the Dev Channel of Insider program.
Windows 11 comes with new integrated widgets, akin to the 'News and interests' panel that's already in Windows 10. The widget panel, which appears on the left side of the screen, currently comes with widgets for native features, such as Microsoft To-Do, Outlook calendar, Photos, Traffic, and Weather.
The widget panel also pulls up a large info panel that includes the latest headlines and top stories from MSN (Microsoft's news feed), including sports events, politics, relevant stock stories, upcoming events, and more. You can scroll through and interact with news items in the panel.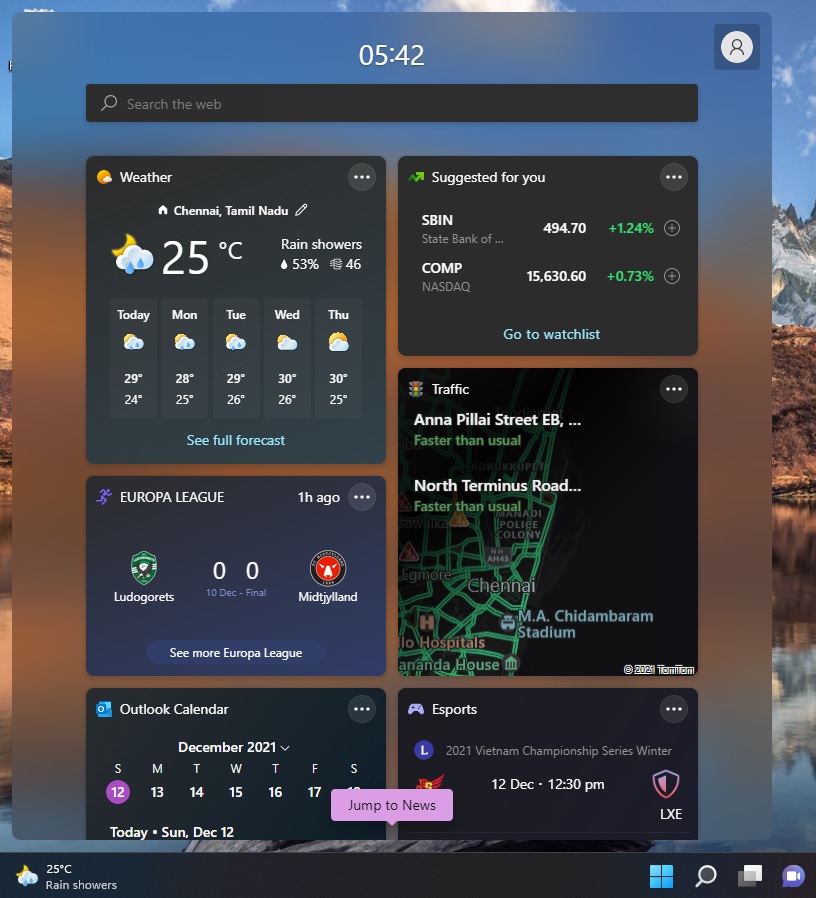 The widget button currently appears in the center of the taskbar, but the tech giant is now planning to move the entry point to the left side. After the update (Build 22518), Windows 11 taskbar will also show live weather content on the taskbar.
You can still open the Widgets board by either clicking on the icon or hovering over the entry point.
You can try the new Weather widget for the taskbar by joining the Dev Channel. In addition to the new build, you will also need a new version of the Windows Web Experience Pack which can be downloaded from the Microsoft Store.
What's next for Windows 11 widgets board
Taskbar widgets integration is a minor improvement, but there's more to come.
For example, we're expecting third-party widget support in 2022, with Microsoft effectively testing the feature in the first half of 2022.
This could be similar to Windows Vista where we had support for third-party desktop gadgets, but users won't be able to pin the widgets to the desktop. The third-party widget integration will be enabled via new APIs for developers.
It also remains unclear if the company will allow users to pin the widgets to the desktop. At the moment, there's no sign in the initial incarnation of Windows 11 Dev Builds. This may well change based on feedback, but desktop integration looks very unlikely for the time being.