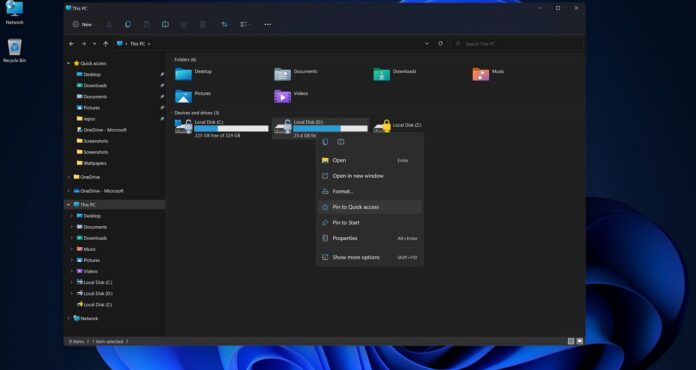 Microsoft recently released the Windows 11 upgrade for users with a supported version of Windows 10 (version 2004 or later). While the update has brought a number of design overhauls, it appears it has also introduced a serious performance issue where some users are seeing incredibly high memory usage.
After installing Windows 11, some users are reporting numerous performance issues. AMD has confirmed that the performance issue is caused by Windows 11's new security feature, but there appears to be another bug that is caused by Microsoft's redesigned File Explorer (Explorer.exe).
On Reddit and forums, users have been complaining about how their Windows 11 devices now suffer from extremely high memory usage. As a result, the performance of the entire gig suffers and it also negatively affects the gaming performance, resulting in framerate drops.
It looks like the issue is caused by Windows 11's File Explorer update.
On Windows 11, File Explorer retains the familiar design as the Windows 10 version, but it is now based on Windows UI Library (WinUI), so it comes with new icons, modern controls, buttons, and other visual tweaks.
File Explorer's new layer uses the Mica material for the command bar/header, which is a design material that applies desktop background to the app window. Additionally, Explorer's context menu (right-click menu) has been updated with Fluent Design to match the rest of the operating system.
It appears this new version of File Explorer is responsible for high memory usage on Windows 11. The process listed as "Explorer.exe" in Task manager is causing resources spikes of 70-99%, as well as constantly using the processor of the device in some cases, as per reports.
As users have noted, File Explorer's memory usage goes up each time they open File Explorer.
Microsoft to fix explorer.exe high resources usage in Windows 11
What's particularly annoying about Windows 11's high memory usage is that the bug was reported by Windows Insiders last month and it was then tested by users in the Dev Channel before Windows 11 was made available to everyone.
It seems that those reports were ignored or memory and Windows 11 was released with a File Explorer memory leak bug.
In a post on Feedback Hub from late last month, Microsoft noted that they've "included changes with Build 22454 to mitigate a couple of issues that were causing leaks when using File Explorer".
This suggests that Microsoft has found a fix, but unless you're part of the Dev Channel – which gives access to the next version of Windows 11, you'll need to wait for a few weeks.
Microsoft has been testing the fix for more than a month now, so there's a chance the company will release the fix as a separate patch soon.