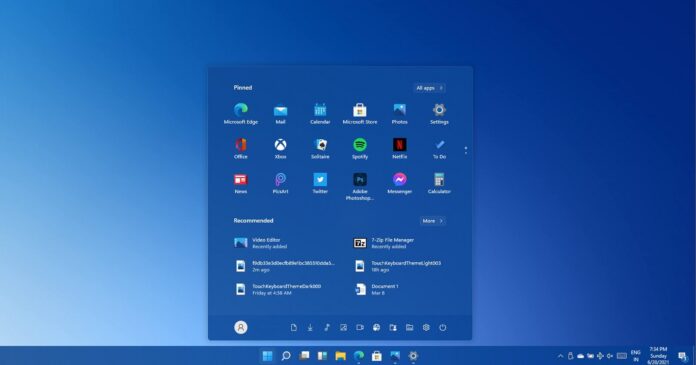 Windows 11 Build 22454 is available for supported devices in the Dev Channel and this update is from the company's active development branch (currently codenamed Nickel, an element from the periodic table).
This update is titled "Windows 11 Insider Preview 22454.1000 (rs_prerelease)" and the build number is apparently higher than the preview builds offered in the Beta Channel as part of version 21H2 (October 2021 Update). If you're in the Beta channel or you have an unsupported PC, Microsoft has released a cumulative update (Build 22000.184) for your device.
Microsoft is planning to start proper work on the Windows 10 version 22H2 update – due to land in the second half of 2022 – in a few weeks. For those unaware, Windows 11 will get only one feature updates every year and 22H2 would be the first major update for the operating system, following the imminent version 21H2.
Windows 11 version 21H2 "October 2021 Update" is all about design improvements with no major feature additions. On the other hand, Windows 11 version 22H2 is expected to ship with new features and additional improvements to the operating system's new design language.
This release of Windows is expected to enable modern volume controls and introduce new customization options for the Start menu. For example, you'll be able to hide the recommendations section with a dedicated toggle in the Settings app.
Features and improvements in Windows 11 Build 22454
So what's new in Windows 11 Build 22454.1000? Well, there's nothing huge here. That's because Windows 11 Nickel is still in the early stage of development and Microsoft is currently testing features internally.
Users won't see major changes like modern volume flyout at the moment, but these builds will contain more improvements than Build 22000.xxx shipping to those in the Beta Channel.
New context menu for Recycle Bin
In addition to a new Start many and taskbar, Windows 11 ships with redesigned context menus.
Right-click menu or context menu is one of the most important shell extensions, but it offers a cluttered experience on Windows 10 when you've installed apps that have their own extension. The right-click menu also contains options that are never used by the general public.
As a result, the context menu is super-long and it can result in performance issues since it's part of the Explorer.exe process.
Thankfully, Windows 11 context menus are optimized for touch users and performance. The modern menus come with fewer options by default and advance/third-party options are grouped together under the "show more options" menu, which basically opens the classic context menu.
Microsoft is now bringing the same modern context menu to Recycle Bin.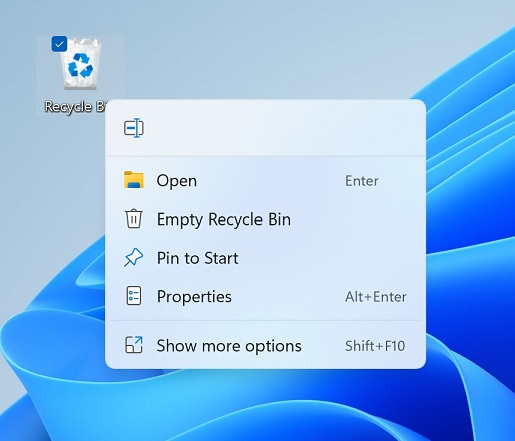 In Windows 11 Build 22454, Recycle Bin context many uses the new modern context menu.
Furthermore, Windows 11's latest update has also added a new option that will allow users to pin the network share to the Quick Access section without having to click "Show more options".
Microsoft is also rolling out updated IMEs with more reliable input and a new visual design with acrylic for Korean users. The IME menu now features acrylic, a new selection visual, dark mode, and it also offers better performance and compatibility.
Windows 11 Build 22454 comes several other improvements:
Microsoft has fixed an issue where Windows Defender Application Guard (WDAG) feature could result in a continuous bugcheck.
Windows Terminal now appears when you right-click on the Start menu to access the secret menu.
A bug has been fixed where preview thumbnails for desktops wouldn't render properly.
A bug has been fixed where the volume icon tooltip displayed the wrong number.
Microsoft has finally fixed the taskbar flickering bug.
Microsoft has fixed an issue where app icons would animate onto the taskbar from random locations.
Shift + Click on an app icon is now working as expected. In other words, it can now launch a new instance of the app.
A bug has been fixed an and the Start time is now visible under Focus Assist > During these times.
A crashing bug has been fixed when using Sound Settings.
Microsoft has improved icon rendering for apps that appear in the search flyout when you hover over the icon.
Microsoft is improving the reliability of the context menu in File Explorer.
The context menu bug has been fixed where it will not immediately dismiss with single-click.
How to install Windows 11 Build 22454
To install Windows 11 Build 22454.1000, use these steps:
Join the Windows Insider program on an officially supported PC.
Select Dev Channel in the Windows Insider settings.
Go back to the Windows Update page.
Check for updates.
Click on "restart now" after the build appears for download.
As we mentioned at the outset, this update is from the development branch and it is only available for supported PCs. If your device does not meet the requirement of newer processors and security features like TPM, you cannot join the Dev Channel even after modifying the registry.
If you have an unsupported device in the Windows Insider program, you will receive a cumulative update titled KB5005642.
Unlike the builds from the active development branch, this cumulative update does not come with a new context menu for Recycle Bin and it contains two bug fixes only.
Microsoft is promising additional bug fixes after general availability on October 5.