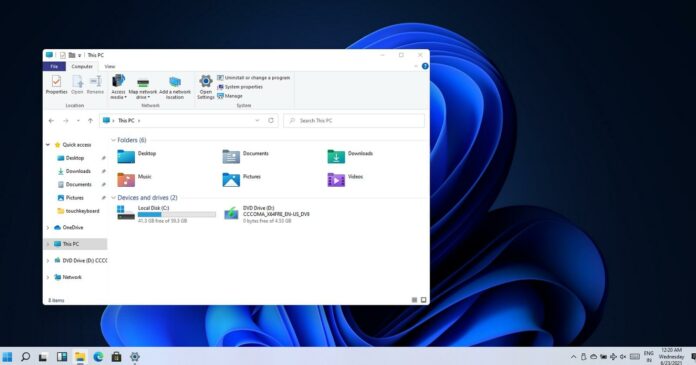 Back in June, Microsoft said that it would consider adding Windows 11 support for Intel's 7th-generation and AMD Ryzen 1000 series CPUs. On August 27, Microsoft finally published the final hardware requirements list which includes support for 10 new CPUs from Intel's 7th-generation line of Core chips.
The announcement took many by surprise, as the updated CPU list includes support for a handful of CPUs. These new CPUs include Core i5-7640X, Core i7-7740X, Core i7-7800X, Core i7-7820HQ, Core i7-7820X, Core i7-7900X, Core i7-7920X, Core i9-7940X, Core i9-7960X, and Core i9-7980XE.
In other words, Microsoft's updated Windows 11 hardware requirements are only going to benefit flagship products like Surface Studio 2 and Dell Precision. If you ignore the above list, only 8th-gen and newer processors would be able to run Microsoft's new operating system.
In a statement, Microsoft admitted that older chips can indeed run Windows 11 unofficially by downloading the OS with tools like Media Creation Tool, but the company won't provide support for old hardware and there may be performance issues.
Asus has started testing BIOS updates to extend support to some motherboards running Intel CPUs older than the ones specified by Microsoft.
Asus is testing Windows 11 support for some older CPUs
Back in July, ASUS shared guidance on what motherboards are prepared for Windows 11 upgrade. The motherboards listed in the company's documentation come with TPM 2.0, but Asus is also pledging support for motherboards with older Intel 6th and 7th gen processors, according to the updated firmware page.
Asus recently released a Windows 11-ready BIOS update for a number of Z270 motherboards for Intel 6th and 7th gen processors, which are not included in the official CPU specs documentation published by Microsoft.
Asus has confirmed support for Windows 11 in the changelog of BIOS 1501 for MAXIMUS IX FORMULA, which supports 6th and 7th-gen Intel processors.
"Support Windows 11 by default, no settings changes required in the UEFI BIOS," the changelog reads.
Likewise, Asus has also teased beta support for Windows 11 with the same BIOS update on STRIX Z270F GAMING.
"Support Windows 11 by default, no settings changes are required in the UEFI BIOS. Please note that this is a beta BIOS version of the motherboard which is still undergoing final testing before its official release," the changelog reads.
As you're probably aware, Microsoft's official document states that Windows 11 requires 8th-gen Core processors and newer. However, Asus has already started testing Windows 11 support for 7th-Gen (Kaby Lake) and 6th-gen (Skylake) generation Intel processors on select motherboards.