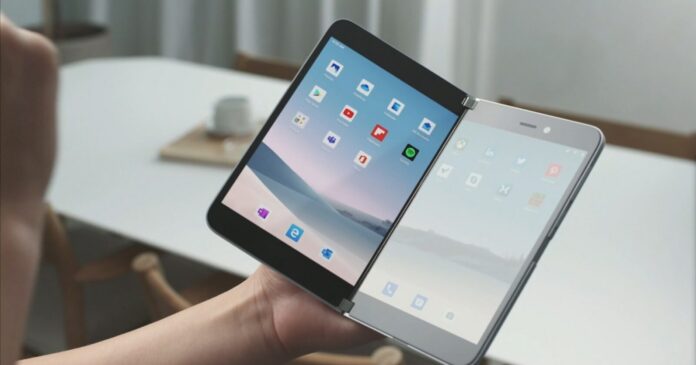 Surface Duo is Microsoft's first Android phone and it's not a secret that its first-generation dual-screen is plagued with various issues. Surface Duo is still running Android 10 and an outdated version of Microsoft Launcher. In fact, Microsoft Launcher doesn't even have features available on traditional Android phones.
Microsoft is now working on a big update for Microsoft Launcher and it could debut alongside Surface Duo 2, though the ETA has recently changed.
Android 11 and Microsoft Launcher update was planned to go live for the Surface Duo earlier this year, but more recently, the release target has been changed to optimize the experience for Surface Duo 2. The first-generation Duo will also receive the same Launcher update and Android 11.
In a tweet, Microsoft's program manager Vishnu Nath also suggested that big improvements are planned for Microsoft Launcher and more details could be shared during the rumoured October 2021 event for Surface Duo 2.
We can independently confirm that a big software update is planned for the Surface Duo lineup. If it does turn out to be true, it's a great move for Microsoft, especially given the problems users experienced with first-generation model.
Surface Duo 2 arriving in October
As we recently reported, Surface Duo 2 is currently scheduled to debut in October and photos showing the device were posted online last month. Very little is known about Surface Duo, but reports suggest the new dual-screen phone will be similar to the first-generation hardware with additional improvements.
For example, Surface Duo's camera setup will include a new primary sensory, telephoto sensor and ultra-wide sensor. We're also expecting a new Qualcomm ship with 5G support and NFC.
As compared to the original Surface Duo, the second-generation model will be significantly faster and Microsoft wants to address all the shortcomings. For example, the default camera app will be updated with new features to improve the camera processing capabilities of the device.
As mentioned at the outset, Microsoft will retain the look of the Surface Duo on the second-generation hardware which means the same dual-screen and hinge experience will be offered.
Here are the expected features of Surface Duo 2:
Snapdragon 888.
Upgraded camera setup with camera module on both sides.
Improved Microsoft Launcher and camera app.
Microsoft is also contributing to the development of Android to better support dual-screen and foldable.
For instance, Microsoft is exploring support for multi-window scenarios in ScreenshotTest.
"To support multi-window scenarios (foldables, in particular): launch a secondary activity to fill the display, allow reported bounds (App) to be smaller than screenshot (full display) and compute ratio accordingly," the company said.
As always, it's important to take all of this with a pinch of salt as plans are always subject to change.