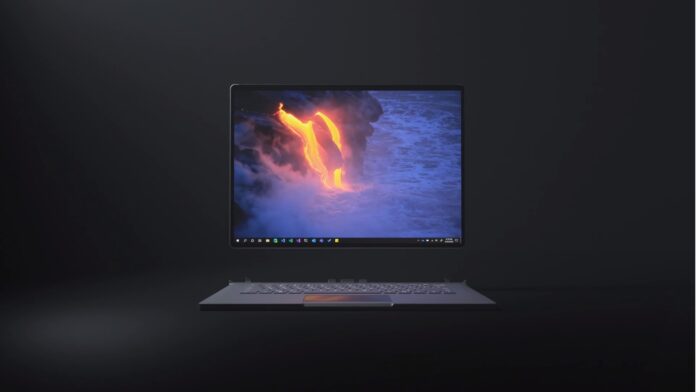 A new patent application has revealed how Microsoft might bright Apple's Magic keyboard-like technology to its Surface Book (or perhaps even other Surface devices like Surface Laptop).
In a new patent application, Microsoft highlighted a new device that includes a display hinge, which can connect the stand to the display with support for rotation. The display hinge is a friction hinge and it may have a display breakout torque to rotate the display around the hinge sitting above the keyboard.
"The display hinge may include a stand hinge between the display and the stand. The stand hinge may be any type of hinge. For example, the stand hinge may be a friction hinge similar to the base hinge," the patent application reads.
The keyboard is neither a detachable tablet with a separate keyboard nor a flip-and-fold convertible design. The patented Surface device has a keyboard setup similar to Apple's Magic keyboard for iPad, which turns iPad into a Mac. One of the benefits of the stand and hinge is that said angle is offers stability for working and video calls.
It is stiff enough to hold the Surface device in place for the right viewing angle. As per the patent, the primary support for display is at a fixed location and it slides up and down the primary strip, allowing the user to change the hinge angle between the display and the stand.
With this new design for its Surface device, Microsoft plans to offer support for "multiple form factors". In some configurations, the display can be parallel to a stand and it may resemble a traditional 2-in-1 laptop, similar to Surface Book.
The company is also hoping to reduce "the total width of the computing device" by allowing the rotatable stand to appear parallel to the display, and display hinge or other elements connected to the stand won't get in the way.
The "stand may be able to lay flat against the display" in laptop form factor, according to the patent application.
5G support for Surface Book
Additionally, Microsoft is also exploring support for 5G connectivity. The second patent suggests a new design where a large section of the chassis can be swapped out, allowing users to switch between 5G or Wi-Fi connectivity.
According to the second patent, Microsoft is working on a modular Surface Book with panels that could be easily swapped.
Remember that Microsoft has been planning to introduce new Surface products in 2021 according to the rumour mill. Earlier this year, sources revealed that this would happen in October or November. In addition to Surface Pro 8, Surface Duo 2 is also expected to launch later this fall.