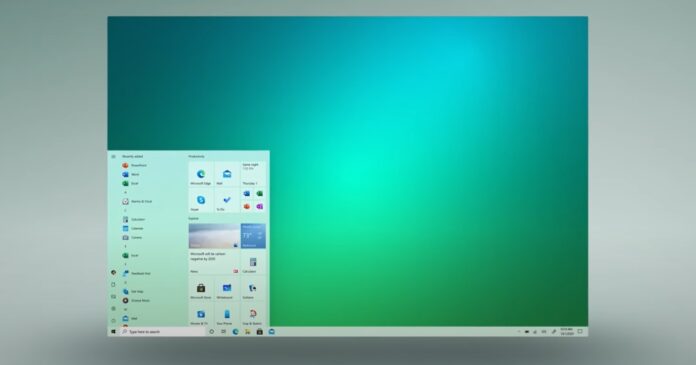 Microsoft has officially announced Windows 10 21H2 – the next feature update for devices on Windows 10.
While Windows 11 is the next-generation operating system, Microsoft says it's planning to support Windows 10 until October 2025. For those who prefer to stay on Windows 10, the next feature update for your device is "version 21H2", but it could be officially called "Windows 10 October 2021 Update" when it launches this fall.
The idea with Windows 10 21H2 is to give additional time to users and businesses not ready for Windows 11. As we all know, Windows 11 is a big update with redesigned Start Menu, and it's not for everyone. With this in mind, Microsoft has been working on a new feature update for Windows 10.
Windows 10 version 21H2 is also for users not eligible for a free upgrade to Windows 11. If you have an unsupported device, you've nearly four years to decide what to do next. For now, you'll continue to receive quality improvements via monthly updates and annual feature updates.
Windows 10 21H2 is currently live for devices in the Release Preview Channel of the Insider program. The build number is 19044.1147 and it will be delivered via KB5004296 enablement package, similar to the May 2021 Update and October 2020 Update.
What's new in Windows 10 version 21H2 preview update
This new version of Windows 10 comes with plenty of improvements. For example, Microsoft is enabling support for WPA3 H2E standards to enhance wireless (Wi-Fi) connection security.
H2E stands for Hash-to-Element and it comes with the following security benefits:
Protection against side-channel attacks
Reduces potential side-channel attack vectors.
General security improvements.
Microsoft is also introducing support for simplified passwordless deployment in Windows Hello for Business. However, this is an enterprise-only feature.
GPU compute in WSL for Windows 10 21H2
For consumers and developers, Microsoft is introducing support for GPU compute in the Windows Subsystem for Linux (WSL). With Windows 10's October 2021 Update, Microsoft is enabling GPU compute in WSL, a new feature that would allow users to leverage their GPU when working with WSL.
This could improve the performance of WSL containers and make it easier for developers to do more machine learning development and data science work.
It's worth noting that GPU compute in WSL requires DirectX 12-based GPU from Nvidia, AMD or Intel. In addition to GPU computer support, Windows 10 WSL will also get support for the WSL install command and the update process has been improved for faster deployment.
With Windows 11, Microsoft is planning to bring support for GUI apps to WSL. This will allow users to run Linux and Windows apps side-by-side with a native app-like experience.
Windows 10 support cycle
Windows 10 21H2 is part of the company's Long-Term Servicing Channel and it will be supported for LTSC customers until at least 2026. For Windows 10 Home and Pro, Microsoft has planned 18 months of support, while Education and Enterprise customers will get 30 months of support.
Windows 10 Pro and Home editions are officially supported until October 2025, so it's likely that Microsoft will release more feature updates for the operating system in the coming years.
How to get the update now
Windows 10 version 21H2 is currently available for Windows Insiders in the Release Preview Ring. If you're part of the beta channel of the Insider program, but your device does not meet the new requirements for Windows 11, you'll also get this feature update today.
To download and install the update before everyone, use these steps:
Go to Settings > Update & Security > Windows Insider Program.

Click the "Get started" button.

Link your Microsoft account. If you use Windows 10 Enterprise, link your Azure Active Directory account. The account must be registered for the Windows Insider Program.

Choose the "Release Preview Channel" to get the update.

Agree and confirm the legal stuff.
Select "Restart Now" to get your PC into the Release Preview Channel. A restart is required for Windows Insider Program.
After rebooting verify your Windows Insider Program settings and double-check that it is "Release Preview Channel" under "Pick your Insider settings".
Open Settings > Update & Security > Windows Update and keep checking for updates until you see the preview build.
Keep in mind that Microsoft is still working on Windows 10 October 2021 Update and more improvements could be on the way. These new features and improvements should make their way to the mainstream audience later this year.
As mentioned at the outset, Windows 10 Build 19044 update will be delivered via enablement package and its size would be less than 500MB if you download it using Windows Update.