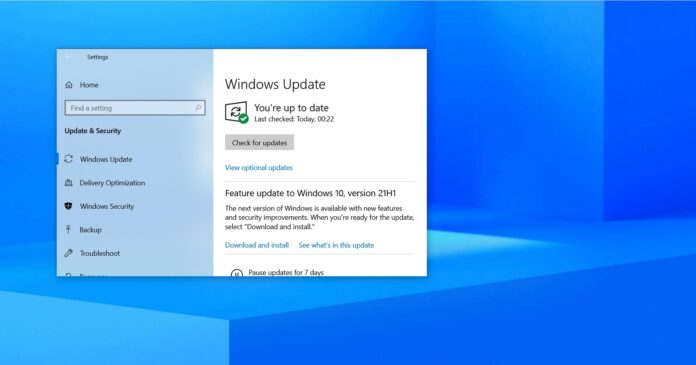 Windows 10 May 2021 Update, otherwise known as version 21H1, has been cleared for deployment, meaning it will be now offered to users when they manually check for updates.
Windows 10 version 21H1 was released to consumers on May 18 and it was rolling out slowly around the world. Normally, Windows bugs and glitches prevent broad deployment of Windows 10 updates, but since the May 2021 Update is essentially based on October 2020 Update (version 20H2), there are no critical issues in the update.
In multiple tests, we observed that the May 2021 Update (version 21H1) is now offered to everyone running the May 2020 Update (version 2004) and October 2020 Update (version 20H2). The number of devices which can be offered the latest feature update has been increased by Microsoft in June.
If you want to download and install Windows 10 May 2021 Update, simply head to Windows Update and check for updates. Under the "optional updates" section, click on "Download and install" to begin the download of Windows 10 version 21H1, which requires one reboot to finish the installation.
We also noticed that Microsoft quietly updated its documentation on June 2 to announce the wider availability of the feature update. The company stated that it is now using its machine learning and artificial intelligence methods to automatically upgrade devices running version 2004 to version 21H1.
"We will continue to train our machine learning through all phases to intelligently rollout new versions of Windows 10 and deliver a smooth update experience," Microsoft noted.
If you still can't see the update for some reasons, you'll just need to wait for a few days/weeks. It is also possible to force the installation via Media Creation Tool or Windows Update Assistant. If you want to start fresh, you can follow our guide to download Windows 10 ISO files and create a bootable USB drive.
The latest May 2021 Update has a few known issues, but fortunately, the bugs haven't reported widely and workarounds are available if you do run into gremlins after upgrading.
For example, a bug in Windows 10 May 2021 Update or older could result in unexpected audio issues. As per a new advisory, users can hear high-pitched noise when using 5.1 audio with certain settings. The issue affects certain apps, audio devices and settings combinations only.
If you run into audio issues, Microsoft recommends switching to Spatial sound settings, such as Dolby and Windows Sonic.
The second known issue prevents the automatic Furigana input/conversion feature from working in some apps.