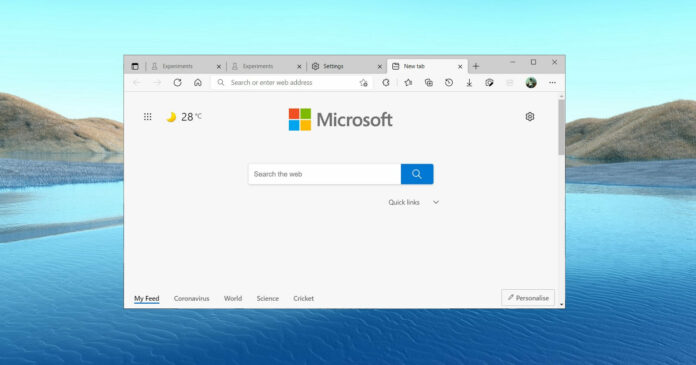 Microsoft has published a new build of Chromium Edge (Canary), with the biggest change being support for improved font rendering on Windows 10. The new technology should make font rendering much better for Microsoft Edge users on all versions of Windows 10, such as the May 2021 Update and October 2020 Update.
Microsoft Edge is apparently getting support for Windows 10's built-in ClearType Tuner, a feature that lets you configure font smoothing settings and get sharper texts. For those unaware, the ClearType Text Tuner tool allows users to adjust font smoothing and the settings apply to nearly all native apps.
Microsoft Edge will also respect the font settings configured natively on Windows 10. As a result, you can expect the browser to render fonts with better contrast and gamma correction. This feature will finally allow the browser to match the clarity of other Windows 10 apps.
Currently, Chromium-based browser utilizes DirectWrite for improved font rendering, but the browsers still handle their own text shaping for the most part and results don't always match or respect the Windows apps text rendering. For example, Chromium fonts are subtly lighter than Windows' system defaults.
For legacy Edge, Microsoft used a different approach that allowed the browser to respect system-wide font settings on Windows 10.
Microsoft is finally planning to return to legacy's Edge font rendering approach and Chromium Edge will soon feature improved contrast enhancement and gamma correction.
The changes are already live in Microsoft Edge Canary and users can enable the "Enhance text contrast" mode by following these steps:
Visit Edge://flags menu.
Enable the flag "Enhance text contrast"
Relaunch browser.
After enabling the experimental flag, you can also launch ClearType Tuner to configure the advanced settings.
While a precise release date has not yet been announced for the stable channel, Microsoft is currently planning to introduce the improved font rendering gradually with Edge 92+. The feature will be rolled out gradually and some users will probably get the feature sooner than others. If you can't wait, however, can test it manually by enabling the flag.
These changes are currently exclusive to Edge, but Microsoft will bring them to Chromium so all Chromium-based browsers like Chrome will have support for consistent font rendering.