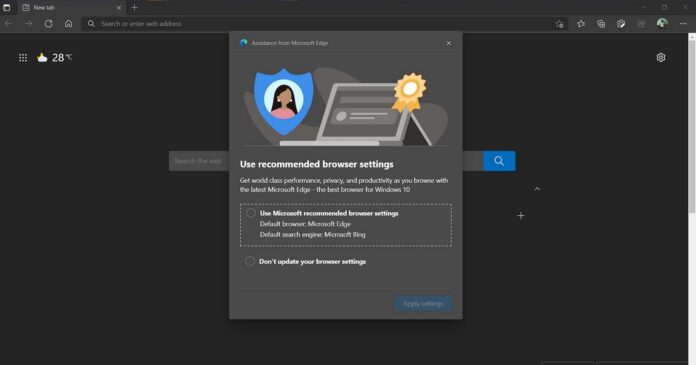 In a bid to make Microsoft Edge your default browser and Bing default search engine, it looks like Microsoft made things worse. A bug in Microsoft Edge 91 is displaying alerts for "use recommended browser settings" when users launch the updated Chromium browser on Windows 10.
The "use recommended browser settings" pop-up alert is Microsoft's attempt to promote its browser, with the latest piece of 'recommendation' to use Microsoft Edge with Bing being delivered when users launch the browser after updating to version 91.
In what is apparently being delivered to almost everyone, a small pop-up panel titled "assistance from Microsoft" is appearing on the new tab page, highlighting that you should use Microsoft Edge with Bing as the default search engine to get "world-class performance, privacy, and productivity".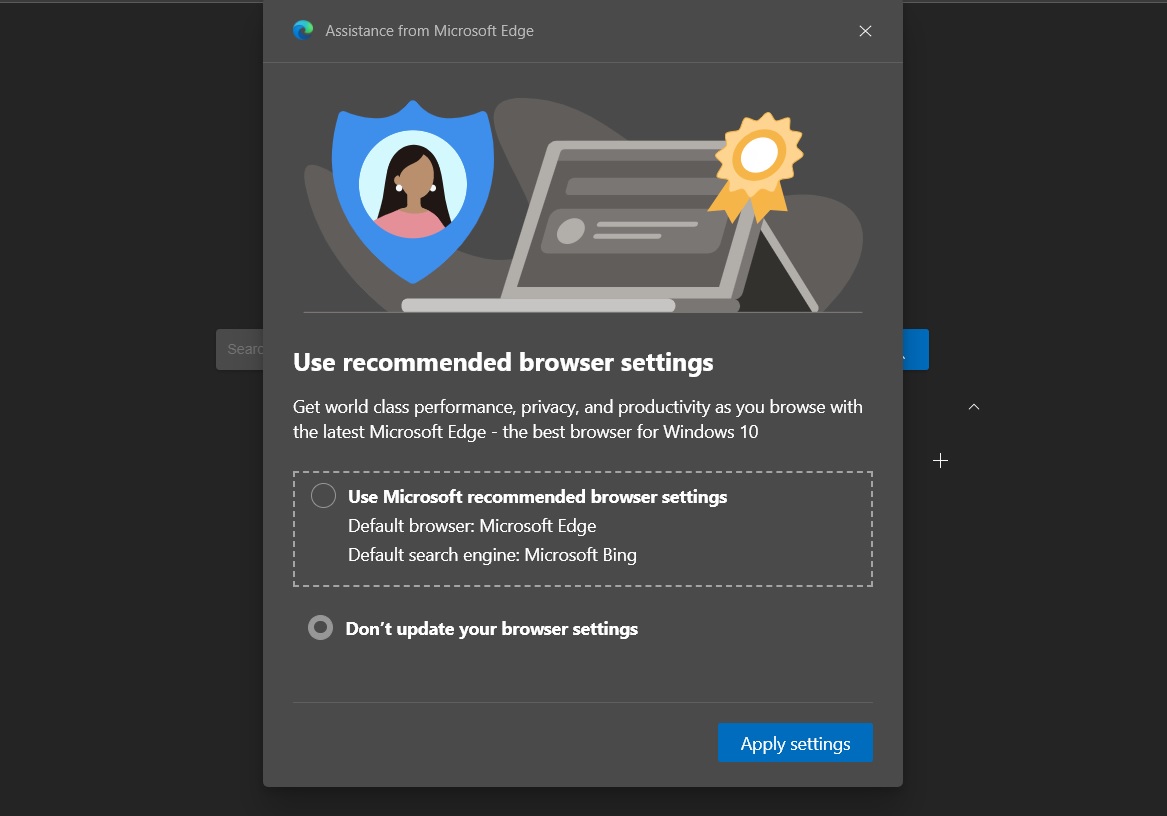 As you can see in the above screenshot, there are two options: Use Microsoft recommended browser settings (Microsoft Edge with Bing) and Don't update your browser settings.
If you do click on the first option, your taskbar or screen will flash and the default browser will switch to Microsoft Edge (with Bing).
While this is annoying, it is still all well and good if the alert appears only one time. In some cases, users have found a rather annoying bug where even if they dismiss the recommendation, the browser won't actually respect the decision and will continue to show the alerts when you relaunch Edge.
It appears that Edge 91 quietly enabled a feature that will allow Edge to show active messages recommending specific features and workflows based on your activities.
How to disable the "use recommended browser settings" alert in Microsoft Edge
If you're still getting the alert in Microsoft Edge, there's an experimental flag that you can disable to stop the nagging.
Open Microsoft Edge > edge://flags.
Search for edge-show-feature-recommendations
Set the flag to "disabled".
Relaunch Microsoft Edge
As ever, Microsoft should be careful about these alerts, especially when Chromium-based Edge is actually growing.
It's possible that Microsoft is aware of the reports and is looking into ways to stop the nagging without causing additional problems for users.