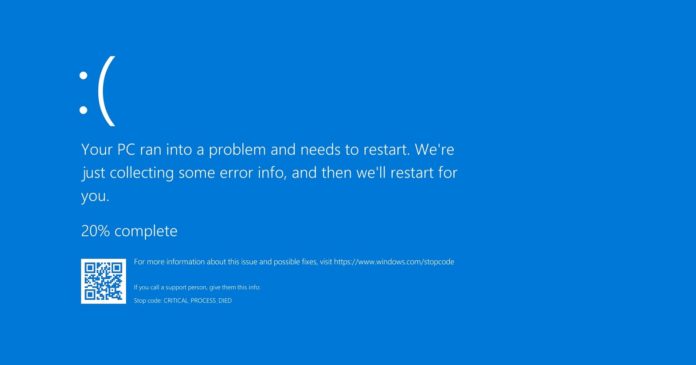 On March 9, Microsoft published several cumulative updates for different versions of Windows 10. Windows 10 KB5000802 for version 2004/20H2, KB5000803 for Windows Server, KB5000808 for version 1909/1903, and more.
These cumulative updates were meant to 'fix' several bugs that have been hanging around since last month. While most of the security issues are now fixed, it seems like the Windows 10 March 2021 update has a critical problem of its own, which could crash your PC when you click on the print button.
Several users told us that they're getting a blue screen (BSOD) when they try to print their documents using popular apps, such as Microsoft's own Notepad and LibreOffice.
In a new statement, a Microsoft spokesperson has now confirmed the company is actively working to resolve the Blue Screen of Death bug impacting a "subset of customers using certain printers".
In our tests, we also observed that the rollout of the Windows 10 KB5000802 update was briefly paused for at least eight hours on March 10. However, the update later returned back and Microsoft confirmed nothing was changed.
"The KB itself has not changed from its initial release on Tuesday between getting paused and unpaused," Microsoft's software engineer tweeted.
How to fix printing and BSOD issues after March 2021 updates
According to user reports seen by us, this problem appears to be happening with a variety of printers, including Kyocera and Ricoh. Users told us that rolling back the last installed update seems to solve the issue, but some users also confirmed that they are unable to uninstall the Windows 10 patch.
Rolling back the patch will also expose users to security issues. If you don't want to uninstall the update, there's a new workaround – offered by Microsoft's software engineer – and some folks have confirmed that the temporary fix is working.
To fix BSOD error after KB5000802, KB5000808, KB5000803 and other updates, Microsoft employee recommends 'Direct Printing' feature. When the Direct Printing feature is enabled in Windows 10, 32-bit apps will print on 64-bit OS without crashing.
This is solution is particularly useful if you use 32-bit programs. For those unaware, apps such as Acrobat and OpenOffice launch in 32-bit format, which means the workaround should be enough for some folks.
To get started, first you need to identify the name of your printer and make a note of it.
Once you've identified the printer model/name, launch elevated Command Prompt and run the following command after adding your printer name:
run rundll32 printui.dll,PrintUIEntry /Xg /n "Kyocera TASKalfa 1800 KX"
In the above command, you need to replace the text insider " " with the name of your printer.
If you see the 'Direct' value on the line of the attribute, that means you're already using direct printing. Otherwise, you can use the following command to enable the direct printing feature:
rundll32 printui.dll,PrintUIEntry /Xs /n "Kyocera TASKalfa 1800 KX" attributes +direct
If nothing works, there's also a second and most advanced method. This requires you to download Application Compatibility Toolkit and then follow the steps published by Microsoft to apply the "PrinterIsolationAware" fix for both 32-bit and 64-bit programs.
In some cases, all these solutions don't seem to be viable and rolling back the update could be the best solution.
The article has been updated with information on the hotfix, which is now available for everyone. The updated story follows below:
A hotfix is now available for Windows 10 KB5000802 printing issues
Microsoft has confirmed that the printer problem, which affected numerous printer models from top manufactures, has now been fixed.
For Windows 10 version 20H2 and version 2003, Microsoft is now pushing the fix via an out-of-band patch (KB5001567).
In a statement, Microsoft noted that that patch is available for all supported versions of Windows 10 and it will only fix the bug that resulted in two related issues – printing failure and the infamous 'APC_INDEX_MISMATCH'.
"We recommend you only install this optional update if you are affected," Microsoft said.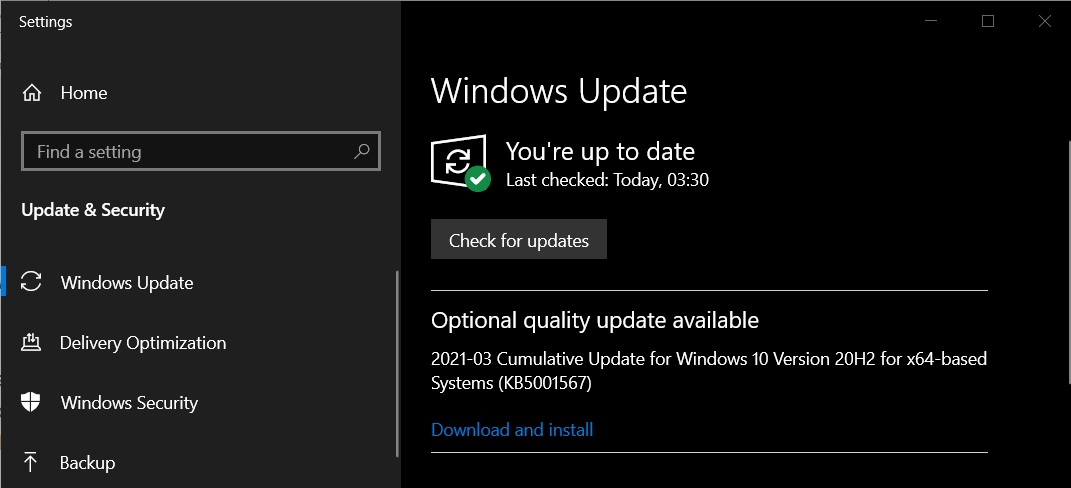 If you're interested, you can grab the update by normally checking for updates in the Settings app. If the hotfix is detected by Windows Update, it will show up under a new section 'Optional updates' and you would need to click on the download/install option to apply the patch.
A reboot is required to finish the installation.